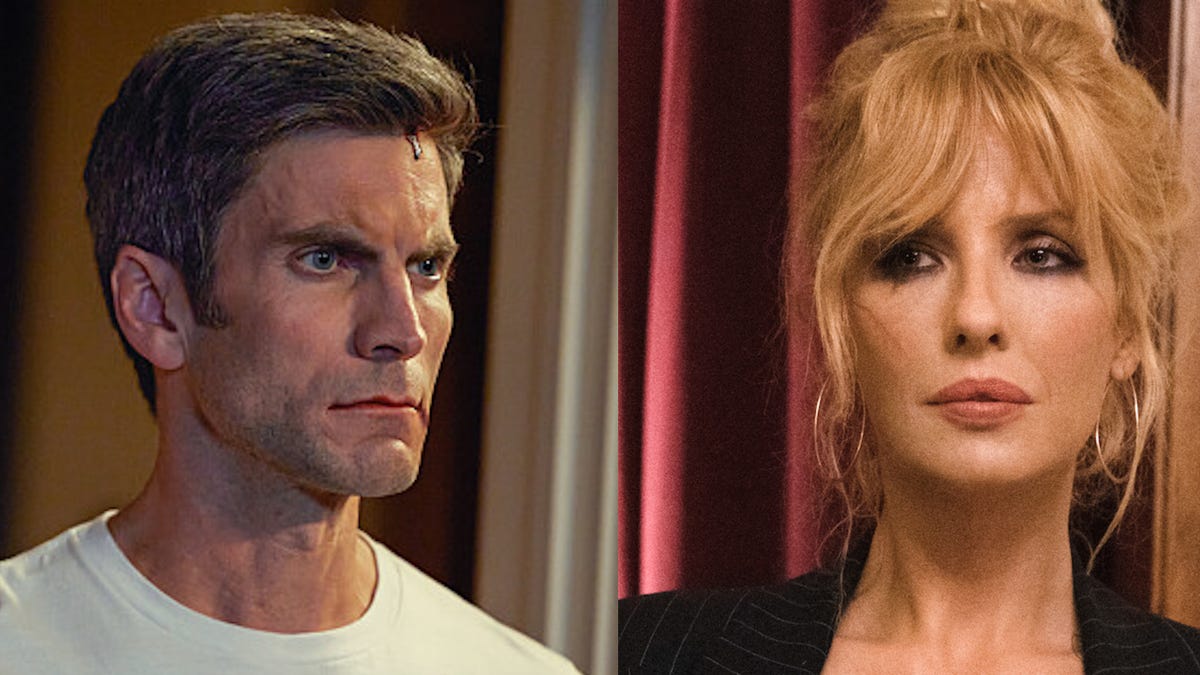 In the blink of an eye, Yellowstone is reaching the end of its road. After co-creator/showrunner Taylor Sheridan decided to conclude the Paramount Network show with season 5 part 2, new details have slowly emerged about the last six episodes. While some folks are waiting to hear if Kevin Costner is really leaving the cast, others have been busy theorizing how the series will unfold — and there's been mention of a surprise death.
As viewers may remember, in the midseason finale, John (Costner) and Beth (Kelly Reilly) were on the same grim page that Jamie (Wes Bentley) needed to be taken to the train station (a.k.a. killed and tossed into the mass graveyard) after he called for the Montana governor's impeachment.
But Jamie had no plans to go down without a fight and didn't hesitate to hire his own killer to take out Beth.
Though fans started looking at the odds of who could survive, some believe both will because it'll actually be Summer (Piper Perabo) who gets caught in the crossfire. Back in January, a thread on Reddit grabbed people's attention with the title "Summer will be killed by Jamie's hitman instead of Beth."
User @ingrahamtx went on to explain their theory, writing, "Since Summer is living in the main house, I really think Jamie's hitman will mistakenly kill her instead of Beth. That is the only reason I can see why she is in John's house … I can't see Beth getting killed just yet."
The Yellowstone fandom witnessed the environmentalist activist become romantically involved with John in season 4. After having her prison sentence commuted when he entered office in season 5, she was released under house arrest at John's house on the Yellowstone ranch. Unsurprisingly, Beth didn't take the news well. After a bloody brawl, Beth and Summer agreed to coexist.
But this may be short-lived if a hired killer fails to confirm the correct blonde woman is in front of them. After reading the initial theory, Yellowstone fans took to the comments section on Reddit to give their two cents.
"Interesting and very possible," user @oldmanonsilvercreek wrote. "It's clear that Summer and Beth don't like each other, but I can definitely see how Beth would be pissed if Summer were killed," user @justthatugly added, guessing how this might add to the storyline. "It's also something Taylor Sheridan has done before in Sons of Anarchy. When Opie's wife was killed during an attempted hit on Opie," user @ficadin chimed in, referencing the beloved FX show.
Have there been hints that this might happen? Well, not exactly, except actress Piper Perabo admitted that she has no idea if Summer will have a future at the 6666 ranch down south. The relocation idea came up in the midseason finale when a bacterial disease called brucellosis threatened to wipe out the Yellowstone cattle if they weren't moved soon.
"I don't know if we start the next [episode] and they're coming back from Texas. I don't know if we're all gonna go to Texas," she told Entertainment Tonight. "I also don't want to imagine a life for Summer in the winter in Montana. She's on house arrest so I hope John comes home or gets her sentence commuted to Texas."
Make of that what you will.

Entertainment & News Editor
Selena is the entertainment and news editor for Good Housekeeping, where she covers the latest on TV, movies and celebrities. In addition to writing and editing entertainment news, she also spotlights the Hispanic and Latinx community through her work. She is a graduate of CUNY Hunter College with a B.A. in journalism and creative writing.