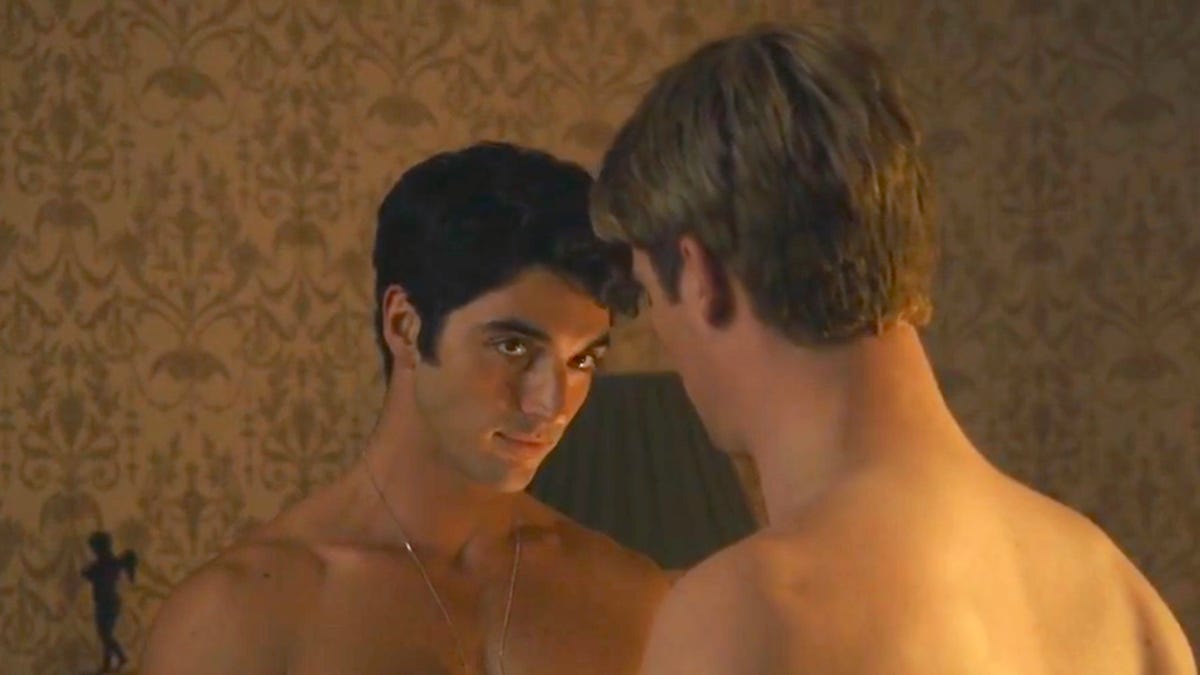 Amazon Studios' adaptation of the hugely popular gay romance novel Red, White & Royal Blue, following the secret love affair between the son of the U.S. President and an English prince, is now streaming. The movie makes some notable changes to the source material, trimming multiple characters and storylines to deliver a pacy rom-com that comes in under the two-hour mark: but hardcore fans will be relieved to know that the book's well-thumbed sex scenes made the cut.
In particular, the moment where Alex (Taylor Zakhar Perez) and Henry (Nicholas Galitzine), after a series of rushed and frantic fumbles, make love for the first time.
"In the book, their sex life is such a powerful part of their connection," director Matthew López told Digital Spy. "And I really wanted to show something that I hadn't seen much of in mainstream movie making, which is sex between two men that is loving and connected, and that is emotionally resonant. So we took great care with that scene… From the beginning, I told the studio that we were not going to shy away from the scene. There would be no tricks. It was going to be true and accurate to the way that two men have sex together."
That "accuracy" is one of the elements of the movie that is being praised by critics: it is rare that any piece of mainstream media portrays gay sex with such specificity. Not just the act itself, but the preamble, the all-important discussion and negotiation of who will be the receptive partner. And it is this casual realism that makes Red, White & Royal Blue stand out from other rom-coms on streaming (after treating the subject matter with tenderness in the Paris hotel room, the film later plays it for laughs with a well-meaning speech about tops, bottoms, and Truvada from Uma Thurman's POTUS).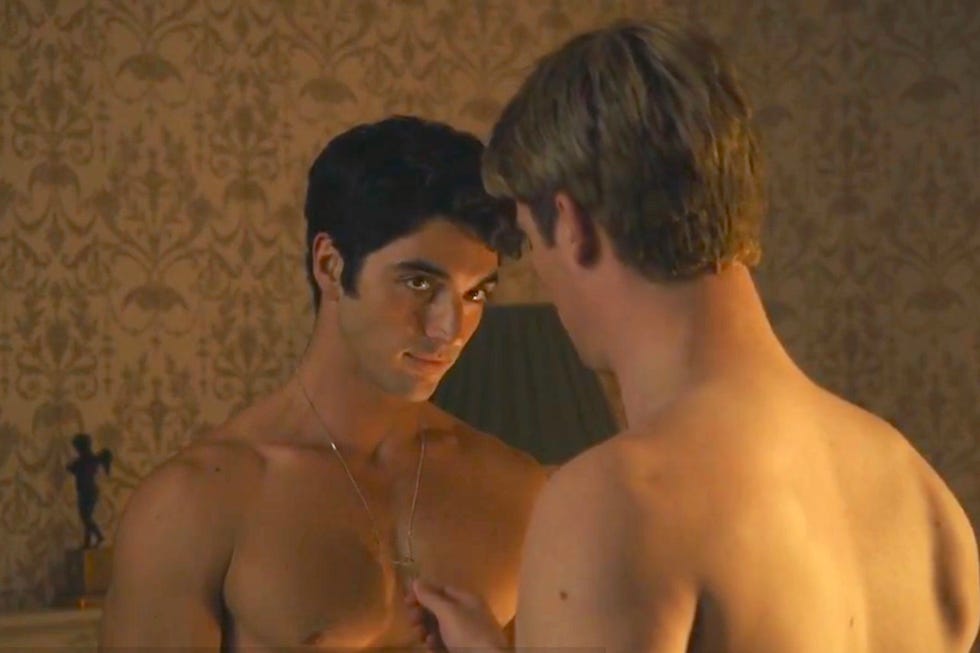 Amazon Prime
López went on to explain that he, Perez and Galitzine worked with an intimacy coordinator and rehearsed the scene thoroughly so that the performers would be comfortable and convey exactly what this moment means for the men they are playing: at this point in the story, Henry is deeply closeted and rarely lets anybody in, while Alex is still figuring out his sexuality and has never had penetrative sex with another man before.
At a time when sex scene discourse is rife online and some viewers feel they are unnecessary, Red, White & Royal Blue makes a strong counter-argument.
"It was very important to us that people see the film and understand exactly what is happening between these two characters because what is happening is vitally important to the story and their progression as characters," says López. "So we never thought of the sex in the film as being additional to the story. We never thought of it as being an add-on or something that you have to put in."
Philip Ellis is News Editor at Men's Health, covering fitness, pop culture, sex and relationships, and LGBTQ+ issues. His work has appeared in GQ, Teen Vogue, Man Repeller and MTV, and he is the author of Love & Other Scams.