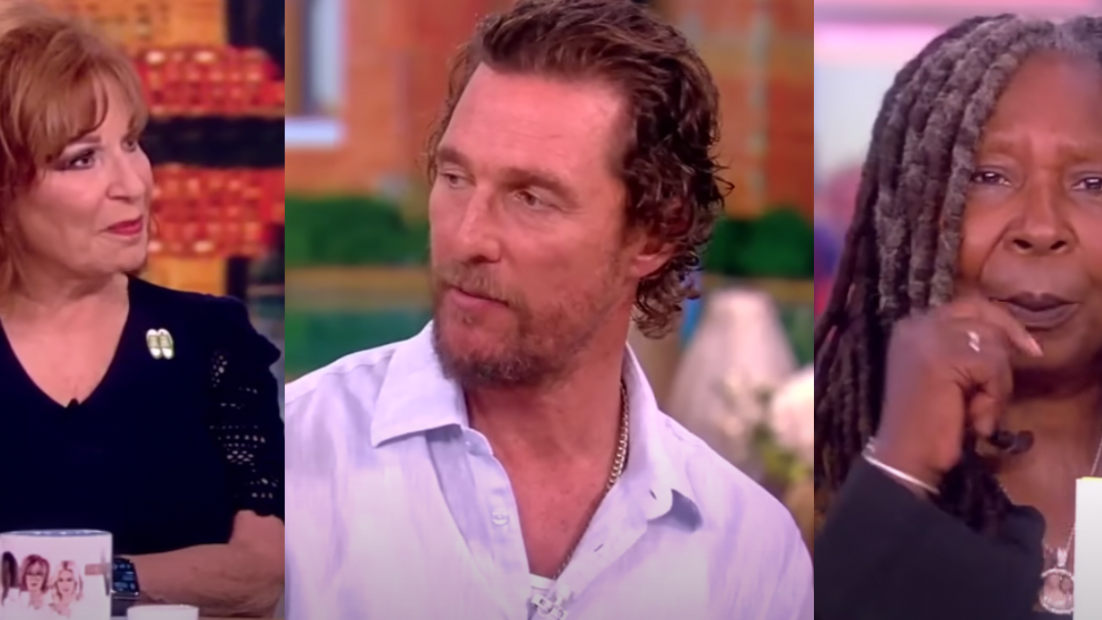 The View audience experienced some truly interesting moments while watching Matthew McConaughey promote his new children's book, Just Because.
The actor appeared on a September 12 taping of the show to discuss his project with Whoopi Goldberg, Joy Behar, Sara Haines, Sunny Hostin and Alyssa Farah Griffin.
The conversation went fine enough … until they played a 2006 clip that shows McConaughey giving Behar a foot massage. After showing it, Behar put her foot on the table, and to everyone's surprise, McConaughey obliged in rubbing it. After a minute or so, Goldberg put an end to it by saying, "We're just going to let all of that go by," which prompted Behar to say "thank you," and move on.
However, the discussion turned much more serious after the actor shared why he started a new initiative for his Just Keep Living Foundation. The Greenlights Grant Initiative works by connecting schools with grant writers so they can get money from the government to create safer learning conditions. It began after McConaughey and his wife got involved with school safety in the wake of the horrific shooting at Robb Elementary School in Uvalde, Texas, which is McConaughey's hometown.
"We found out these superintendents have to fill out these grants—a lot of them are also driving the school bus, they're the PE teacher and this grant is 50 pages and intimating, so they don't have the expertise or the time," McConaughey revealed. "So we're helping with the grant wiring process. We hire grant writers to come on and go to these schools throughout the United States that need the safest schools the most—we're helping them write the grant."
After seeing and learning more about McConaughey's commitment, over the past few months, many people have suggested he run for political office. When Hostin brought up the topic, McConaughey made it clear that it's not out of the question, but right now, he's focusing on fatherhood. But when Behar asked him if he thought he could become an elected official in his home state of Texas while being "anti-gun," things took a turn.
"One thing about me and politics is—to give you a direct statement right there," McConaughey said while pointing at her. "It's playing a game that I'm not interested in playing." That led Behar to hold up her hands and say, "Okay, don't do it." You can see it at the 10:06 mark:
As Goldberg witnessed McConaughey and Behar's exchange play out, she decided to quickly turn to the audience and revealed a surprise for them.
"I have to tell you, everybody in this audience," she announced as McConaughey looked on. "Just so you know, everybody's going home with a copy of the book."
Some viewers left in the comments that they felt the exchange was "awkward" even though Goldberg managed to shift the conversation so swiftly.
Hostin also shared during the second segment that she believed McConaughey's stance was "pro gun responsibility and legislation," to which he replied "facts."
If you want to learn more about McConaughey's initiative, go to GreenlightsGrantInitiative.org. For more on gun safety, visit Everytown.org.
Editorial Assistant
As the entertainment and news editorial assistant for Good Housekeeping, Adrianna (she/her) writes about everything TV, movies, music and pop culture. She graduated from Yeshiva University with a B.A. in journalism and a minor in business management. She covers shows like The Rookie, 9-1-1 and Grey's Anatomy, though when she's not watching the latest show on Netflix, she's taking martial arts or drinking way too much coffee.