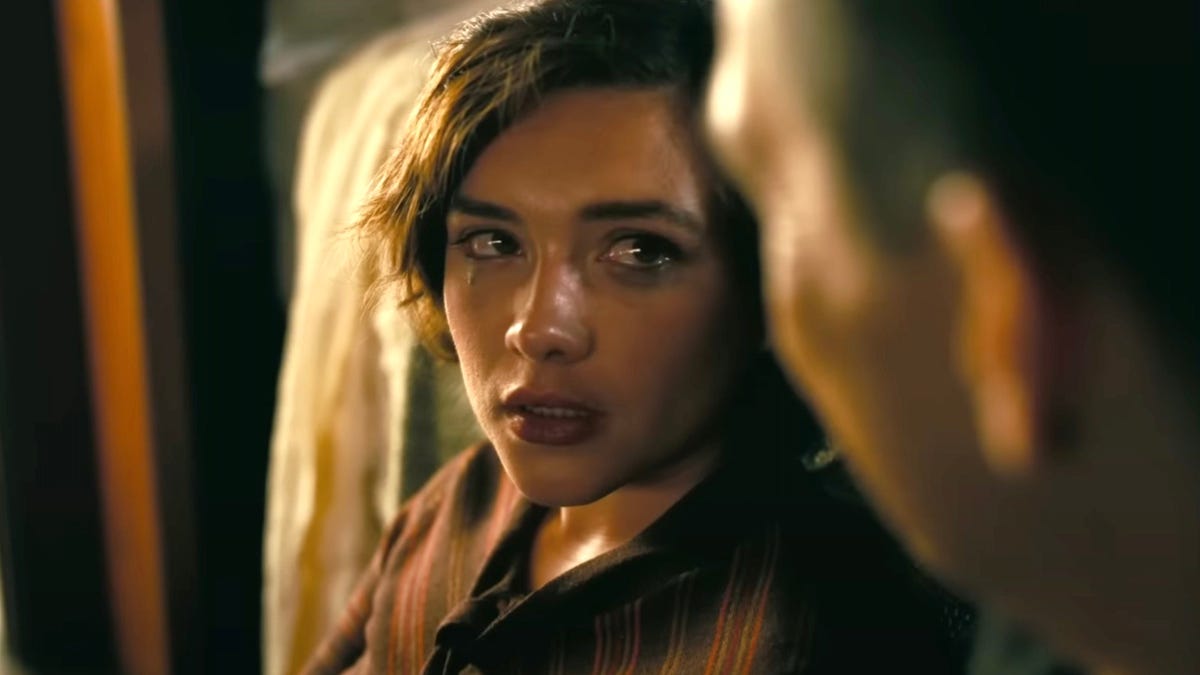 Robert Oppenheimer named the test site "Trinity." The name was inspired by a John Donne poem, which Oppenheimer once shared with his fiancée Jean Tatlock. Trinity, a swath of New Mexico desert, would host the first nuclear detonation on July 16, 1945, the beginning of the atomic age and a culminating event in Oppenheimer's research. By then, Oppenheimer hadn't seen Tatlock since June 1943, when he visited her in San Francisco. "I felt that she had to see me," Oppenheimer later said. "She was undergoing psychiatric treatment. She was extremely unhappy." Tatlock took Oppenheimer to the airport the next morning. He never saw her again. She committed suicide the following year.
Tatlock would not live to see the consequence of Oppenheimer's research, the subsequent bombings of Hiroshima and Nagasaki that occurred just weeks after the test conducted on the site commemorating her romance. Still, Oppenheimer's feelings apparently lingered for years.
Oppenheimer would have several lovers during his work on the Manhattan Project—a feature of his biography that director Christopher Nolan hasn't overlooked in his new film Oppenheimer, which covers more than one affair. Alongside his wife, Katherine "Kitty" Puening, whom Oppenheimer married in 1940 (Kitty is played by Emily Blunt in the film), Oppenheimer was also involved with Tatlock (played by Florence Pugh) and Ruth Sherman Tolman (played by Louise Lombard), the wife Richard Tolman, a colleague of Oppenheimer's and adviser on the Manhattan Project
"The love of the characters, the love of the relationships, is as strong as I've ever done," Nolan told Wired in a recent interview, suggesting his intention that Oppenheimer unpack the physicist's relationships as well as his research.
Tatlock will be one of the more prominent relationships explored in the film, the challenge of capturing that relationship falling to Pugh (who is roughly the same age as her character, despite online controversy over her age gap with co-star Cillian Murphy, also roughly his character's age.)
"They have these pictures of [Tatlock] and [Oppenheimer] that he's taken of her, and she's always giggling and is very silly and always has hair all over the place," Pugh noted during her research into the character. "I just thought, well, what is it that turned this man's head towards her? She must be pretty spectacular and intelligent and opinionated and must in some way test him, too."
Who is Jean Tatlock?
Jean Tatlock's professional life began in academia. Graduating from Vassar College in 1935, Tatlock continued her studies in San Francisco, where she also worked as a writer and reporter for the Western Worker, a publication by the American Communist Party. Tatlock later graduated Stanford Medical School in 1941, beginning work as a psychiatrist.
Tatlock met Oppenheimer in 1936 when the physicist was teaching at Berkley. The two began dating, and Oppenheimer unsuccessfully proposed to her twice during this time. Even after Oppenheimer married Puening in 1940, he continued to see Tatlock until 1943 when Oppenheimer visited her in San Francisco.
By this time, Tatlock was being treated for clinical depression. A year later, on January 5, 1944, Tatlock's father found her dead in her apartment, having drowned herself. Tatlock left a note.
The note read:
"I am disgusted with everything… To those who loved me and helped me, all love and courage. I wanted to live and to give and I got paralyzed somehow. I tried like hell to understand and couldn't… I think I would have been a liability all my life—at least I could take away the burden of a paralyzed soul from a fighting world."
In their book American Prometheus: The Triumph and Tragedy of J. Robert Oppenheimer (on which Oppenheimer is based), authors Martin J. Sherwin and Kai Bird note how Tatlock was the one to introduce Oppenheimer to Communist Party politics. Oppenheimer's continued affiliation with members of the party incurred scrutiny during the McCarthy era and led to Oppenheimer's 1954 hearing.
In the hearing, he outlines his relationship with Tatlock:
"In the spring of 1936, I had been introduced by friends to Jean Tatlock, the daughter of a noted professor of English at the university; and in the autumn, I began to court her, and we grew close to each other. We were at least twice close enough to marriage to think of ourselves as engaged. Between 1939 and her death in 1944 I saw her very rarely. She told me about her Communist Party memberships; they were on again, off again affairs, and never seemed to provide for her what she was seeking."
As for the naming of the Trinity test site, Oppenheimer later wrote to Manhattan Project director Leslie Groves:
I did suggest it… Why I chose the name is not clear, but I know what thoughts were in my mind. There is a poem of John Donne, written just before his death, which I know and love. From it a quotation:
As West and East
In all flatt Maps—and I am one—are one,
So death doth touch the Resurrection.
In another, better known devotional poem Donne opens,
Batter my heart, three person'd God

Assistant Editor
Joshua St Clair is an Assistant Editor at Men's Health Magazine.