King Charles has only been the monarch for eight months and is yet to be officially crowned – but what happens when he dies?
At the moment, Charles is clearly in good health at 74 years old. But, there's a pretty strong chance that he will die and be laid to rest at some point in the future.
And when that occurs, what will happen to his wife Camilla, the Queen Consort? She is set to be crowned with him on Saturday – so does that mean she might get a chance at becoming the sovereign herself?
Here's what you need to know.
Immediately, the Operation Menai Bridge – a code name for the contingency plan in the event of Charles's death – kicks in.
While the details are unclear, based on what happened in the 11 days between the Queen's death and the moment she was officially laid to rest, the arrangements for Charles's formal state funeral would start almost immediately.
In fact, royal protection officer Simon Morgan told Australian show "Today" back in September that the day after the queen's funeral, Operation Menai Bridge preparation "will start in earnest."
The U.K. government would be notified, followed by Commonwealth leaders, and a note would soon be attached to the gates of Buckingham Palace, with flags all around the country lowered to half staff.
The new monarch would automatically inherit the throne at the moment of Charles's death.
And, after a period of national mourning, Charles would then be laid to rest in the "royal vault" in King George VI Memorial Chapel at Windsor Castle.
Who will succeed Charles?
Charles has only been the monarch since his mother Queen Elizabeth II's death in September.
But, if something were to happen to the sovereign, the crown automatically passes to the next in line. That's typically the monarch's oldest child.
In this case, Prince William, 40, would inherit the throne – that's why he now has the Prince of Wales title, a role usually reserved for the male heir apparent.
If something were to happen to William, the crown would pass to his eldest child Prince George, who is currently second-in-line to the throne.
But at just nine years old, that would clearly present a bit of a problem – he clearly couldn't carry out the roles of a constitutional monarch before 18.
So, Prince Harry – the next adult in the line of succession, after George's siblings Princess Charlotte and Prince Louis – would probably become Regent until his nephew was old enough.
As the parliament website explains: "In a regency, a 'Regent' is appointed to act on the monarch's behalf.
"A Regency applies if a monarch succeeds to the throne before the age of 18, or if a monarch becomes permanently incapacitated due to 'infirmity of mind or body.'"
That would probably throw up a whole new bunch of problems though, considering Harry has made it painfully clear how little he enjoys royal life and protocol (and stepped down from life as a working royal back in 2020).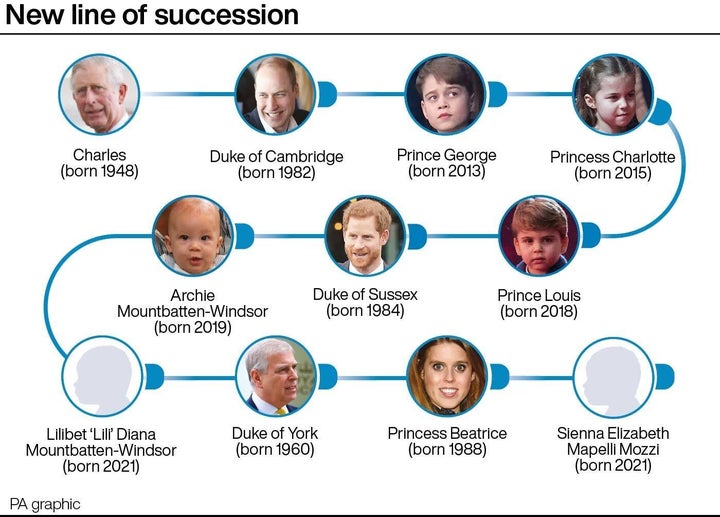 What about Camilla?
Camilla would not be able to ever inherit the role of sovereign, because people who marry into the royal family cannot take the hereditary title.
Camilla could not keep her title of Queen Consort in the event of Charles's death, either. Kate Middleton would inherit it as the wife of the new sovereign, Prince William.
Camilla would technically be able to take the role of the queen-dowager, the title awarded to the widows of late kings, but it's not yet known if she would actually use that moniker.
She also probably would not use the title of Queen Mother, a moniker used by Queen Elizabeth II's mother once her husband died, because she is the stepmother to William and Harry.
Questions have always hung over Camilla's title considering she is Charles's second wife and not the biological mother of those next in line to the throne.
Princess Diana, mother of William and Harry, was always expected to be the next queen as Charles's first wife.
Though she was divorced from Charles at the time of her death, her popularity means palace officials have always been careful not to make it seem like Camilla was replacing her.
For instance, Camilla chose not to be known as Princess of Wales because that was the title associated with Diana.
But, even when her title was shortened to Queen Camilla instead of Camilla, Queen Consort, on the coronation invitations, it raised plenty of eyebrows from people who had not expected the change.
Related