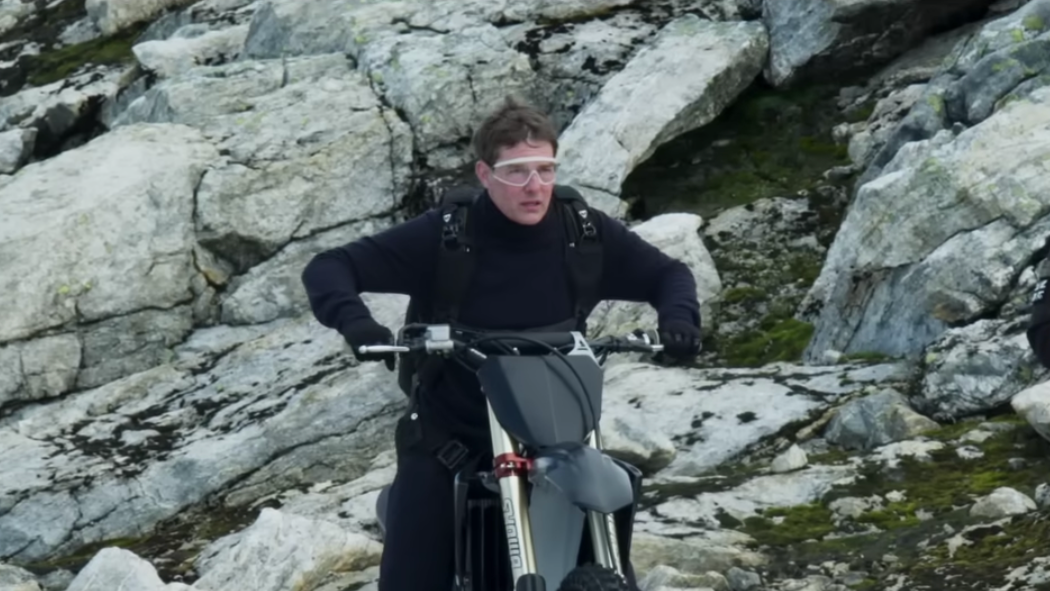 Tom Cruise is known for committing fully to the part in each of his movies, including doing much of his own flying in Top Gun: Maverick and throwing himself into doing his own stunt work on the increasingly explosive action sequences in the Mission: Impossible franchise. The latest installment in the spy thriller series, due to be released on July 12, features the actor's most ambitious stunt yet, and has been dubbed the "biggest stunt in cinema history."
A mini-documentary released on YouTube by Paramount Pictures follows the months of preparation that went into planning and executing a heart-stopping chase scene in Mission: Impossible – Dead Reckoning Part One, in which Cruise's character, secret agent Ethan Hunt, rides a motorcycle off the edge of a cliff and goes into a base jump, free-falling towards the earth before pulling his parachute cord.
"There's a lot going into this stunt," says director Christopher McQuarrie. "So Tom put together this master plan to coordinate all of these experts in each of the particular disciplines involved, to make this whole thing happen.
Prior to the shoot in Hellesylt, Norway in 2020, Cruise undertook a year of training to master motocross, base jumping and advanced skydiving, including working on his strength and stability to ensure he can control his own position mid-air, and manoeuver the parachute canopy in the right way.
"You train and drill every little aspect over and over and over and over again," says Cruise.
When the prep for the shoot was at its most intense, Cruise was doing 30 jumps per day, and he racked up more than 500 skydives and 13,000 motocross jumps over the course of rehearsal. Throughout this entire process, Cruise also wore a GPS chip so that they were able to track his speed and location in three-dimensional space at every stage of the stunt, which then enabled them to plan exactly where the drone cameras needed to be for the shoot.
"The key is me hitting certain speeds and being consistent with that," says Cruise. "There's no speedometer, so I do it by sound and feel of the bike. And then as I depart the bike, I'm using the wind that's hitting me, I'm pumping my chest, that will give me lift."
On the day of the shoot, all conditions have to be perfect for Cruise to pull off the staggering feat, and things are tense behind the camera as the actor shoots off the edge of the precipice and plummets into the valley below… a total of six times.
"We've been working on this for years," says Cruise. "I've wanted to do it since I was a little kid."
Philip Ellis is a freelance writer and journalist from the United Kingdom covering pop culture, relationships and LGBTQ+ issues. His work has appeared in GQ, Teen Vogue, Man Repeller and MTV.