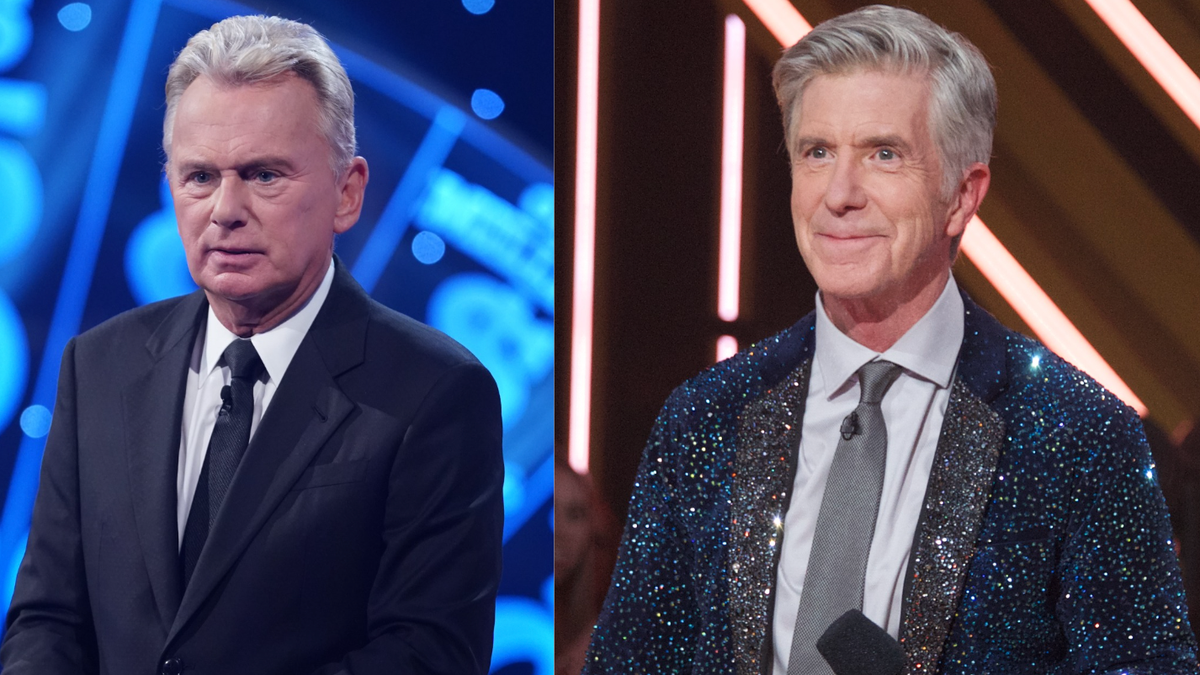 Pat Sajak is leaving Wheel of Fortune and many are wondering who will replace him as host. While a number of names are currently being tossed around, one TV personality is not looking to step into the role.
On June 12, Sajak announced his plans to retire from the longtime game show next summer after more than four decades of being on the air. The news shocked viewers, despite the fact that he's been dropping clues of his impending exit over the last few months. This led to some folks saying that former Dancing With the Stars host Tom Bergeron should take his place, given his years of presenting experience. What's more, they flooded his Instagram, asking him for his thoughts on the suggestion.
In the comments of a video Bergeron uploaded on June 14, fans saw him working out with weights at his local gym. "When you find out that the [Wheel of Fortune] gig is open," one person wrote.
"😂 No thanks," he jokingly replied. "I've developed an aversion to wearing suits."
What's more, others couldn't help but hope that he was preparing to get back on the small screen. But he quickly cleared up the air by mentioning a familiar name from American Idol.
"Are you getting in shape to spin the Wheel of Fortune? You'd be great for that job. 😊," another added. "I'm hearing @ryanseacrest is in line for that one. Which is good 'cause the kid needs the work… 😉," Bergeron quipped.
While the America's Funniest Home Videos alum seems set on his current stance, it's good to know that he wouldn't be working with ABC (which primarily airs Wheel of Fortune) should he change his mind. Fans of Dancing With the Stars may know the alphabet network unexpectedly fired him and co-host Erin Andrews in 2019, before replacing them with Tyra Banks in 2020 and Alfonso Ribeiro in 2022. Tyra has since left the competition series and Julianne Hough is set to be the new co-host for the upcoming season 32.
It's also important to note that Wheel of Fortune is produced by Sony Pictures Television (which also produces Jeopardy!) and distributed by CBS Media Ventures, per Deadline. In January, ABC bought the rights to air the game show through the 2027-2028 season and has been doing so across its affiliated TV stations for more than 30 years.
What's more, Bergeron seems to be busy focusing on his own healthcare. Aside from going to the gym, he revealed that he recovered from a bruised rib the same day he celebrated his 41st wedding anniversary with his wife Lois.
Editorial Assistant
As the entertainment and news editorial assistant for Good Housekeeping, Adrianna (she/her) writes about everything TV, movies, music and pop culture. She graduated from Yeshiva University with a B.A. in journalism and a minor in business management. She covers shows like The Rookie, 9-1-1 and Grey's Anatomy, though when she's not watching the latest show on Netflix, she's taking martial arts or drinking way too much coffee.