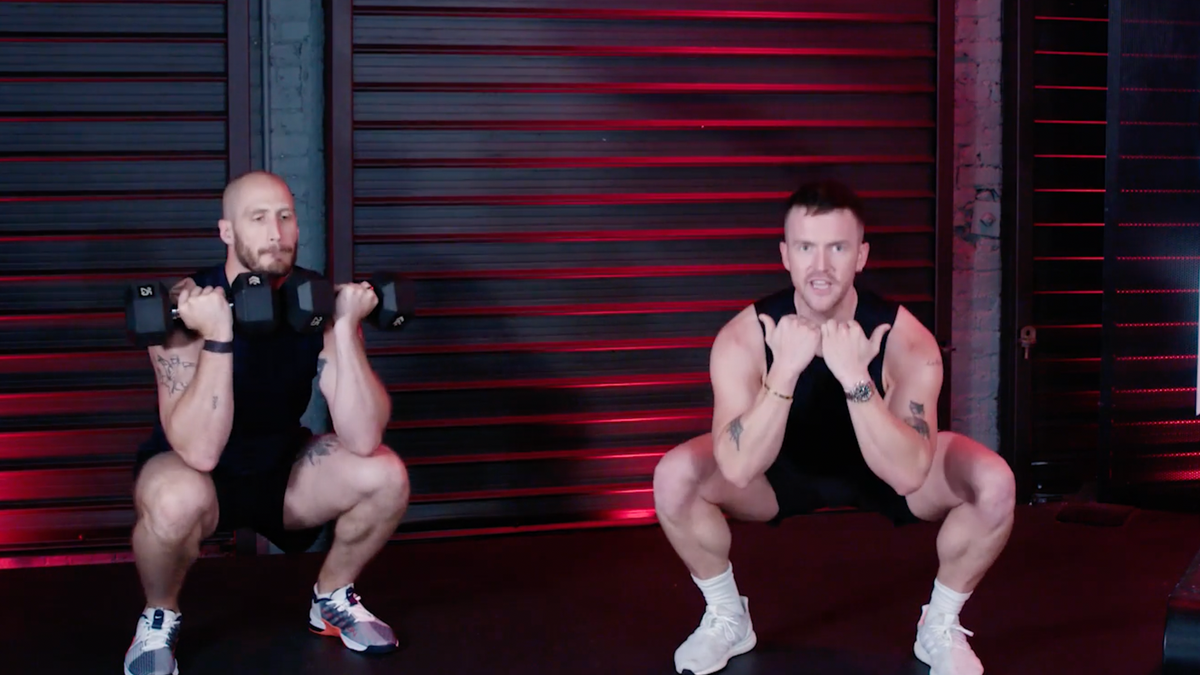 YOU WON'T FIND a five-minute workout class at Barry's, the high-energy boutique group fitness studio—but compressing some of the brand's signature intensity is possible if you're willing to keep up your effort for the whole period.
That was the strategy for this killer five-minute routine from Charlie Meredith, NASM-CPT, Barry's Chief Curriculum Lead in New York City. The session is designed to challenge your lower body, particularly your quads, with nonstop dumbbell squats and squat jumps. You'll get a sneaky core challenge, too—every squat will be performed with the weight in the front loaded position. You'll be forced to brace your abs to keep yourself from pitching forward, making it a struggle to maintain good posture.
To give the workout a try, you'll just need three sets of dumbbells—a heavy set, medium weight set, and light set—some space to move and jump, and a timer to keep track of your splits. You'll be challenged to perform each movement with no rest, which will be extra difficult. If there's any place to steal a quick breather, it will be during the jump squats. Rather than focusing on stringing together rep after rep as quickly as possible, work to make each jump powerful and explosive, pausing to gather yourself before each jump. Check out this guide for extra form cues.
The Barry's Quad Killer Workout
Perform movement A continuously for 40 seconds, then immediately move into movement B for 20 seconds. Begin the next round right away, resting only as needed.
Round 1
1A. Front Loaded Dumbbell Squat
1B. Squat Jump
Round 2
2A. Front Loaded Pulse Squat
2B. Squat Jump
Round 3
3A. Front Loaded Pause Squat
3B. Squat Jump
Round 4
4A. Front Loaded Pulse Squat
4B. Squat Jump
Round 5
5A. Front Loaded Dumbbell Squat
5B. Squat Jump

Brett Williams, a fitness editor at Men's Health, is a NASM-CPT certified trainer and former pro football player and tech reporter who splits his workout time between strength and conditioning training, martial arts, and running. You can find his work elsewhere at Mashable, Thrillist, and other outlets.