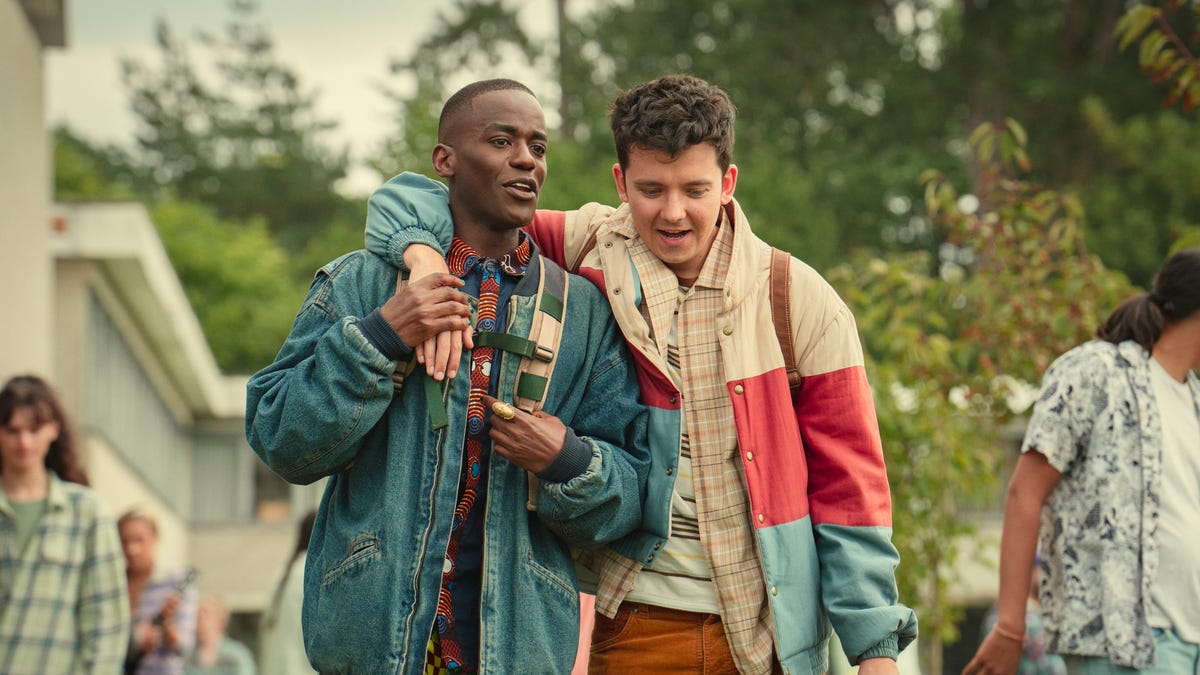 "Speak your truth!"
In the series finale, an older Black woman yells that at Eric (Ncuti Gatwa) while he stands on stage at his church before his baptism. Eric took that as a chance to tell the congregation he didn't want to be half a person anymore before announcing his homosexuality, to the silent dismay of the churchgoers. That was only one scene in Sex Education series finale that chose a truthful ending over a simply happy ending.
Throughout the final episode of Sex Education's run, it felt like new and old characters had run out of places and circumstances to hide from the truth and finally decided to be the people they were meant to be. Otis's mom, Jean Milburn (Gillian Anderson), and her sister Joanna (Lisa McGrillis) have a heart-to-heart on Jean's Sexology radio show about the sexual abuse Joanna suppressed since childhood and the post-partum depression Jean didn't want to admit to. Vivienne Odusanya (Chinenye Ezeudu) finally mustered up the courage to confront her text-bombing and abusive ex-boyfriend Beau (Reda Elazouar) by wishing he gets help on the deep-rooted issue at the core of his controlling behavior, but not before threatening to call the police if he continues trying to get in contact with her.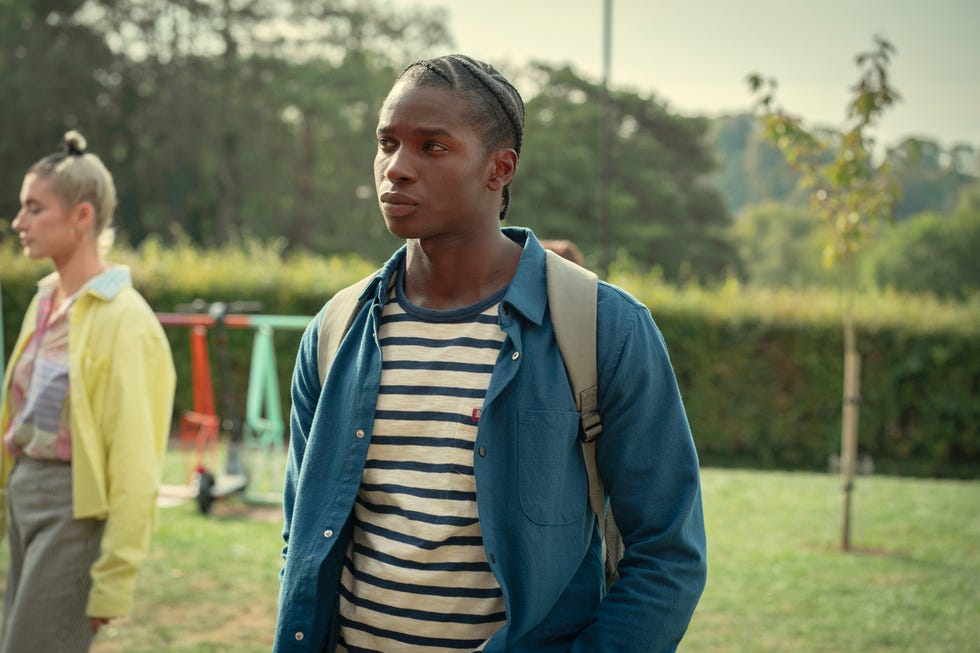 Netflix
The entire final season was full of surprise revelations of Jackson Marchetti (Kedar Williams-Stirling). From finding out he likes having a finger up his butt during sex to having a testicular cancer scare to finding out his mothers kept vital information about his birth from him, Jackson walked through Sex Education as a young man in search of himself. In the series finale, he finally comes face-to-face with his biological father, only for the man who helped birth him dismissively slamming the door in his face before Jackson could tell him he's his son.
Do Otis and Maeve End Up Together?
Over three seasons, the hopes of our favorite sex experts becoming the couple of our rom-com dreams survived deviously deleted voicemails from Oits professing his love, the irresistibly beautiful Ruby falling in love with Otis, and Maeve going to school in America. Before Season 4 reached its finale episode, we discovered our hope couldn't survive the hard truths the couple could no longer avoid. In the penultimate episode, after an illuminating chat with Otis's mom about resiliency, Maeve tells Otis she wants to return to America and possibly stay permanently.
Before this change of heart, Maeve was hiding from the embarrassment of her professor Thomas Mallory (Dan Levy) crushing her writer dreams by submerging herself deeper into a relationship with Otis that would anchor her to a city she wanted to get out of her entire life. She meekly reassures Otis they could still make it work, showing how desperate our hope for them was in the face of reality. But, Otis rationalizes (somewhat prophesizes) the resentment and hate that would arise from such a long-distance arrangement. They finally have sex for the first time, uninterrupted by any of Otis's neurosis, before Maeve leaves the following morning to a new normal.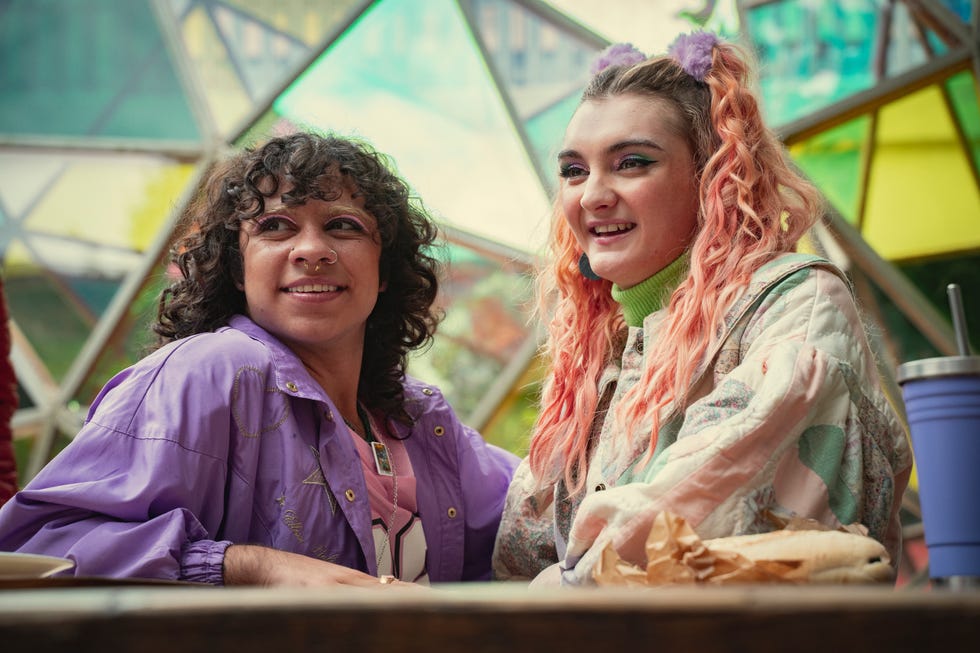 Netflix
The series finale finds them amicably discontinuing communication with one another and Maeve regaining her confidence as a writer in America. Although they don't directly communicate in the entire series finale, Otis discovers a handwritten letter in his room that Maeve left on his nightstand. She opens up to Otis about how his "relentless optimism" allowed her to open up to the world and imagine a life outside Mooordale. The last image we see from Sex Education is Otis longingly gazing out his window with an expression that is hopeful but not happy. Otis and Maeve may not end up together at the end of Sex Education, but nothing is fully off the table when you have hope.
Who does end up together?
While our Sex Education king and queen separate before the series ends, the finale is about strengthening connections. Newcomers Roman and Abbi's relationship starts rocky to open the series finale episode as Abbi sabotages Roman's sexual advances. But, after Otis and O inspired them both to drop a few truth bombs (Roman's bad breath and Abbi's control issues), the pair were able to stay together and finally consummate the relationship with a sensual sexual encounter. And they're not the only ones united by the truth.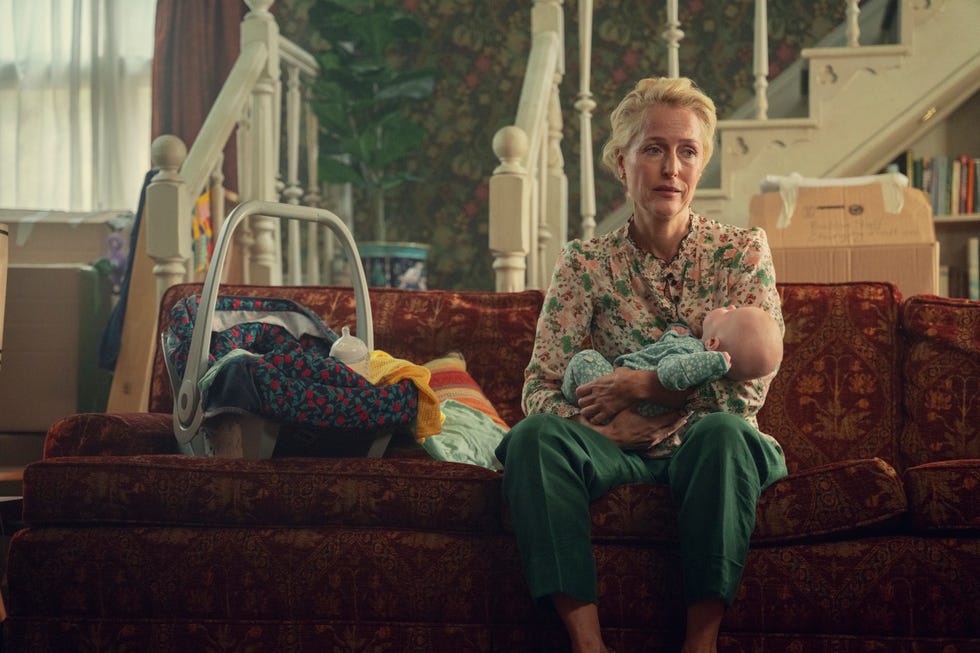 Netflix
Jem (Bella Maclean), the instructor at the horse stable where Adam Groff (Connor Swindells) gets an apprenticeship in lieu of returning to school, finally asks Adam out on a date after he proudly proclaims he's bisexual. Adam also comes to terms with his parents secretly rekindling their relationship and invites his father to share in his and his mother's bonding time of watching TV together. But, of all the new unions, Aimee Gibbs's (Aimee Lou Wood) and Issac Goodwin's (George Robinson) photo room makeout session felt the most triumphant. It marked the first time Aimee was able to be physically intimate with a partner since she was sexually assaulted on a bus in Season 2. In one of her last acts in Moordale, Maeve gave the blessing for her best friend and ex-boyfriend to explore a relationship.
Everyone doesn't leave Sex Education with a smile on their faces, but they all are left standing in their truth. Sometimes, that's better than a happy ending.

Senior Editor
Keith Nelson is a writer by fate and journalist by passion, who has connected dots to form the bigger picture for Men's Health, Vibe Magazine, LEVEL MAG, REVOLT TV, Complex, Grammys.com, Red Bull, Okayplayer, and Mic, to name a few.