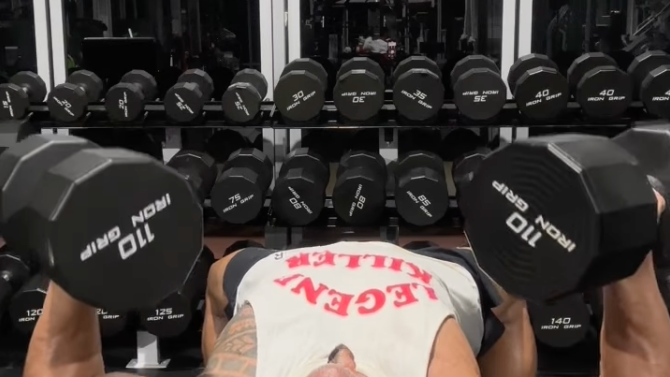 Dwayne Johnson, a.k.a. The Rock, frequently shares insights into his intense six-day-a-week training plan, and has posted several clips from his workouts he uses to sculpt his massive chest, from cable flys to the incline bench press. In a new Instagram Reel, the Red Notice and Fast & Furious star added another move to his chest-building roster.
"Midnight training and burnin' oil," he wrote in the caption. "Tired, but we're all tired. Build new mountain."
In the video, Johnson can be seen performing a dumbbell version of the flat bench press, a great move for building strength and size in the pecs, as well as the delts and triceps. He executes the move with a slow, controlled tempo, maximizing the muscles' time under tension and achieving the highest quality of eccentric contraction on each rep.
The flat dumbbell bench press was one of the key moves that Johnson's trainer, Dave Rienzi, used to help the actor sculpt his giant chest in Black Adam, the superhero movie for which he got into the best shape of his career. That routine also included seated cable flys with slowed-down negatives and static holds, an incline Smith machine bench press, and trisets of dumbbell flys, dumbbell bench press, and dips.
"This workout is designed to build that balanced, well-developed superhero chest," Rienzi explained. "My favorite part is how the tri-set finisher takes the pump to a whole new level."
Philip Ellis is News Editor at Men's Health, covering fitness, pop culture, sex and relationships, and LGBTQ+ issues. His work has appeared in GQ, Teen Vogue, Man Repeller and MTV, and he is the author of Love & Other Scams.