EVERY SO OFTEN, a tech company introduces a device feature so useful and generally applicable that its performance becomes ingrained in the larger fabric of the modern connected lifestyle. Think about calling out to Siri, Alexa, or Google Assistant in your smart speaker to check the weather before you walk out the door, or tapping to pay with your smartphone when you buy coffee. The next of these imminently useful practices might be here for Apple Watch wearers with double tap, a new means of cueing some of the most common actions on the tech giant's best-selling wearable with a simple gesture.
That's the most notable of the new features of the Apple Watch Series 9. There aren't any new sensors or major health features added to the Series 9, but it's now faster, brighter, and smarter too—making it one of the more solid updates to the wearable out of the last few iterations.
I got a chance to check out the Series 9 for about a week ahead of the launch this Friday, September 22. Here are my biggest takeaways from the test period.
Apple Watch Series 9 Quick Stats
Aluminum and stainless steel casings; 41 and 45 mm sizes
Brighter display
New S9 SiP for improved performance
Improved Siri processing on-device
Double tap gesture
18-hour battery estimate
Carbon neutral options (with specific bands)
Starting at $399
Familiar Functionality
There are no major changes to the Series 9's design at first glance. My 45 mm aluminum test unit feels just like the last few iterations of the Apple Watch on my wrist. If you're looking for a radical redesign, this isn't your year.
The Series 9 has the same suite of health sensors and features as the rest of the line as well, like the optical heart rate monitor and ECG and blood oxygen apps, along with safety features like fall and crash detection. Folks looking to use the wearable as a device to monitor the well-being of themselves or their loved ones will find a useful tool here—but not much different than what's been available already.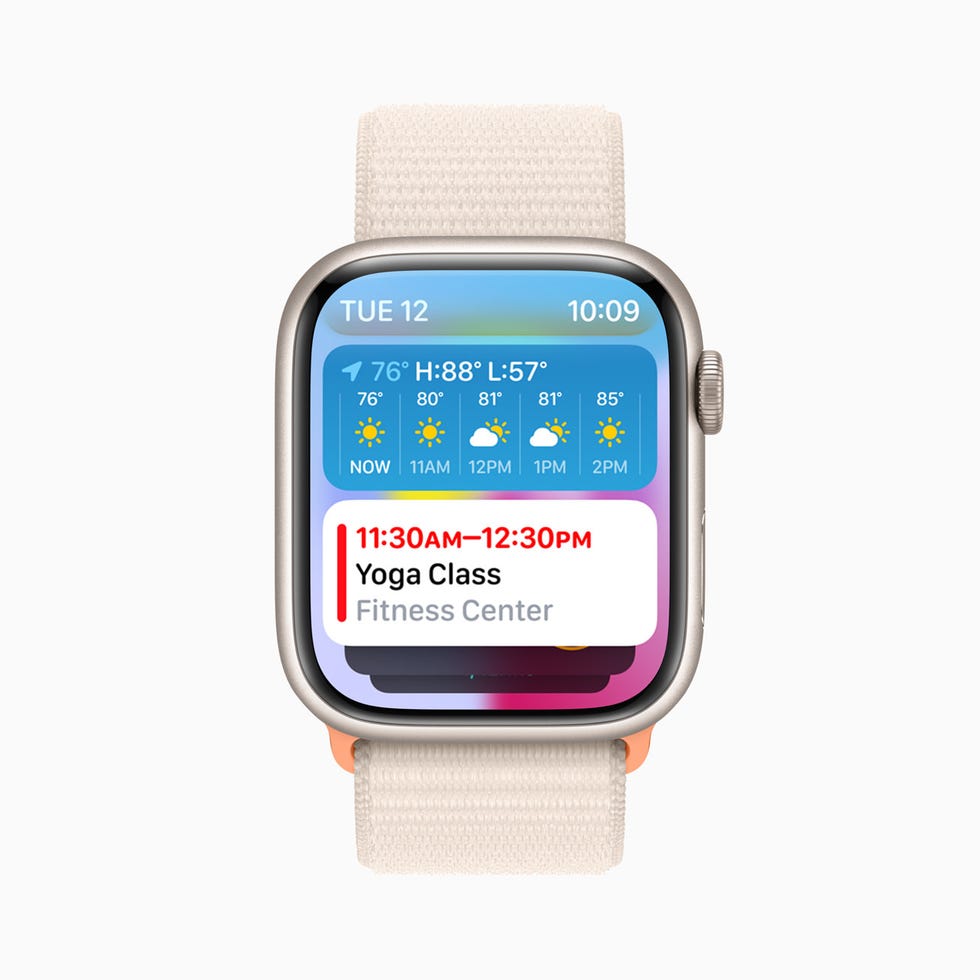 Using the Series 9, then, is mostly the same from the outset (more on the big change in just a bit). There's a new Smart Stack menu when you turn the Digital Crown to navigate apps, comprised of the programs and information (like weather and calendar events) you're most likely to view, but navigating the device will feel familiar to anyone who's used an Apple Watch before. The Series 9 runs faster and looks better than previous generations, though, thanks to a brighter screen and new processing power from the S9 chip. The inner workings of the device allow for better voice commands with Siri, too—along with general tasks like cueing actions and finding information, later this year you'll also be able to log and retrieve health data by speaking to the digital assistant.
This enhanced functionality is due to the Series 9 now being able to process Siri commands directly on-device, a shift from the prior iterations. I don't use Siri often, but when I do it's on the Apple Watch. The timers I set started more quickly than I've experienced with other versions of the wearable, and once I started using voice commands with the double tap feature, I really appreciated the improved performance.
Double Tap Makes Hands-Free Functions Actually Useful
The double tap is going to be the Series 9's real breakthrough feature (it will also be available on the Apple Watch Ultra 2, which shares the same S9 SiP). I got an early peek at it in Cupertino at Apple's Keynote event, but that was only to shift through the Smart Stack on the demo unit. I had to wait to try it out for real—as will early adopters who buy the Series 9 at launch—since Apple says the feature won't be ready for widespread use until a watchOS update next month. My initial review unit didn't have the capability, so I had to wait a little extra for a purpose-specific Series 9 to be sent my way for dedicated testing. When it arrived, I tested the double tap for two full days.
The double tap is by no means an essential feature. Anyone can reach over and navigate their smartwatch with their other hand (and we have for years). But it is fun, and simple to use. Raise your wrist to wake the screen, then tap your thumb and index finger together in a rapid two-count to cue the primary button in whatever app you're using. You need both parts of the movement coordinated together, or the device won't register the command. The feature is possible thanks to the Series 9's new Neural Engine, according to Apple. The device crunches data captured by the sensors in tandem with a machine learning algorithm that detects shifts in your blood flow when you perform the movement. There's a very quick learning curve to mastering the maneuver and getting the exact process down—it's all in the wrist—but I was able to call it up reliably after just a few attempts.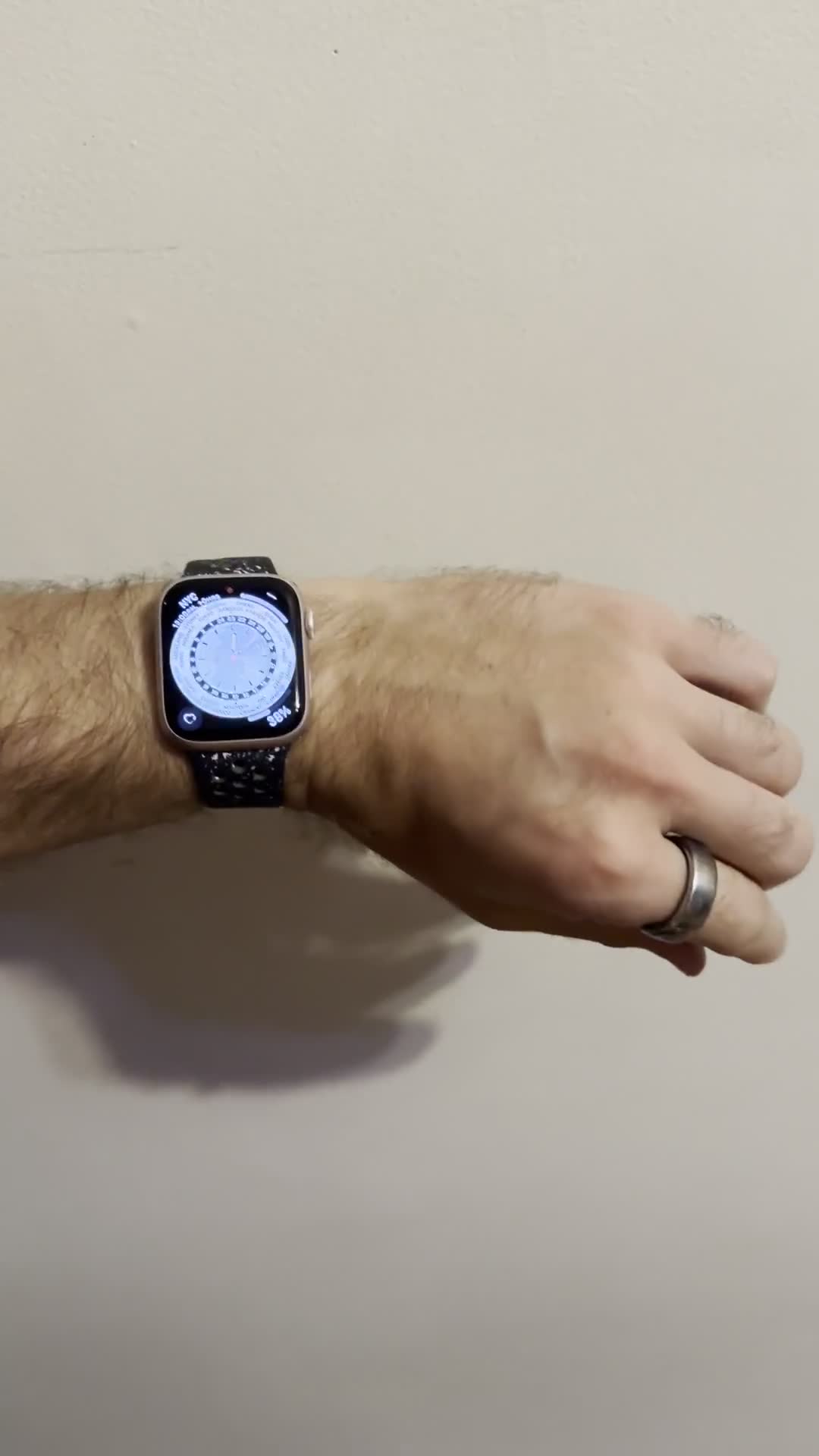 Sure, it's fun to tap away and scroll through the Watch's Smart Stack (the default first step when you cue the feature), but double tap becomes most useful when you're using it to respond to a notification. I took my dog for a walk wearing the Series 9 meaning I had my hands very full. My mom texted me—and rather than pulling my phone out of my pocket to hammer out a response as I paused and reined in my excited pup's leash, I just double tapped to initiate a speech-to-text response, spoke into my wrist, then double tapped again to send it. This was also a moment where the Siri improvements shone. There was only one egregious typo over probably two dozen messages sent with the feature on iMessage and WhatsApp, and that was due to a phonetic mix-up (I said a name similar one in my contacts list, and Siri chose that as the go-to spelling).
I also used double tap as a remote for my phone camera, which was much more convenient for self-timer photos than the old method, which consisted of me setting the camera down, initiating the clock, then rushing into place before the shutter clicks. That's never ideal, especially if I'm trying to get a dog to pose. With double tap, I was able to set the phone down, get into position and pose, then raise my wrist to launch the camera remote app to get a look at the camera view. Then, after adjusting as needed, double tapping for the pic. I can imagine there are lots of parents who will find this extremely useful—and plenty of fitness fiends and other photo and video enthusiasts happy for a hands-free solution as well.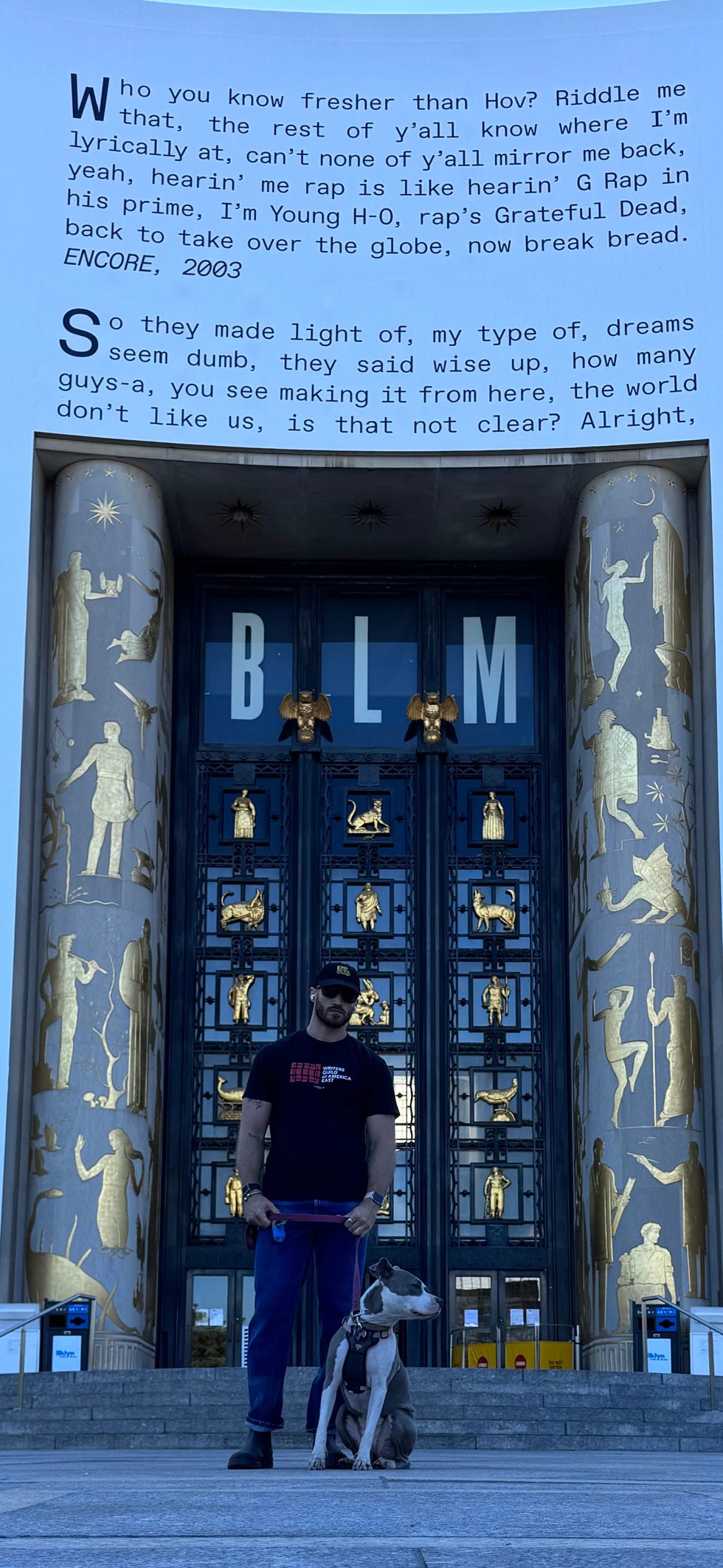 The double tap for camera remote worked perfectly outside the Brooklyn Public Library.
Brett Williams
The funny thing about the double tap feature is that all of the tasks I found it so useful for were already possible on older Apple Watches. I had never used the camera remote feature, and Siri has been around to reply to texts via dictation for a long time, too. The difference is the ease of use, and the physical cue that sets off the whole process. Starting with that double tap is tangible in a way saying "Hey Siri" has never felt for me. The movement also saves a quick swipe using my other hand, which is more of a deterrent than I'd realized before putting it to the test. There's a tactility here while also removing the need for actual touch control—it's something I'm still wrapping my head around.
Should You Buy the Apple Watch Series 9?
Double tap isn't the only new feature for the Series 9, but it is the one that drew most of my attention. There are improvements to the Precision Finding feature to help locate your iPhone (hint: check the couch cushions), and the watchOS 10 update includes some new Maps features and improved tracking in the Workout app for cyclists (check out the Ultra 2 review for some more details on that). Apple also says the aluminum Series 9 is carbon neutral with Sport Loop bands, a move the tech giant also made with the Ultra 2 as a first step toward its self-imposed goal of becoming a carbon neutral business by 2030.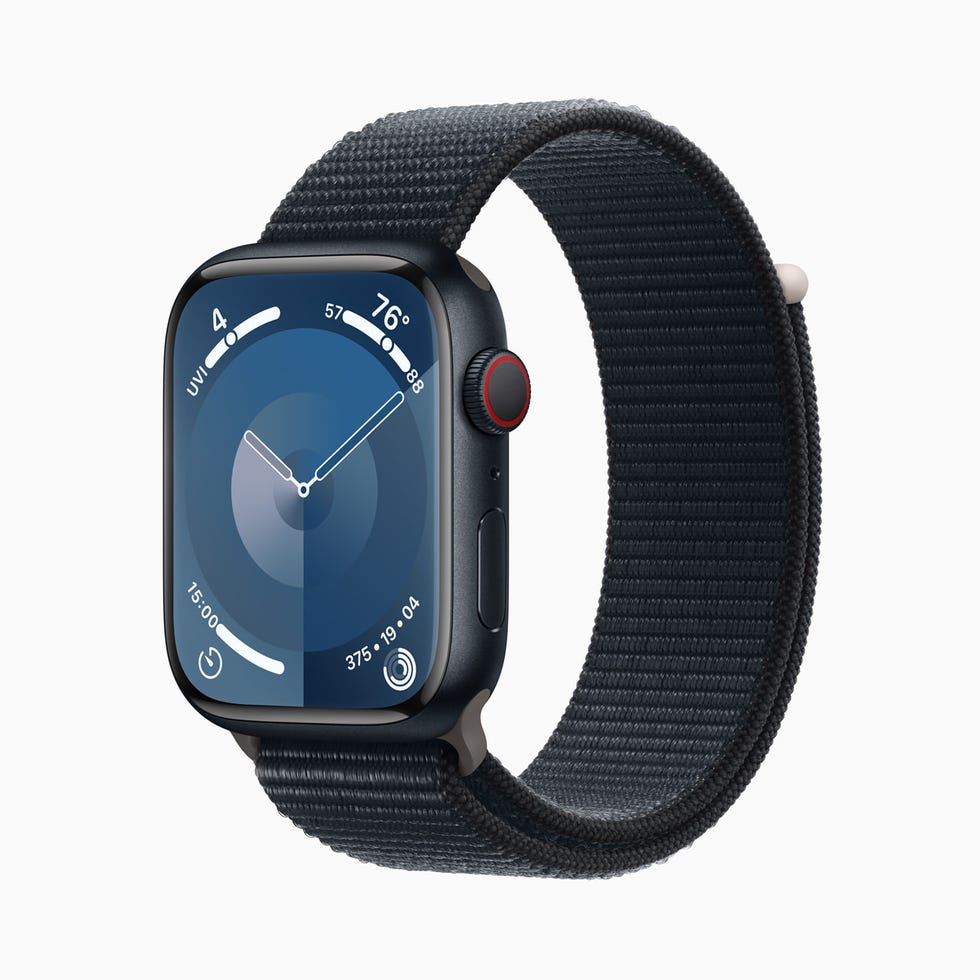 The Sport Loop band.
Apple
All considered, this is a solid smartwatch with one really interesting feature. If you already have an Apple Watch, the double tap is the main factor separating the Series 9 and its predecessors. If you're not sold on the feature, however, the Series 9 is a faster, brighter version of what came before it, not an entirely new paradigm. Update your OS and keep going with the device you have.
For people considering an Apple Watch for the first time, this is an excellent place to start. Other smartwatches have better battery life, which will be a dealbreaker for some users—Apple estimates the Series 9 lasts 18 hours on a full charge, which I found to be about right in my short time testing—but none work better with an iPhone. Now that you have a new means of controlling the wearable, it's an even more natural and seamless connection.

Brett Williams, a fitness editor at Men's Health, is a NASM-CPT certified trainer and former pro football player and tech reporter who splits his workout time between strength and conditioning training, martial arts, and running. You can find his work elsewhere at Mashable, Thrillist, and other outlets.