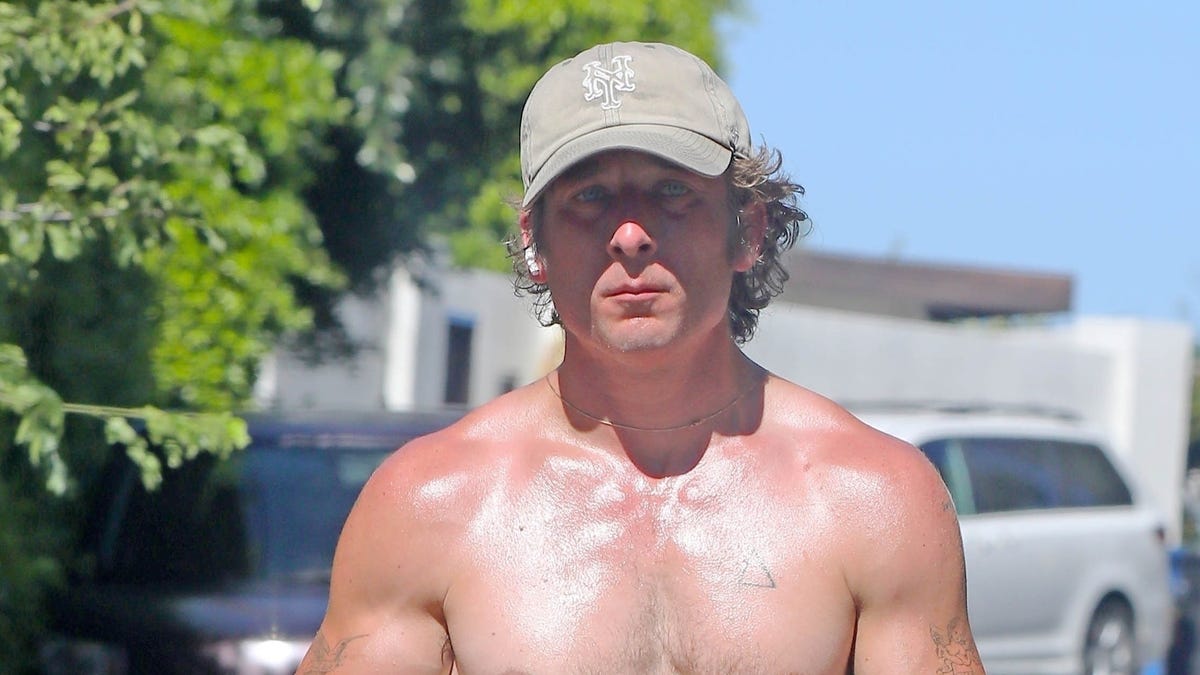 Jeremy Allen White is riding high on the critical success of The Bear Season 2, which earned him his first Lead Actor Emmy nominaton for his portrayal of chef Carmy. And now that the SAG-AFTRA strike has lead to the cessation of all promotional activity around the show, he's putting his energy into showing up for the actors' and writers' unions on the picket line—as well as staying on top of his fitness.
Photos of White on a recent hike in Studio City have gone semi-viralafter the actor shed his shirt in the heat, showing off his muscular physique. He may not have had much opportunity to show off the results of his training under those chef's whites in The Bear, but thirsty fans will soon be seeing a whole lot more of the actor. He is starring in A24's upcoming wrestling saga The Iron Claw as Kerry Von Erich, one of the famous Von Erich fighting dynasty.
And while White enjoyed working alongside Zac Efron on the film, who got equally jacked to play "Golden Warrior" Kevin Von Erich, there was one aspect of getting in shape to play a professional wrestler that he really hated: "eating all the time" to support his intense workouts.
"It's really just gross," he said earlier this year. "You're trying to consume as much as you possibly can, and, to be honest, you don't feel great. I was training as well, but, I don't know, trying to get that big, it's no way to live."
The real-life Von Erich family are at the center of The Iron Claw, and as White recently explained to Deadline, that complex dynamic is frequently what draws him to projects.
"I think family is just such a core component for drama and storytelling," he said. "Shameless is about this blood family, and how they stay connected, how they stay strong. The Bear is about blood family and the trauma of family, but then also about found family and the family that you can build in your life."
Philip Ellis is News Editor at Men's Health, covering fitness, pop culture, sex and relationships, and LGBTQ+ issues. His work has appeared in GQ, Teen Vogue, Man Repeller and MTV, and he is the author of Love & Other Scams.