THE APPLE WATCH ULTRA debuted last year, adding a rugged, outdoor-focused smartwatch to the tech giant's stable of gadgets. I loved the hefty titanium case, the long battery life (compared to other Apple Watches, at least), and the seamless connection with my iPhone. My overall takeaway after reviewing it at launch was that it's more than just a capable adventure wearable—it's an aspirational device that appeals to a broader demographic than might be expected.
I wore the Ultra almost every day as my default smartwatch for the next year. Over the various runs, bike rides, and strength training sessions since last September, I've logged hundreds of hours of activity with the Ultra on my wrist. The wearable has been dependable, serving exactly the purpose I need it to as both a tracker actively logging my activities and as a tool that allows me to maintain a more passive record of my health—and as an extension of my smartphone on my wrist, of course.
The next iteration in the line, the Apple Watch Ultra 2, doesn't mess with the formula. I didn't clock a huge difference between the experience of wearing the original and this new version when I had the opportunity to test it for a week before launch this Friday, September 22. The wearable includes all of the same features as the original, with some tweaks that don't massively change the overall user experience (minus one new way to use the device, which wasn't yet available on my test unit). The new features are more concerned about finely-tuning the Ultra's functions than radically changing the experience of wearing the device. What I did notice was facility. It's better in the little ways that will make it more useful in the long run.
Apple Watch Ultra 2 Fast Facts
49 mm Titanium Casing
36-hour Battery Estimate (60 hours on Low Power)
S9 SiP for improved performance
Bright Display (3,000 knits)
Double-tap gesture (not available until October)
Precision Dual-Frequency GPS
100m Water Resistant; Recreational Diving to 40m and EN13319 certified
Apple Health features like HR tracking, ECG readings, Blood Oxygen levels, etc.
Emergency SOS
watchOS 10
Carbon neutral with Trail or Alpine Loop bands
Starting at $799
Bright, Bold, and Fast
The Apple Watch Ultra 2's most obvious improvement is in the display, which is able to handle extremes better than before. The wearable's screen is brighter—the company says is about 50 percent more than the original—making it easier to read in direct sunlight. I noticed this on a bike ride on a beautiful afternoon, as I glanced down at my wrist for directions. Low-light conditions are no problem, either. The new display is more suited to dialing down the brightness, shifting down to an infrared-esque dark mode when there's less light around.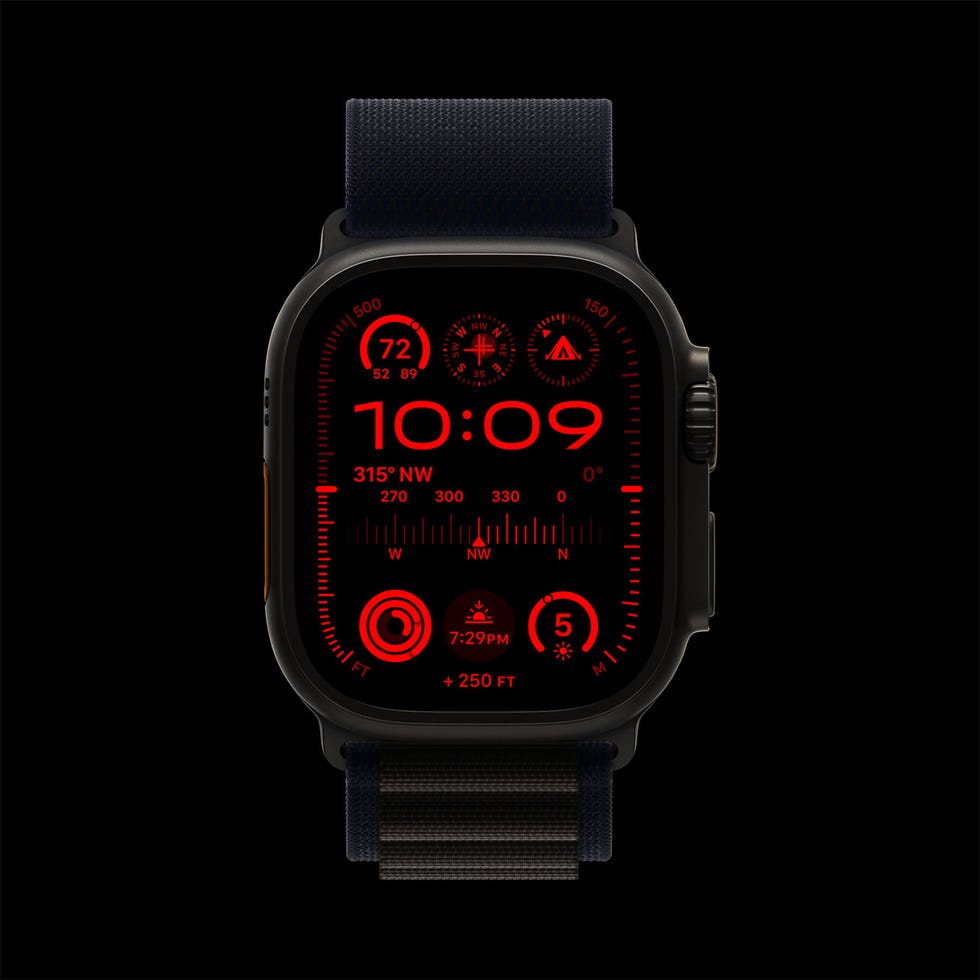 Apple
This comes in handy at night (and just as likely, the early morning), and saved my eyes from the searing white screen more than once as I woke up and woozily raised my wrist to check just how much time I had before my alarm to catch some extra sleep.
I used the Ultra 2 with the new Modular Ultra watch face, which allows for more on-screen data features (like heart rate, battery life, app shortcuts, etc.) than any other configuration across the Watch ecosystem. There's a ton of information on screen, which I prefer—but you can just as easily opt for a more simplistic home setting, or swap between the two with a quick press and swipe on the touchscreen.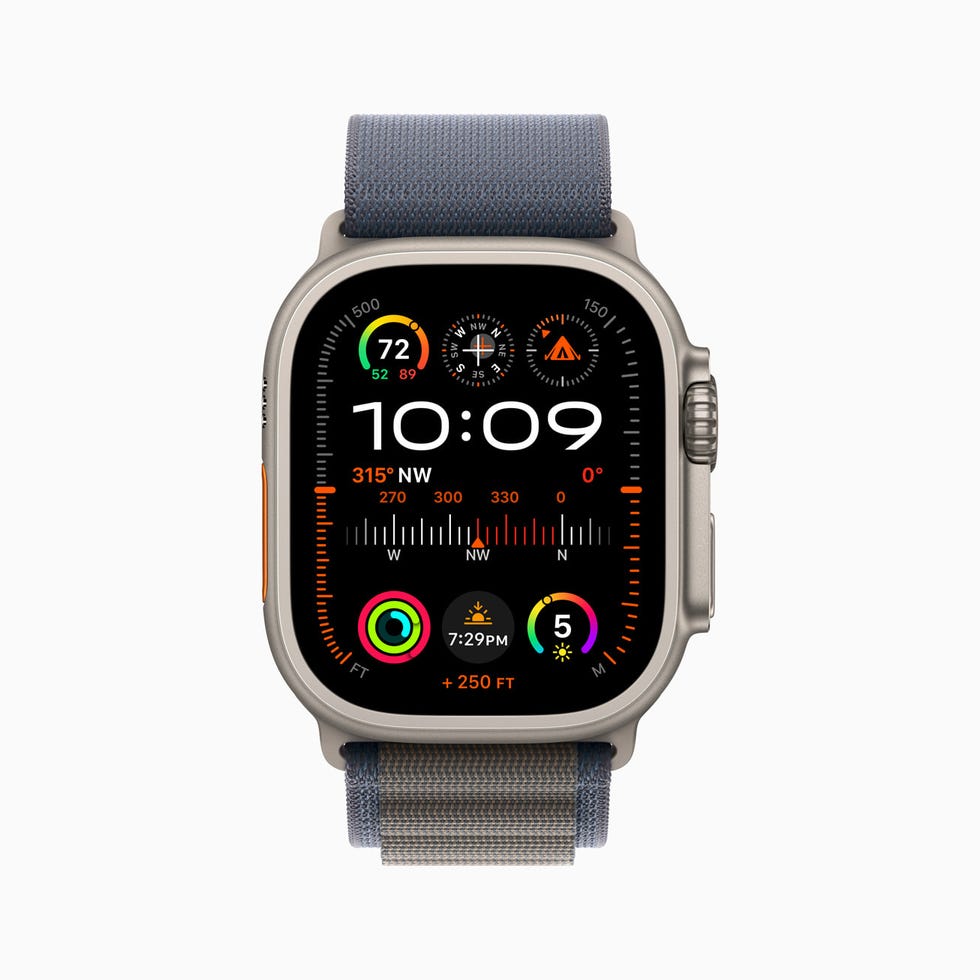 The standard Modular Ultra configuration.
Apple
This wide range of screen settings is thanks to the new S9 SiP, the chip that powers the Apple Watch Ultra 2 (and the Apple Watch Series 9, too). Apple says it's responsible for the processing power that enables everything from the screen brightness to the battery efficiency. The battery life is the same as last year's model in both the company's estimates (36 hours) and my testing experience; I made it the better part of two days before having to charge. Most notably, the chip (and new Neural Engine) is to thank for the new double-tap gesture, which I demoed at the company's HQ when the new hardware was revealed at the annual September keynote event.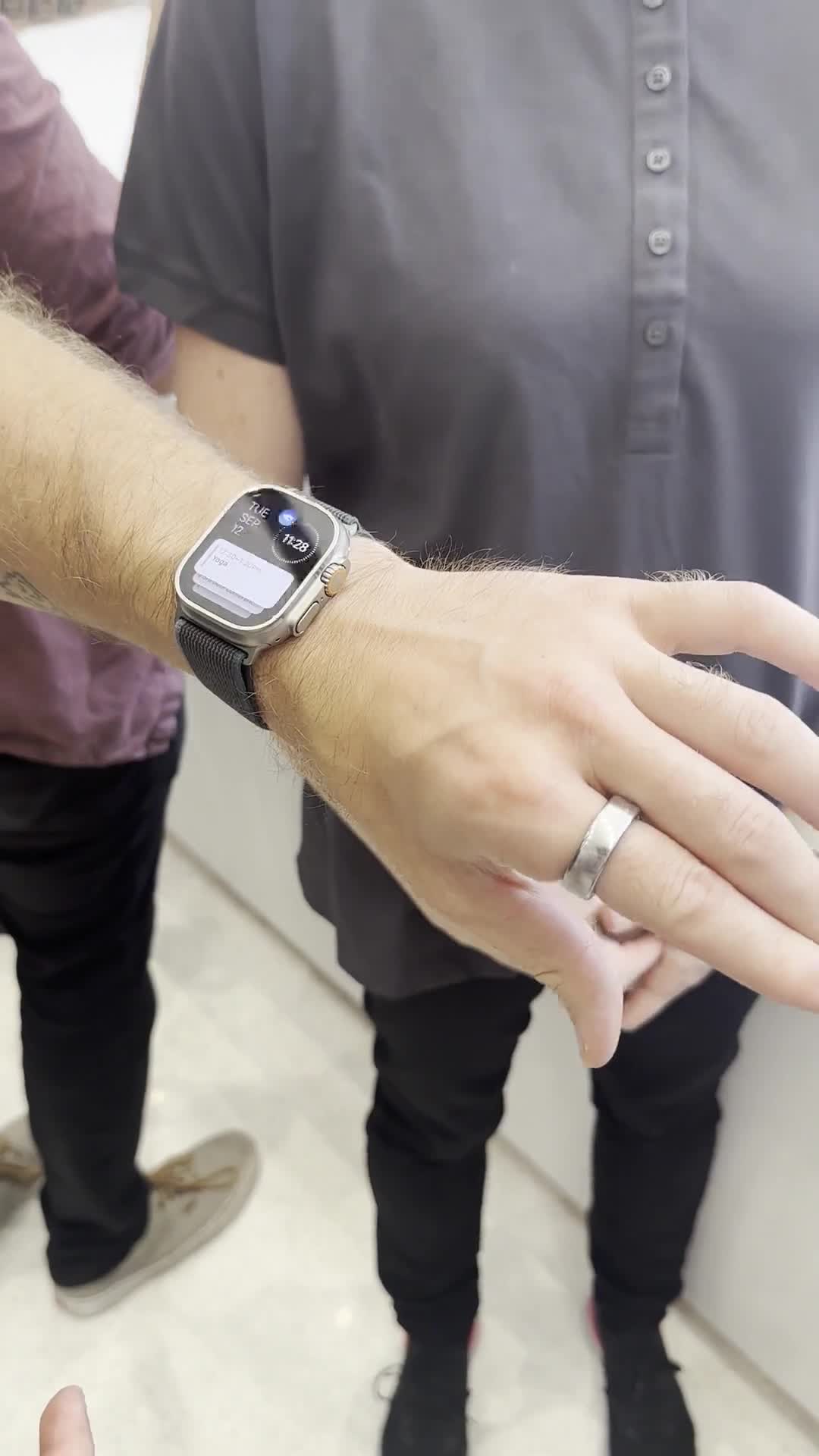 The feature, which allows you to control the Watch functions like answering calls, sending messages, and more with a quick movement of your wrist and fingers, is something that I think might become quickly ingrained in the way we interact with our devices, akin to calling for smart assistants like Siri or Alexa. Unfortunately, the functionality won't be ready at launch later this week, and wasn't available on my Ultra 2 review unit. Once that is ready, it will make the Ultra 2 even more useful (and fun to use) in all sorts of situations. I was able to test out double-tap more extensively on the Series 9, so check out that review for more details about the experience. But know that this feature is far from essential, too; it's not as if your smartwatch, whether it's an Apple Watch or other device, was incredibly hard to navigate anyway.
Also new to the Ultra 2 is enhanced Siri functionality; the wearable is now equipped to process the smart assistant's processes directly on device. I don't typically use the voice commands, but I did notice I was able set timers, alarms, and pull up information more quickly. You can also now use voice commands to record health data directly to the device, which can be useful to track everything to your weight to medications.
Ultra 2 Active
The main appeal of the Ultra line is in its use as an outdoor adventure tool. Using the GPS features like the Compass app are similar to the original, with some new improvements in functionality. There are some new automatic Waypoint features to prevent you from getting lost in low-connectivity areas, which I wasn't able to get off-grid to test. Maps are also improved on-device, with new topographic features and trail information available for regional and national parks. Even more usefully, you can now download maps to be used offline (while still connected with your iPhone, that is).
One of the Ultra 2's major appeals to most people is as an activity and fitness tracker, and watchOS 10 expands upon its capabilities, introducing some new features for cyclists in the Workout app (the new stats are available on all watchOS 10 devices, not just the Ultra 2). I'm not a competitive cyclist, but I am an avid city bike rider, and my smartwatch has become an essential tool that helps me to navigate hands-free.
The Apple Watch now records detailed power and cadence stats, and you can view the session in two screen configurations, Cycling Power and Speed, to track power output and current speed and distance, respectively. I tracked a ride out to another neighborhood in Brooklyn and back, and I liked having the quick info I needed at a glance—but did feel a bit deflated when I saw just how slow I wind up going in miles per hour as I brake for pedestrians and weave in and out of the bike lanes.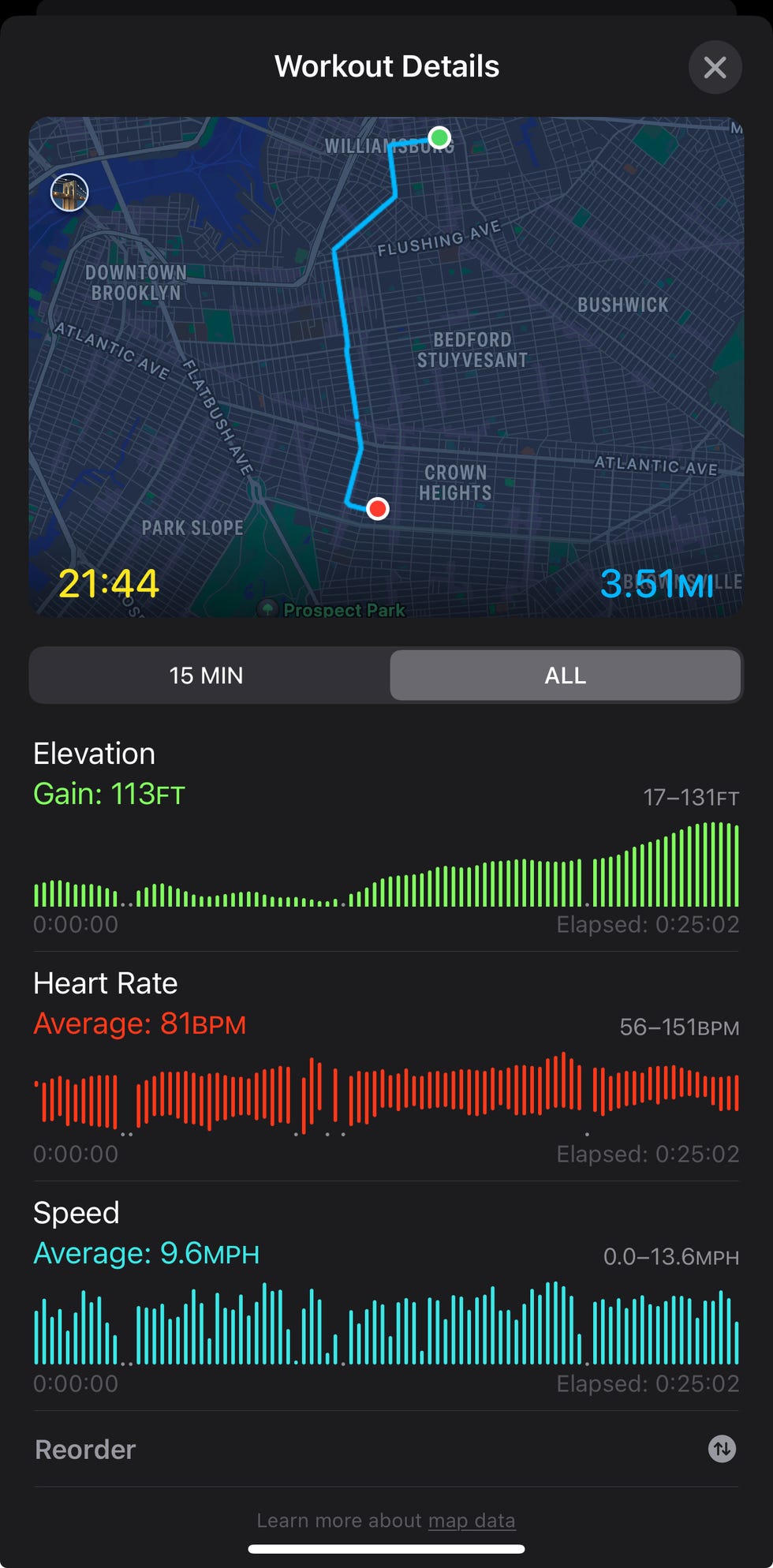 Brett Williams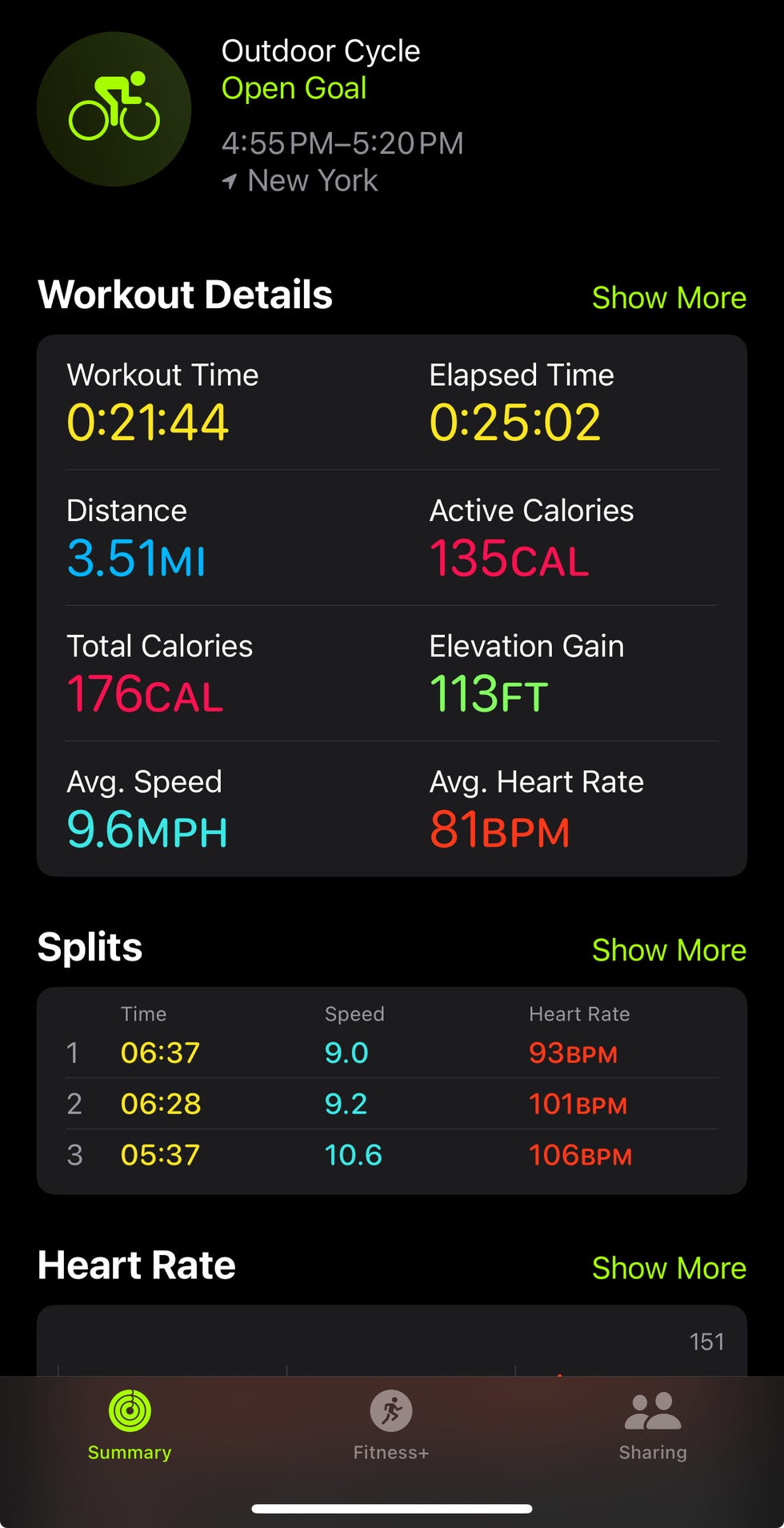 Brett Williams
Really serious riders can also now connect Bluetooth-enabled accessories to access more detailed stats, like Functional Threshold Power. I'm not that hardcore, so I didn't give that a spin. Along with the cycling additions for watchOS 10, the Ultra 2's diving app, Oceanic+, has been updated to enable freediving sessions.
Should You Buy the Apple Watch Ultra 2?
The wearable hits the sweet spot between features, functionality, and seamless mobile connection, something that isn't always guaranteed for high-powered adventure watches. The Ultra 2 is a solid next step, especially once the double-tap feature comes next month. And for the environmentally-conscious, Apple says the device is a carbon neutral product when paired with the Alpine and Trail Loops, an early step in the company's overall objective for carbon neutral operations by 2030.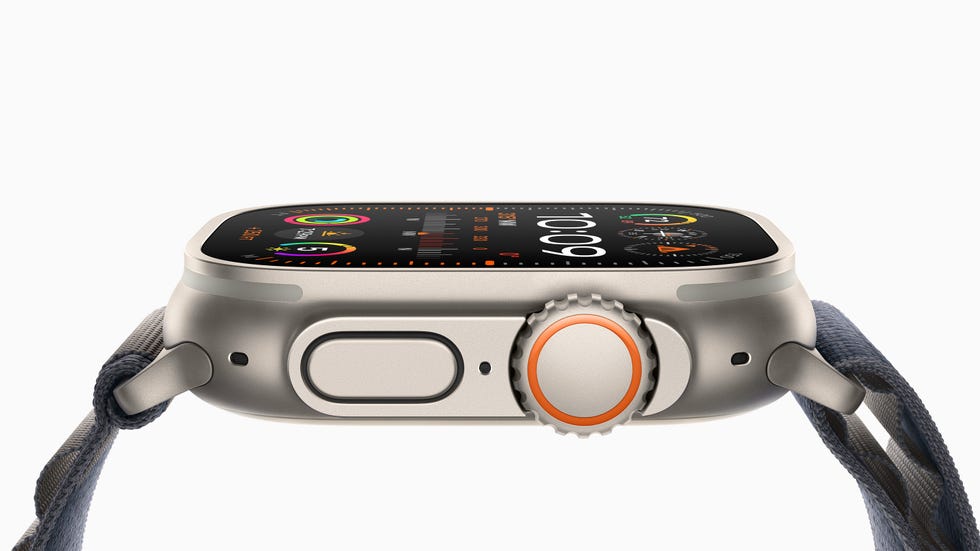 Apple
All that said, if you have an original Apple Watch Ultra, you'll most likely want to sit this iteration out. The health sensors are identical, the functionality (minus the double-tap feature) is largely the same, and you'll get many of the new updates (like the cycling features) when you update your software to watchOS 10. If your OG Ultra is anything like mine, it's also still running just as well as the day you first strapped it on, with barely a scratch on its titanium casing, so you already have an excellent $800 wearable. The factor that would really have convinced me is if the battery took a leap forward—so we'll have to look forward to see if that happens next year.
For new adopters, though, the Ultra 2 is an excellent place to start if you're willing to shell out the cash. It has everything that made the first version such a cool device, plus the speed and accessibility of double-tap. You can get watches that do slightly more in activity specific conditions and don't have to be charged as often, but you won't find any others that work quite so seamlessly with your smartphone.

Brett Williams, a fitness editor at Men's Health, is a NASM-CPT certified trainer and former pro football player and tech reporter who splits his workout time between strength and conditioning training, martial arts, and running. You can find his work elsewhere at Mashable, Thrillist, and other outlets.