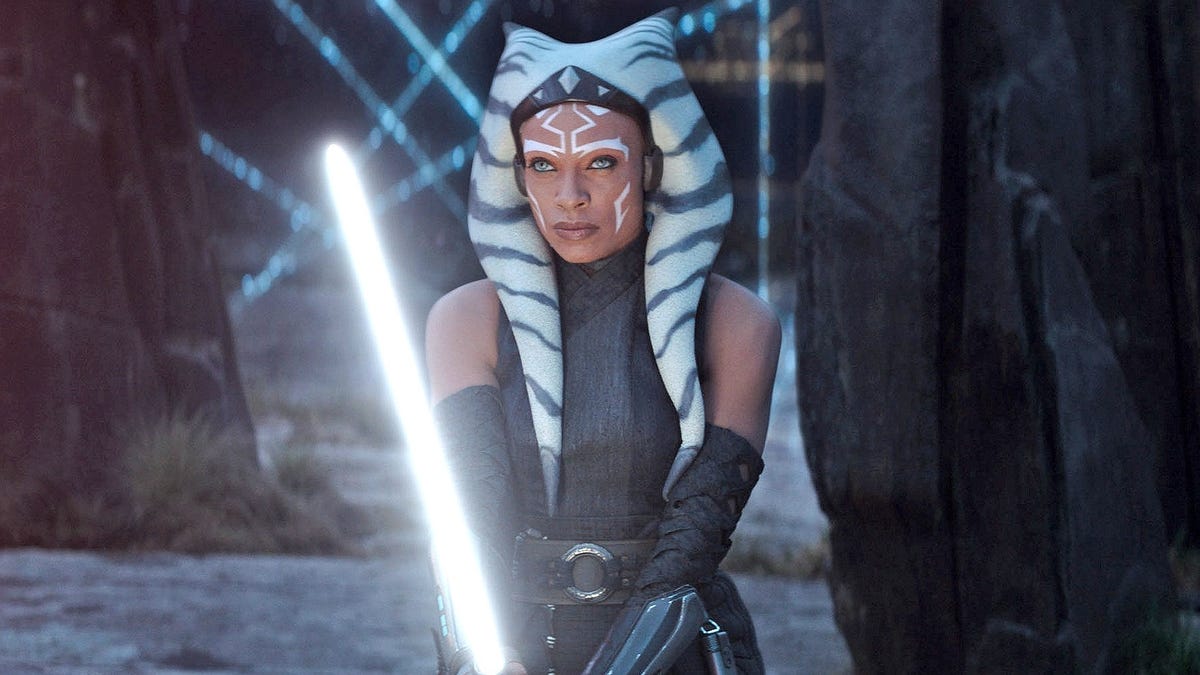 The following story contains spoilers for Ahsoka Season 1 on Disney+.
---
AFTER YEARS IN the animated world (and a few guest appearances on other Disney+ shows), Ahsoka Tano has now completed her very first live-action adventure. Played by Rosario Dawson, Ahsoka's transition to live-action in Ahsoka (set after the events of Return of the Jedi, The Mandalorian Seasons 1 and 2, and The Book of Boba Fett) was essentially a long journey toward an older Ahsoka re-teaming with her friends, including Sabine Wren and Ezra Bridger as they prepare to take on villains (Morgan Elsbeth), mercenary force users (Baylan Skoll and Shin Hati), and a dangerous and brilliant imperial leader (Thrawn).
But does a one-and-done scratch the itch that Star Wars fans had to see more stories involving the character who rose to fame in The Clone Wars and Rebels? That remains to be seen.
The producers behind Ahsoka (and The Mandalorian, and The Book of Boba Fett) have done a good job thus far in creating stories that have just enough overlap to feel truly connected (Andor and Obi-Wan are doing their own thing), so it's possible that this story could continue under another name or another banner.
But for now, surely, fans are just eager for some information on what Ahsoka will do next. Luckily, we've got some answers.
Will there be a Season 2 of Ahsoka?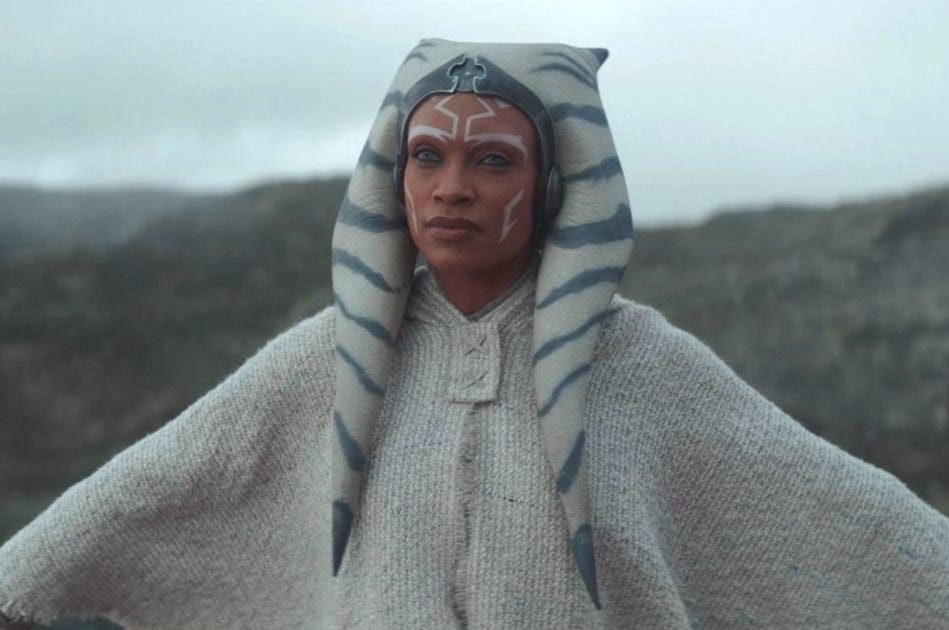 Disney+
As of right now, Ahsoka has not been renewed for Season 2. That being said, Rosario Dawson has expressed quite a bit of interested in keeping the story going. "I'm ready. I'm excited. I'm willing," she told Empire. "I got my ice-packs ready to go for Season 2 and beyond! I would not be mad at that."
An April story in The Hollywood Reporter said that Disney was monitoring numbers for a potential Season 2 of Ahsoka that "would depend on the performance of the first season." Dawson also commented on the importance of fans watching in an EW cover story that ran before the Season 1 premiere: "I really, really hope the fans love it," she said. "That means A) we get to do more and B) we've honored the legacy of this character and this journey, and I know that's what we intended to do."
Even if Ahsoka is not renewed for a Season 2, though, we do know that Ahsoka Tano's story will continue. That's because it was announced earlier this year that Dave Filoni will direct a movie that intends to tie together his parts of the Star Wars universe—mainly Din Djarin/The Mandalorian, Ahsoka Tano, and Grand Admiral Thrawn—into one major crossover film.
While the movie has been officially announced, it's been difficult from Star Wars movies in recent history to get past the early development stage into actual production… so we'll just have to keep an eye on this one. But as of now, the plan is for the story to crescendo in this way.
Which Star Wars shows are coming up next?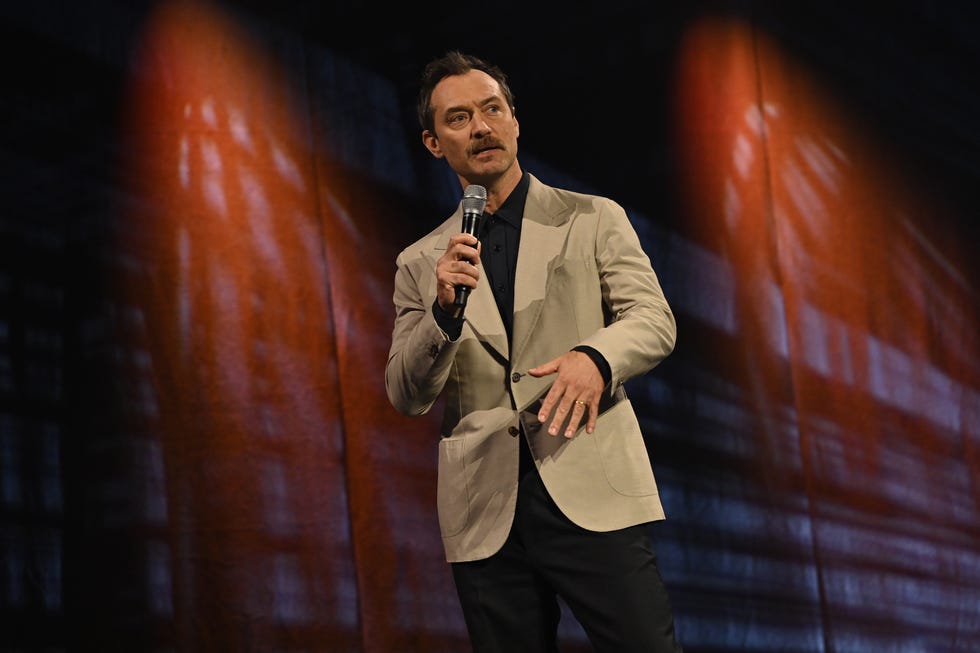 Kate Green//Getty Images
While Ahsoka may not be involved, we still won't be lacking Star Wars any time soon. Up next is Star Wars: Skeleton Crew, which is described as an Amblin-style coming-of-age Star Wars adventure (think E.T. or Stranger Things) led by Jude Law and co-created by Spider-Man: No Way Home director Jon Watts and his frequent collaborator Christopher Ford. But perhaps that show's greatest asset is its wonderful collection of directors signed up to direct episodes: Bryce Dallas Howard (who has directed some great episodes of Star Wars TV before), David Lowery (director of A24's The Green Knight), Lee Isaac Chung (Oscar-nominated director of Minari), Jake Schreier (who just did a lot of work on Beef and will next direct Marvel's Thunderbolts), and the Daniels (who just won the Best Director Oscar and a whole bunch more for Everything Everywhere All At Once).
Also on the horizon is The Acolyte, from Russian Doll creator Leslye Headland. The Acolyte is the first live-action series set in the Star Wars universe's High Republic era, which is about 100 years before the events of The Phantom Menace, when the Jedi were truly in overwhelming power. This story is about a former Padawan (Amandla Stenberg) and her force-using master (Squid Game's Lee Jung-jae) reuniting to investigating a series of dark crimes. Kind of sounds like a Star Wars True Detective? The rest of the cast is stacked as well: Carrie-Anne Moss, Manny Jacinto, Jodie Turner-Smith, and Joonas Suotomo (as a non-Chewbacca Wookiee Jedi master) are among those credited.
And, finally, there's the second and final season of Andor. The first season of Andor was very possibly the best Star Wars project of all time. So we will be waiting on that one with baited breath.

Evan is the culture editor for Men's Health, with bylines in The New York Times, MTV News, Brooklyn Magazine, and VICE. He loves weird movies, watches too much TV, and listens to music more often than he doesn't.