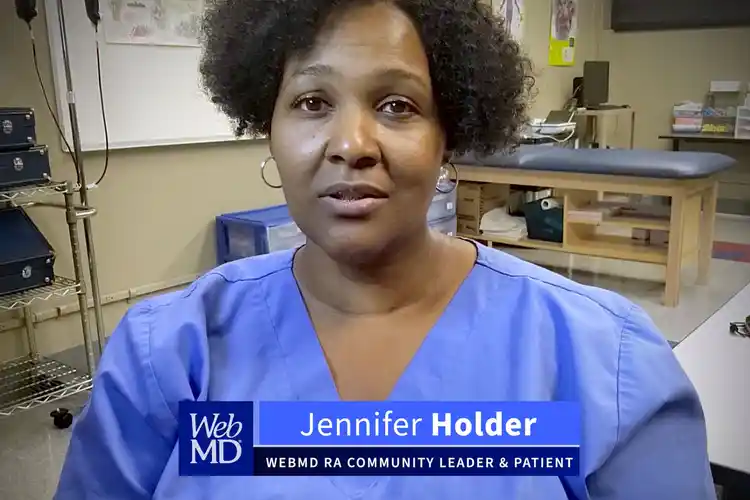 Rheumatoid arthritis can take a toll on your mental health. Jennifer Holder, community leader of Webmd's Facebook RA group, talks about how her friends get her through the tough days – and how accomplishments both big and small are worth celebrating.
Video Transcript
JENNIFER HOLDER: RA can take a toll on us mentally because when you have those days where you're unable to do even just normal, everyday, basic things like hold a toothbrush or a hairbrush, or even tie your shoe, when your fingers, your joints and your fingers are swollen, those are really hard things to do. That takes a toll on us mentally. If we dwell on it every day, all day, those negative thoughts take a toll, and it makes RA more scary. But if you take control and find a happy place wherever you can, I think it helps.
My girlfriends are amazing. None of them have RA, but they were always supportive, always helpful, and understanding when I was not able to do something. If my friends were going out and I'm tired, they understand that sometimes people with RA are very tired. It's not always just work. Sometimes with RA, there's days you just can't do a whole lot.
And they were understanding. When I had bad days, I was able to pick any one of them and just vent. They were my lifelines. And I'm always forever grateful to them.
If there's one thing I have learned in having RA, you have to pamper yourself. You have to. Now that I'm in remission and I'm able to do a lot more, I don't want to miss out on anything. And so I go for massages. I take myself on a solo girl's day– get my nails done, get a massage, get a facial. I go on vacation a lot. That's my thing.
I love to travel. It's something I always wanted to do. And I didn't think that I would get the opportunity to do so because in my mind I always thought that at this age I would not be able to move around and do the things that I wanted to do. So I'm always on the go. I'm always looking for the next place to visit in the world.
The biggest victory for me is that I'm here still reaching for my goals and doing what I want to do with my life. And I guess a small victory for me would be back in 2021, I hiked a trail on Oahu in Hawaii. That was pretty– it was hard. [LAUGHS]
I did it with my oldest son. He made it to the top faster than I did. But the fact that I was able to climb that hiking trail was big for me. The whole time I was doing the hike, all I could think about was how when I first had started symptoms of RA and what I went through to get a diagnosis, and remembering how in my early 30s I would envision myself at this age crippled or bedbound, and that was pretty scary.
So the whole time that I was doing the hike, I just kept thinking about how far I've come. And I feel like I have a second chance at life. So I'm taking every chance I can.