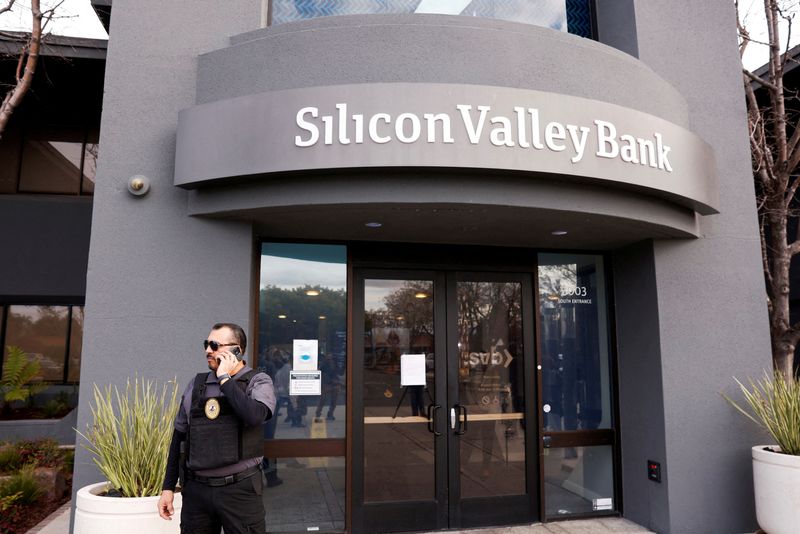 © Reuters. FILE PHOTO: A security guard stands outside of the entrance of the Silicon Valley Bank headquarters in Santa Clara, California, U.S., March 13, 2023. REUTERS/Brittany Hosea-Small

SHANGHAI/HONG KONG (Reuters) – The collapse of Silicon Valley Bank (SVB) will not impact China's financial system but offers an important lesson for the country's banking industry, the official Securities Times said in an editorial on Wednesday.
An SVB-style bank failure is unlikely to happen in China but the incident would have "important implications for the development of China's small- and medium-sized lenders, and the stability of China's financial system," the editorial said.
SVB's shutdown on Friday has roiled global markets, forced U.S. President Joe Biden to rush out assurances that the financial system is safe and prompted emergency U.S. measures giving banks access to more funding.
In China, shares of smaller lenders including Bank of Lanzhou, Xi An Bank and Xiamen Bank have far underperformed big banks over the past week, amid concerns over their ability to manage risks.
China's smaller banks, more vulnerable to interest rate risks, could suffer from shrinking interest spreads and investment losses during a rate hike cycle, GF Securities said in a report this week.
The Securities Times said that while the SVB incident reflects loosened regulation of such banks in the U.S., a slew of financial regulatory reforms in China over the past years have cleaned up the industry, curbed shadow banking and reduced financial risks.
In addition, China has been closing regulatory loopholes, the editorial said. In the latest move, China said last week it would set up a new national financial regulatory body consolidating oversight of the industry.
"Although the SVB incident won't have material impact on China's finiancial markets, China's financial industry still needs to earnestly learn from this lesson, and always prioritise risk prevention and control," the newspaper said.
SVB's China joint venture has also sought to ease fears among clients and investors, saying on Saturday it has a sound corporate structure and an independently operated balance sheet.