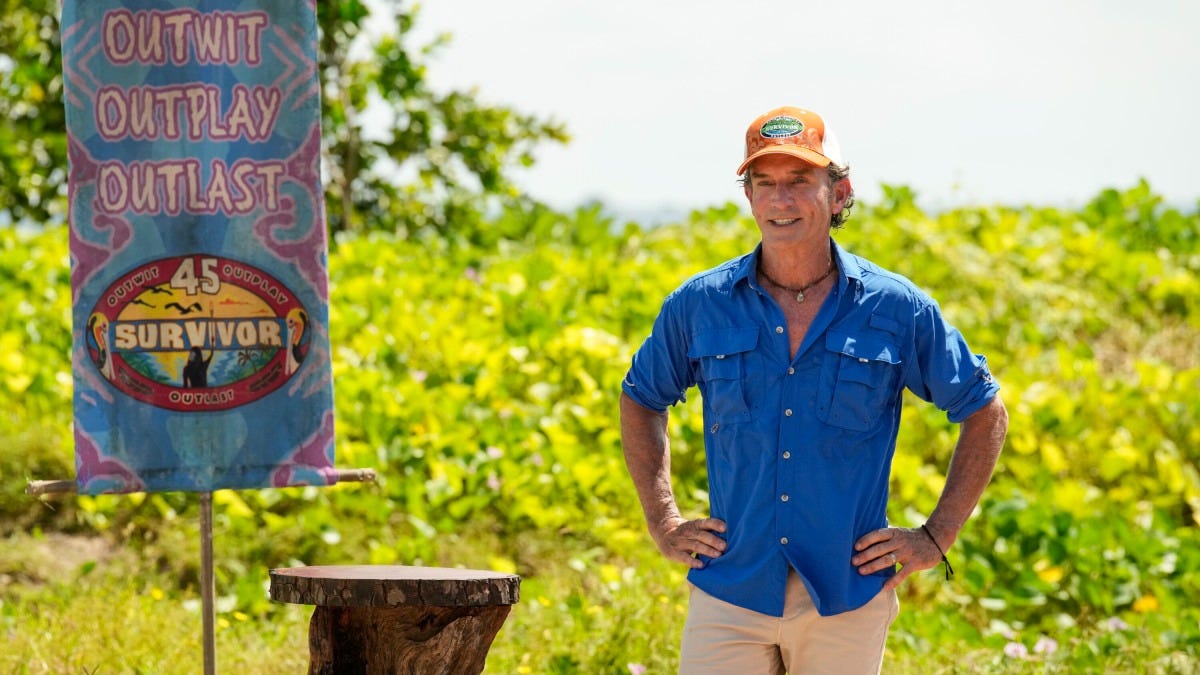 One of the longest-running reality competition shows around, Survivor is a primetime staple. Even if you're not an avid fan, you're aware of the show and its impact. There are few shows out there with the level of staying power across generations. The premise never gets tiring; a group of regular people descend upon an island and eschew all modern conveniences–in recent seasons they've been given nothing more than basic supplies, not even food. To stay on the island, they have to compete in physical challenges first as a team, then later individually. But the best part of Survivor is the social aspect. Even if you're not the fittest person on your team, if you can ingratiate yourself with the rest of your tribe, you can chart a path to the win. The game's motto is "Outplay. Outwit. Outlast," after all. And at the end of it all is the incredible prize of $1 million.
If you're not already watching Survivor, there's never a bad time to start. Each season features a brand new cast and many of the same physical challenges previous seasons faced. That same consistency in format (besides a few structural changes over time) make it easy for newcomers to go back and watch previous seasons as well, which you'll likely want to do once you become hooked on the show.
Now in its 45th season, Survivor has no signs of stopping anytime soon. If you're ready to watch, here's everything you need to know about the new season.
How to Watch Survivor
For those who have cable, Survivor can be watched on CBS on Wednesdays, starting September 27th at 8 p.m. ET. Episodes are 90 minutes long this season, a first for the show in its entire history.
If you don't have cable, however, there's another way to watch the show. On Paramount+, episodes can be watched on the streaming platform's Live tab, which airs most of the media conglomerate's channels. The episodes will also be available to stream the day after the show airs.
When does the next episode of Survivor premiere?
The next episode of Survivor premieres on October 4th.
How many episodes are left in Survivor Season 45?
There are 12 episodes left in the season and 13 episodes total.
Here's the Official Survivor Release Schedule.
Episode 1: Streaming as of September 28
Episode 2: Airs on October 4, Streaming on October 5
Episode 3: Airs on October 11, Streaming on October 12
Episode 4: Airs on October 15, Streaming on October 16
Episode 5: Airs on October 22, Streaming on October 23
Episode 6: Airs on October 29, Streaming on October 30
Episode 7: Airs on November 6, Streaming on November 7
Episode 8: Airs on November 13, Streaming on November 14
Episode 9: Airs on November 20, Streaming on November 21
Episode 10: Airs on November 27, Streaming on November 28
Episode 11: Airs on December 4, Streaming on December 5
Episode 12: Airs on December 11, Streaming on December 12
Episode 13: Airs on December 18, Streaming on December 19

Milan Polk is an Editorial Assistant for Men's Health who specializes in entertainment and lifestyle reporting, and has worked for New York Magazine's Vulture and Chicago Tribune.