SUMMER TRAVEL is right around the corner. Whether you're eyeing flights to a beachside locale or you've already finalized your summer vacation, it's almost time to start packing your bags. If your current suitcase is looking a little worse for wear ahead of your next trip, we've got great news for you: Samsonite's #1 best-selling carry-on suitcase on Amazon, the Winfield, is currently on sale for a massive 44% off.

Having the right carry-on suitcase can make or break your trip. After all, when travel stress strikes—like delayed flights, changes in plans, or navigating unknown airports—the last thing you probably want is to drag a clunky, overstuffed suitcase behind you. To help combat hectic travel days, the Samsonite Winfield has tons of thoughtful features, from a durable exterior and smart organization, to an easy-to-maneuver design. In fact, we even named Samsonite as having the best budget carry-on suitcases you can buy in 2023.
VIEW ALL CURRENT SAMSONITE DEALS HERE
Samsonite Winfield Hardside 20-Inch Carry-On Luggage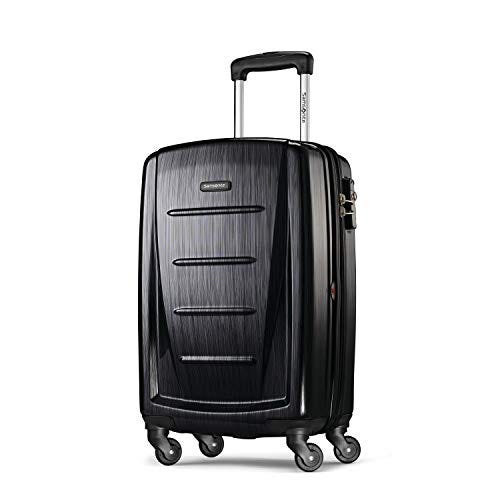 Samsonite Winfield Hardside 20-Inch Carry-On Luggage
Now 44% Off
There's a lot to love about the Samsonite Winfield. For starters, it has a durable polycarbonate shell that protects your belongings from unintentional bumps by absorbing the impact. That means you can easily stow your luggage in the overhead bin or check your bag on crowded flights without worrying it'll get damaged during the flight.
Read more: Best Luggage Brands on Amazon
Our experts also found that there's tons of handy storage inside each Samsonite suitcase, making it easier to stay organized on the go. The Winfield features handy cross straps on one side to compress bulky items like jeans, sweaters, jackets and more, while the zippered compartment on the other side can keep small folded items neatly in place. There are even small zipper pouches for easy-to-lose items like chargers, socks and jewelry cases.
When it's time to put your suitcase in the overhead compartment, you'll love that the suitcase weighs only 6.7 pounds. Its lightweight yet durable design makes it super maneuverable, so you can pull it behind you or lift it over your head without unnecessary effort. Best of all, we love that the Samsonite Winfield hard-sided luggage has multi-directional spinner wheels, allowing you to effortlessly maneuver through crowded airports. It can weave around obstacles and glide alongside you with ease (a.k.a. no dragging a hefty roller behind you on long travel days).
Read more: Best Travel Backpacks
We're not sure how much longer this #1 best-selling suitcase will be on sale, which is why we recommend adding it to your cart ASAP. At 44% off, this is one of the best luggage deals worth shopping right now. Snag one for yourself before the deal is gone, and make sure to check out all the other current Samsonite luggage deals happening if you're looking to add more new pieces to your travel lineup!
VIEW ALL CURRENT SAMSONITE DEALS HERE

Commerce Editor
Samantha Jones is a commerce editor at Hearst Magazines, covering lifestyle, fitness, beauty and more. She has written for Good Housekeeping, Real Simple, Better Homes & Gardens and beyond, and she loves staying up to date on the latest viral products worth shopping. When she's not at her desk, Sam can be found on a run in Central Park or trying out new brunch spots with friends.