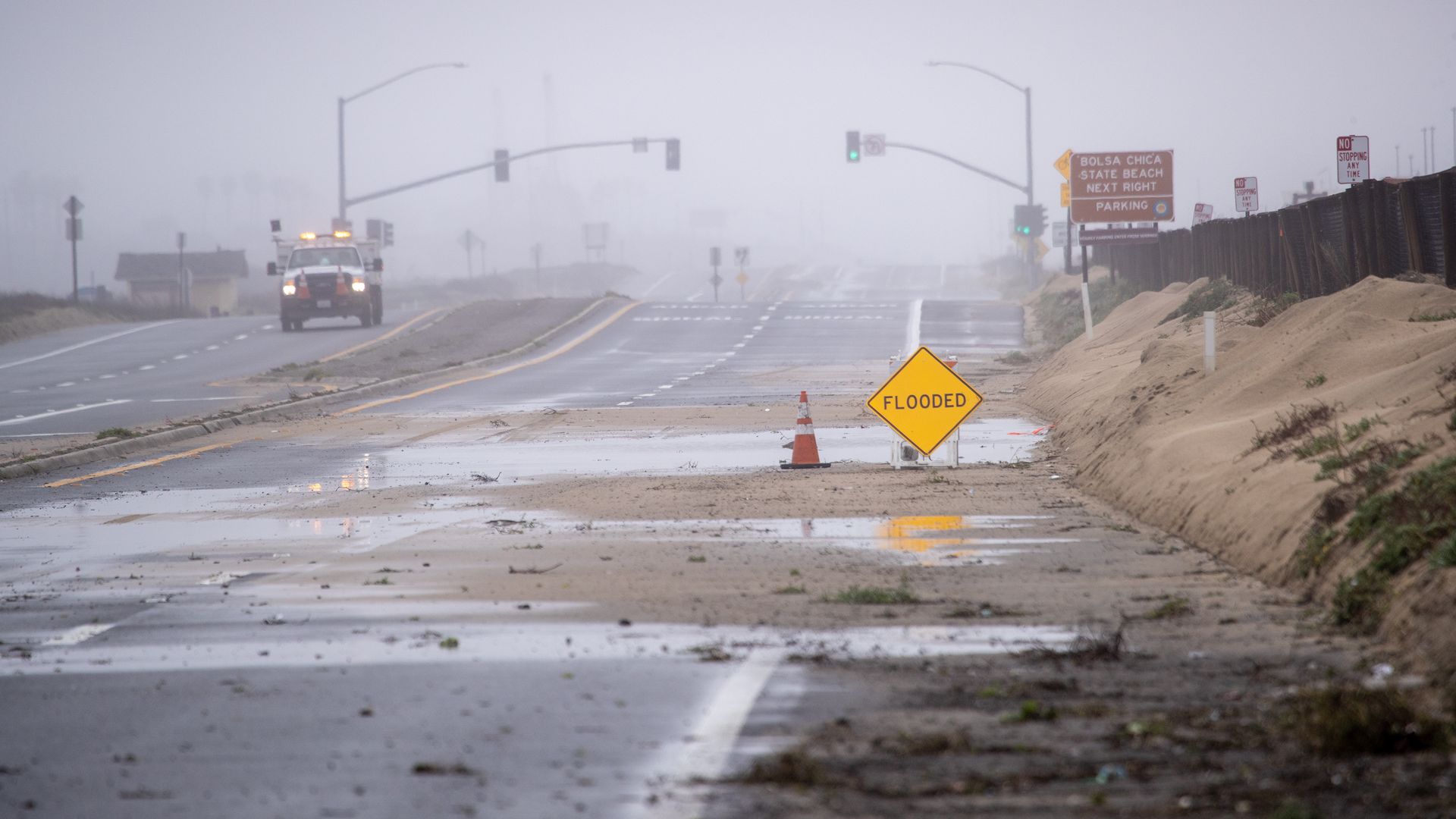 A California Department of Transportation worker patrolling a section of the Pacific Coast Highway, which closed due to flooding on Wednesday. Photo: Allen J. Schaben / Los Angeles Times via Getty Images
California officials were responding to the effects of another powerful atmospheric river that swept through the state — unleashing more historic rainfall, heavy snow and flash flooding.
The big picture: Evacuation orders, along with flood watches, warnings and advisories, were still in effect in several areas of the Golden State as officials continued to deal with levee breaches and flooded roads after the storm passed Wednesday.
This atmospheric river is at least the 11th to hit California since December and follows on the heels of the one that struck the state from Friday and into the weekend — and many of those areas were soaked again.
The National Weather Service's Los Angeles office reported preliminary data showing longstanding maximum daily rainfall records had been smashed, including at the airports of Santa Barbara, where 2.54 inches fell, and Los Angeles, where 1.97″ was recorded.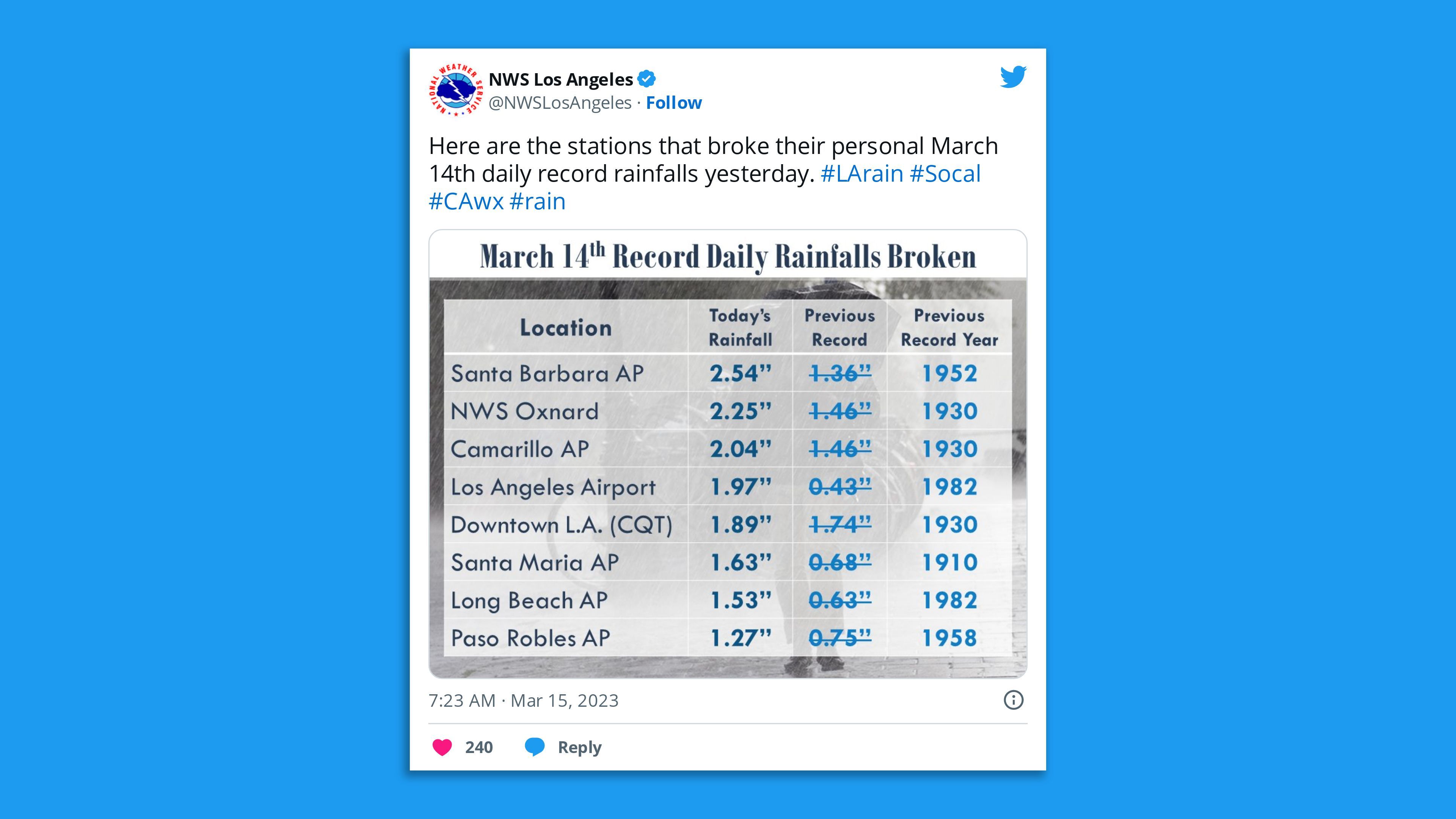 Meanwhile, the southern Sierra Nevada appears to have recorded its largest-ever snowpack — more than 271% above its seasonal average, according to the California Department of Water Resources.
The U.C. Berkeley Central Sierra Snow Lab reported Wednesday morning that another 3.7″ inches of snow had fallen.
"That takes us to 668″ (16.97 m) of snowfall for the season (Oct 1 – current)," the snow lab said in a Twitter post.
"We are now 3″ (7 cm) away from overtaking the '82/'83 winter as second snowiest at the lab and we should see that fall on Sunday."
State of play: The storm brought heavy precipitation across the state, particularly for the south Sierra Nevada, where heavy snow was projected above 8,000 feet, and the coastal areas of Southern California — where officials announced Wednesday emergency water restrictions were ending for some 7 million people.
Heavy rain combined with snowmelt in areas below 5,000 feet was projected to cause widespread flooding Wednesday.
The NWS said the "potent storm" that ramped up Tuesday was "expected to produce heavy mountain snow from the Sierra to the central/northern Rockies" as it swept through Wednesday.
State of play: Schools and roads remained closed across California due to the storm, which caused widespread power outages in the Bay Area.
Some 43,000 customers in Santa Clara County and over 19,000 others in the neighboring San Mateo County were still without power on Wednesday night, per poweroutage.us.
The Sacramento, Salinas, and Merced rivers were among those to overflow as the storm swept south.
The cities of Porterville and Visalia in the San Joaquin Valley had declared states of emergency in response to the storm as Lake Success swelled in the storm, with nearly 19,800 cubic feet of water flowing in per second on Wednesday morning.
Context: Atmospheric rivers are narrow highways of moisture that can travel thousands of miles, from the tropics to mid-and-northern latitudes.
Editor's note: This article has been updated with additional details throughout.