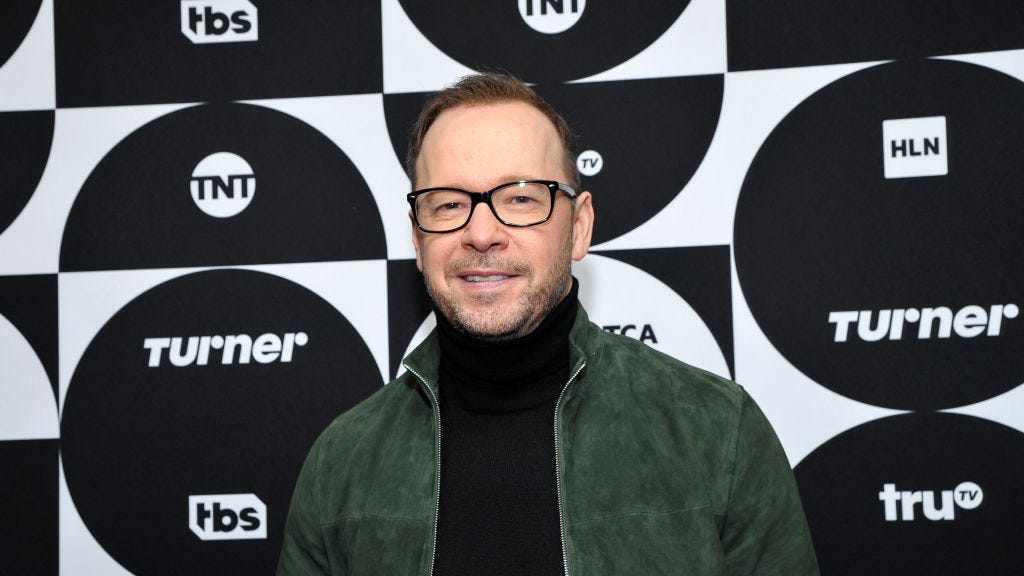 Donnie Wahlberg is known for wearing his heart on his sleeve, and the New Kids on the Block singer is never more emotional than when he's talking about his fans.
NKOTB, formed way back in the mid-1980s, is still going strong—as evident by their high-energy concerts and special events like cruises for their devoted followers known as the Blockheads. The boy band reunited 15 years ago, and they celebrated that milestone with the first ever BlockCon, a Chicago-based fan convention featuring an exclusive concert, panels, and a themed party.
Donnie helped organize the event, and he took to Instagram to share his feelings in a heartfelt post paired with a video recap of the weekend.
Donnie wrote, in part, "Its been a week since #BlockCon and it's taken me a week to try to gather my thoughts, and put them into words, but I still haven't quite figured out where to begin when it comes to describing the magic that I experienced last weekend! …Whenever you think you've reached the limit of what you can give to the Blockheads — GIVE MORE! More songs. More memorabilia. More panels. More selfies. More energy. More effort. More passion. More laughs. More love. I'd say, in the end, we somehow managed to surprise each other again! Our collective energies "crashed" and the magic happened! We somehow managed to make what is old — brand new! We somehow managed to find that joy, that @nkotb and our #Blockhead family always seem to find when we're together!"
Fans jumped to the comment section and left hundreds of messages of support:
"No expectations, open heart and gratitude to whatever we experience and look at what we got! It was such a wonderful time I could listen to guys talk for hours and the concert was amazing! You guys have set another level and I'm so grateful to have been there thanks again for giving so much to us all these years ❤️"
"it was literally BEYOND anyone's best expectation! The best event to date. Better than the cruise. It was anything and everything we could have ever imagined. You guys truly BROUGHT it! Your hard work, creativity, and love was on full blast. Thank you for giving us this amazing experience! 🥰♥️"
"Looking forward to next year! I'm at a loss for words… best weekend of my LIFE! 🤖❤️♾️"
"BlockCon caught me by surprise, I wasn't ready for the emotions as our past crashed with our present. The emotions flooded over and I felt feeling as I always do, rejuvenated, loved and fulfilled. Until next time love you 💕"
This commitment to fans is second to none in the entertainment industry. We can't wait to see what Donnie comes up with next.
Katie Bowlby is Digital Director at Country Living, where she covers gift guides, product reviews, crafts, and TV shows like Yellowstone. She's currently stitching up a cross-stitch pattern for the magazine's next issue