The following story contains light spoilers for Only Murders in the Building Season 3, Episode 3, "Grab Your Hankies."
---
THROUGH ITS FIRST three episodes, Season 3 of Hulu's smash hit murder mystery comedy Only Murders in the Building has lived up to its exact reputation: wonderfully written and wonderfully acted, while setting up a central mystery that will keep viewers on the hook. This comes while also maintaining the show's signature cozy vibe that makes it not only a delight to watch now, but one that will likely make for a comfort rewatch for fans for years and years.
Now that the show is following one of theater director Oliver Putnam's (Martin Short) productions—and his desire to convert what was previously a doomed play into a musical—one of the show's biggest changes is just how large of a role original music is playing.
Keep in mind, of course, that music has been key to the show in the past as well; the Serial–esque original music from composer Siddharta Khosla went a long way in drawing a connection to the true crime genre that the show satirizes, and featuring one of Charles Haden-Savage's (Steve Martin) original banjo songs from his TV star days (titled "Angel in Flip Flops") was a major highlight of Season 2.
But the best moment of Season 3 so far came at the end of "Grab Your Hankies," the third episode. It turns out that Oliver's desire to turn Death Rattle (a murder mystery where the prime suspects are infants) into a musical—which he plans to call Death Rattle Dazzle—has one major roadblock: he needs a show-stopping tune. And by the episode, he goes with his gut, allowing Loretta Durkin (Meryl Streep) to take center stage with a grounded song, "Look for the Light," that blows everyone away.
In fact, Loretta's performance is so moving that Kimber (Joyride and Beef star Ashley Park) can't help but harmonize and sing along, eventually joining her on stage (something that does actually happen in these sorts of theater settings from time to time; more on that below).
Show-stopper: found. Jam: indeed. Streaming on Spotify? Yes. Already being played on loop by Only Murders-heads and Meryl Streep superfans everywhere? You're god damn right.
Are Meryl Streep and Ashley Park really singing on "Look for the Light" in Only Murders in the Building?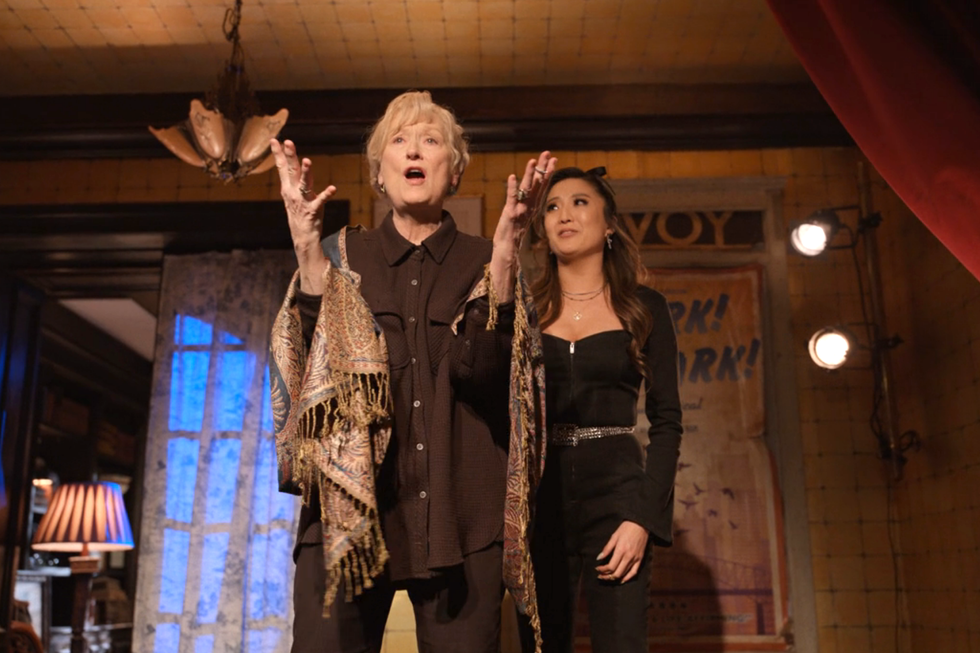 Hulu
They sure are. Meryl Streep has sung on-screen countless times before—including in the Mamma Mia! movies, Ricki and the Flash, and Into the Woods—and her appearance on Only Murders in the Building, and, more specifically, in the in-universe Death Rattle Dazzle, is no exception.
"Everybody was gobsmacked," Adam Shankman, who directed "Grab Your Hankies," told the Los Angeles Times."She was singing live every time, and she was as emotive as you see her in every single take."
But anyone who's seen the episode knows that Streep's Loretta isn't the only one singing in the scene; as she gains momentum (and just as Charles and Mabel's (Selena Gomez) suspicion peaks; Ben Glenroy (Paul Rudd) was murdered here, after all), Ashley Park's Kimber, another actor in the show, can't help but join her on stage in harmony. Benj Pasek and Justin Paul, who wrote the music for both La La Land and Dear Evan Hansen, were behind the music (and serve as consulting producers this season) for the scene, and specifically referenced Hugh Jackman during a Greatest Showman showcase as an example of unexpectedly joining someone in song.
Park, too, is doing her own singing in Only Murders in the Building. "Ashley Park's glorious counter melody was added later," singer-songwriter Sara Bareilles, who co-wrote the music, told The Hollywood Reporter. "I got goosebumps the first time I heard it."
And the impact of that singing was felt by everyone you see in the room during the scene; after their scenes were shot, the LA Times article says, Streep and Park stuck around to continue performing the song live.
"Everybody's reactions were so genuine because they stood behind the cameras and sang every take live, with full expression and emotion," Shankman said. "I know it's a TV show and it's all fiction, but that moment did not feel like fiction. It was a magical experience that I'll never forget."
Clearly, the show knows that "Look for the Light" is a song that people are going to want to listen to over, and over, and over again—it's already streaming on Spotify.

Evan is the culture editor for Men's Health, with bylines in The New York Times, MTV News, Brooklyn Magazine, and VICE. He loves weird movies, watches too much TV, and listens to music more often than he doesn't.