The following story contains minor spoilers for Loki Season 2, Episode 3, "1893."
---
FOR THE COUNTLESS number of heroes, villains, and anti-heroes of the Marvel Comics universe who have made the jump into the Marvel Cinematic Universe—Iron Man, Spider-Man, Scarlet Witch, Thanos, et cetera—there are just as many who have yet to make the jump. Fans have been patiently waiting for any inkling of a future that has the X-Men, the Fantastic Four, or Blade in it, but the third episode of Loki's second season instead gave fans a hint at someone who's a bit of a deeper cut: Balder the Brave.
We know what you're probably thinking: Who? And that's totally reasonable. Loki himself, within the episode, speaks for most viewers: "Why'd they include Balder?" he asks Mobius. "No one's even heard of him." Mobius, of course, as usual, knows better: "Sure they have! Balder the Brave." Clearly Mobius is the deep-cut Marvel Comics-head of the group, because Balder the Brave is a well-worn, well-treaded Marvel character—even if he's not at the level of a Wolverine or a Blade.
The moment comes in a branched timeline version of Chicago in 1893 as Loki (Tom Hiddleston) and Mobius (Owen Wilson) are searching for both the rogue Ravonna Renslayer (Gugu Mbatha-Raw) and any variant of He Who Remains (Jonathan Majors) they could possibly find. Just before they happen to come across a He Who Remains—in the form of fidgety inventor Victor Timely—they find what Loki refers to as "a diorama," displaying a statue of Odin in all his eye-patch glory front and center, flanked by Thor and… Balder to his left and right repeatedly.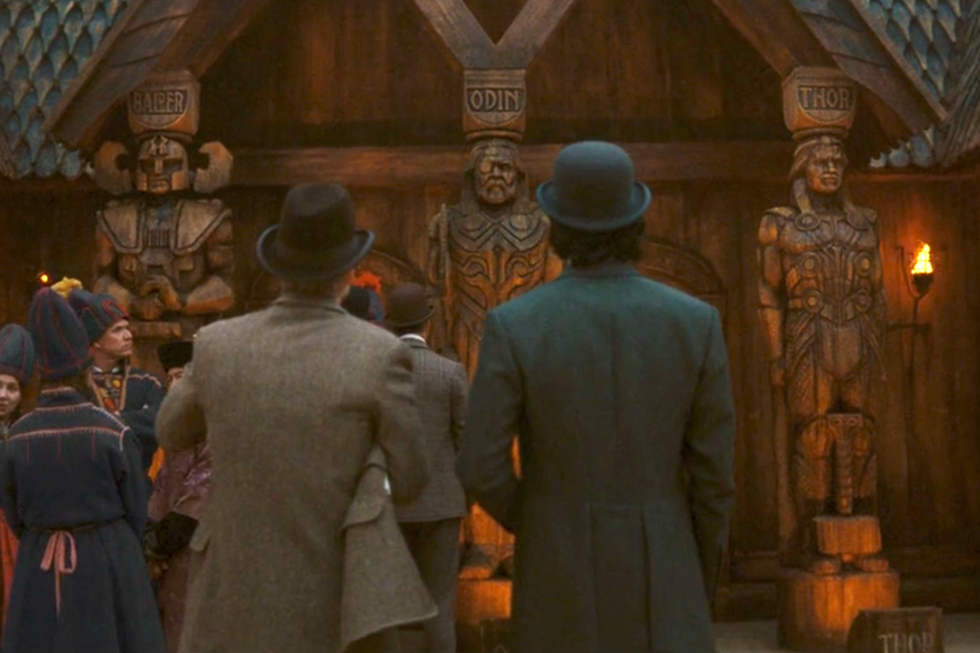 Marvel Studios
It's confusing for anyone who hasn't checked in on some deeper Marvel mythology over the decades—but we're here to tell you all you need to know about Balder the Brave (and how he came very close to a splashy MCU debut not too long ago).
Who is Balder the Brave in the Marvel Comics?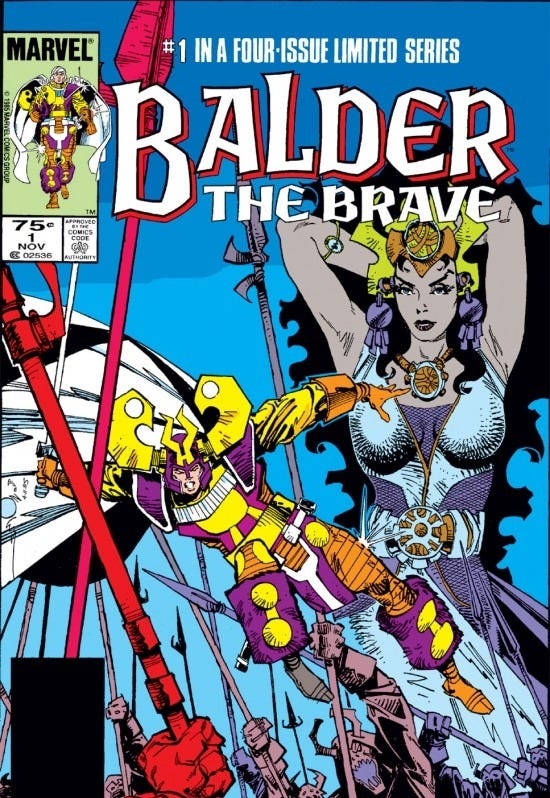 Marvel Comics
Balder Odinson—better known as Balder the Brave—was created by Stan Lee and Jack Kirby, and first appeared in October 1962's Journey into Mystery #85. As a son of Odin, Balder is a half-brother of both Thor and Loki. Like his father and siblings, Balder has roots in Norse mythology; he's based on the god Baldr, who is a god most commonly associated with beauty and light.
Balder has appeared in various Thor comics and stories through the years (including Walt Simonson's famous run), but the revelation that he is a half-brother of Thor's only came in relatively recent years. He's also considered a fast, agile, and strong Asdgardian warrior, and, in contrast to his brother Loki, is generally well-liked among his people and peers.
Perhaps most notable of Balder's comic history is that he figures strongly into the Marvel Comics version of the Ragnarök story, which leads to the destruction of Asgard (and the formaton of New Asgard in Broxton, Oklahoma). Obviously, the MCU did this story differently in 2017's Thor: Ragnarok, where Balder was not a character on screen.
Will Balder the Brave be in the MCU?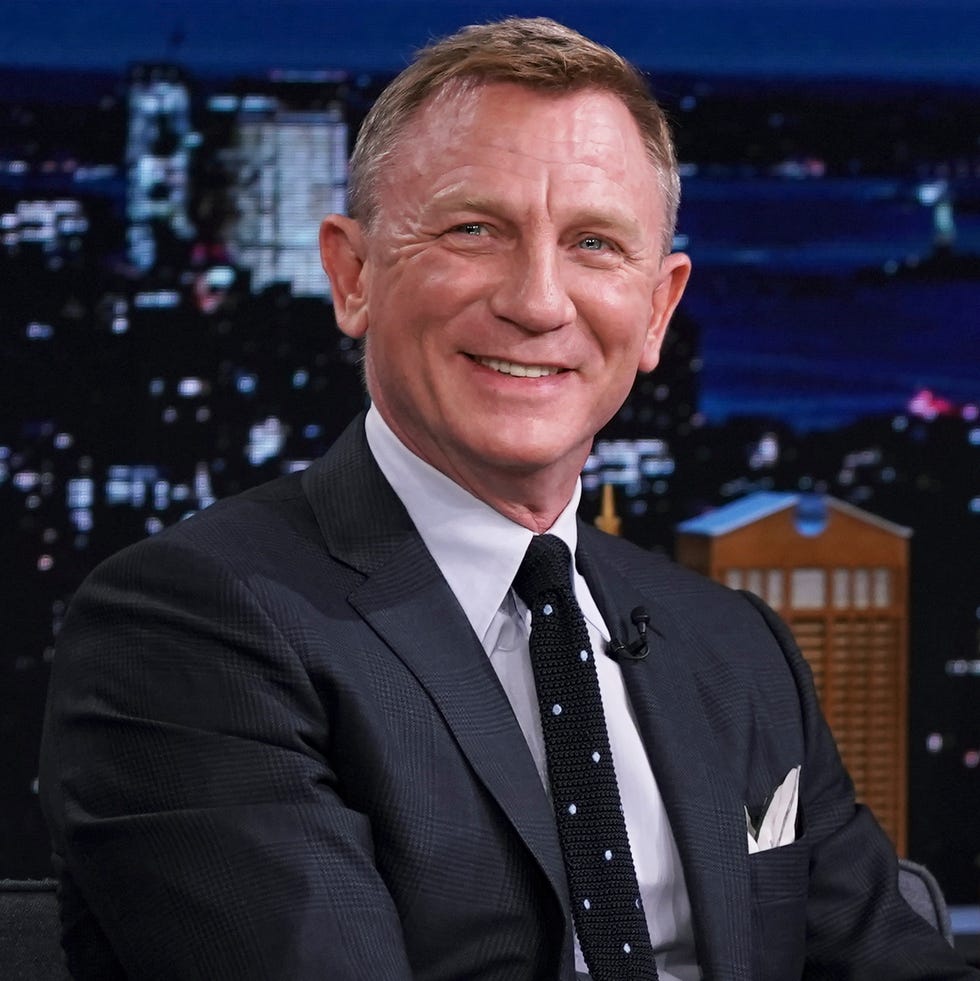 NBC//Getty Images
The Loki Season 2 episode "1893" may have marked the first official reference to Balder the Brave in the MCU's history, but the character has come close to a debut multiple times before.
While Balder appeared in early versions of the script for 2013's Thor: The Dark World before eventually being removed, it's his reported near-appearance in 2021's Doctor Strange in the Multiverse of Madness that feels more interesting and notable.
In that movie's "Illuminati" scene, it was reported that the movie was kind of free-wheeling when it came to which characters and which actors, exactly, would be included. Elizabeth Olsen famously said in a Vanity Fair video, for instance, that she had "never met" John Krasinski ("I don't know him"), who plays an alternate universe version of Reed Richards, despite the fact that the two share the screen and dialogue in the scene.
As it turns out, Krasinski's role was actually at one point planned to not be Reed Richards at all, but rather Balder the Brave—and he was said to be played by Daniel Craig. This only fell through, supposedly, because of issues with Covid-19 lockdown and travel.
While this kind of reporting is not the most reliable, Elizabeth Olsen said during an appearance on the Happy Sad Confused podcast that she did believe this to be the plan. "Yes, that's what I thought was going to happen too," she said. "I saw the art. They made a costume. They had a design."
In fact, film concept Darrell Warner—who was working on Multiverse of Madness—shared his concept art of Balder to Instagram. "Shame this character went no further than this watercolour," he wrote in the caption for the art that clearly bears Craig's likeness.
Ironically, Craig himself denied these rumors during his press tour for Glass Onion. "It's all rumor," he said during an appearance on BBC Radio 1. "I mean, I don't know where these things come from… There's a lot of lockdown craziness."
Multiverse of Madness costume designer Graham Churchyard said in an interview that he'd even begun designing Balder's costume, dropping a few more hints about Balder's history of almosts:
We got very far designing Balder the Brave and then we were waiting, and waiting, and waiting on casting. I took it to a prototype stage, we were kind of in that design thing, getting fabrics together and ideas and waiting for an actor. Poor Balder the Brave, he almost made Thor 1, and Thor 2, and Thor 3, if I can simplify that. Then, it's just like, 'Yay! He's gonna get an appearance!' Poor guy. I've seen designs Marvel's archive book of Balder's helmet going back to Kenneth Branagh's Thor. So, he's been a long time waiting and I don't think he's gonna make an appearance any time soon.
But… here we are! October 2023, and Balder has made his MCU debut. Well, kind of. Could we see Balder the Brave in the future? There are a few potential projects coming up that he could pop up in—more Loki would make sense, though he was kind of just used as an easter egg and a punchline here. A future Thor movie, or whatever is being set up for Brett Goldstein's Hercules (if he ever shows up again) would make sense.
With Marvel seemingly re-thinking its entire strategy—in both film and television—the future has been looking increasingly murky. But just remember that this is a studio that rarely drops things in without some kind of purpose.

Evan is the culture editor for Men's Health, with bylines in The New York Times, MTV News, Brooklyn Magazine, and VICE. He loves weird movies, watches too much TV, and listens to music more often than he doesn't.