Voters in Maricopa County decided two Phoenix City Council seats Tuesday, denying a local leadership position to a close ally of failed Arizona gubernatorial candidate Kari Lake.
Candidates in District 6 and 8 of Maricopa failed to win a majority vote in November's midterm election, sending voters back to the ballot box over four months later. Among the list of candidates to take outgoing Republican Councilman Sal DiCiccio's seat in District 6 was Sam Stone, DiCiccio's former chief of staff who served as policy director for Lake while she ran for governor.
According to the unofficial election results from the Phoenix city clerk, Stone was trailing his opponent, Democrat Kevin Robinson, 63.4 percent to 36.5 percent. The unofficial tallies were based off "early ballots that the city has processed & tabulated prior to Election Day," the city clerk tweeted.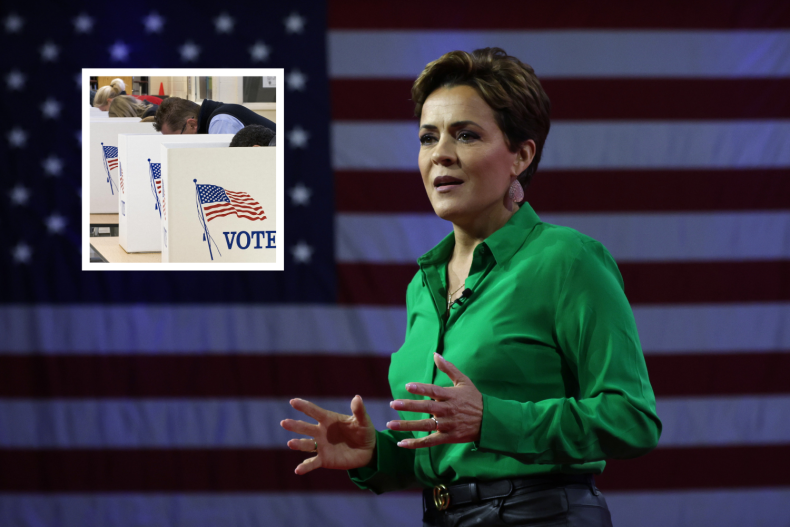 Shortly after the unofficial election results were made available, Stone congratulated Robinson over Twitter, writing, "I would like to congratulate Kevin Robinson on his election as the next District 6 council member and wish him well moving forward."
According to Stone's campaign website, the Republican candidate is a "geek" who's "obsessed with public policy," and ran on issues including public safety, reducing costs and improving public transportation in Phoenix. In addition to guiding policy-making while running DiCiccio's office for 4 1/2 years, Stone is also the host of the conservative radio show, Breaking Battlegrounds.
Stone's campaign also received endorsements from Lake and DiCiccio.
On Tuesday, Lake urged her Twitter followers to head to the polls for Stone, writing, "I don't want to see Phoenix get destroyed by bad leftist policies."
"We need someone with who will bring sanity to the city council," Lake added. "We need a conservative fighter. That fighter is [Stone]."
Lake has a controversial history in Maricopa County after a string of losses in her election lawsuit aimed to overturn her loss to Democratic Governor Katie Hobbs in the fall. Lake argued in her failed lawsuit that election officials in Maricopa had intentionally caused issues on Election Day to undermine same-day voters.
Following dismissal from the Arizona Court of Appeals, Lake moved her lawsuit to the state's Supreme Court at the beginning of the month. Lake's first loss in court was to Maricopa County Judge Peter Thompson in December.
Robinson, former assistant police chief at the Phoenix Police Department and current criminal justice professor at Arizona State University, was endorsed by a fellow Democrat, Phoenix Mayor Kate Gallego, who celebrated Robinson's unofficial win over Twitter Tuesday night, writing, "He'll be a consensus builder & responsive voice for all of District 6."
In District 8, incumbent Councilman Carlos Garcia was roughly 2,000 votes behind his opponent, Kesha Hodge Washington, as of Tuesday night's tally. Washington is the former assistant attorney general who was endorsed by Gallego and Arizona Secretary of State Adrian Fontes.
Newsweek has reached out to Lake's press team via email for comment.