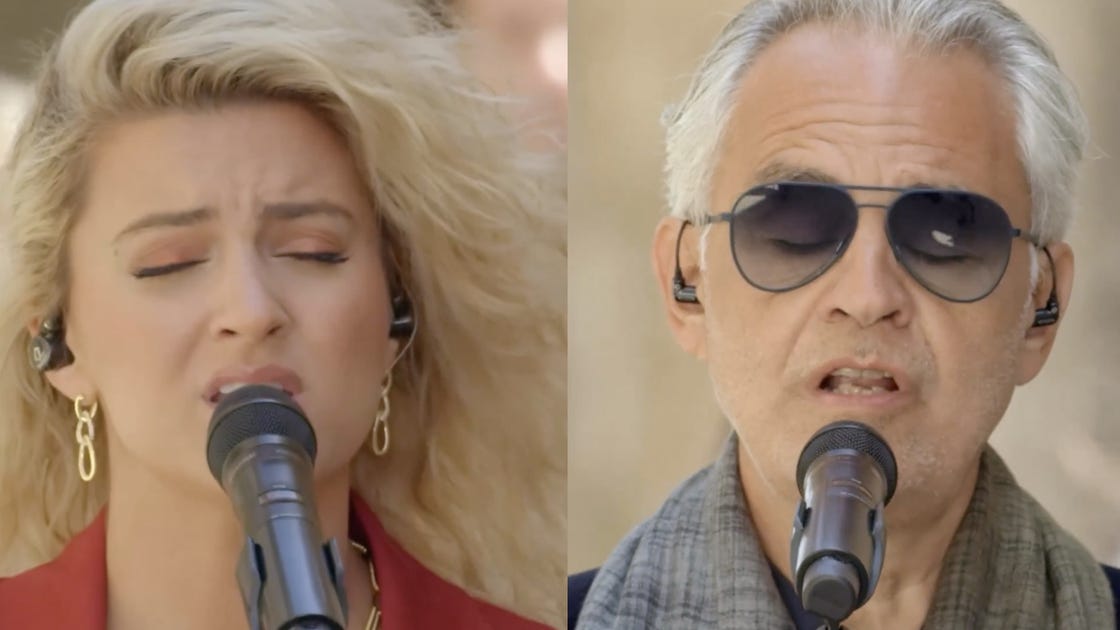 WHETHER HE'S PERFORMING in front of a live audience or for a select group of people, no one can deny that Andrea Bocelli knows how to move folks with his interpretation of music.
Known for singing hits such as "The Prayer" with Céline Dion and "Con te partirò," the Italian tenor caused a stir when his latest performance landed on Instagram on February 8. As a way to promote his new film The Journey: A Music Special from Andrea Bocelli, he recruited singer Tori Kelly to help him present a soulful rendition of Leonard Cohen's classic tune "Hallelujah." What's more, the duo sang the song from the Abbey of San Galgano in his home country of Italy.
Surrounded by fellow musicians and backup singers, Andrew and Tori belted out the lyrics in a beautiful mix of English and Italian. The experience was amplified by the stunning aerial views fans can expect to see in The Journey: A Music Special from Andrea Bocelli, which will premiere exclusively in theaters during the first week of April.
Because both Andrea and Tori have a dedicated fanbase, it didn't take long for this version of "Hallelujah" to circulate on the internet. Unsurprisingly, their followers couldn't stop raving about how beautiful their duet sounded.
"I could listen to Andrea Bocelli all day ❤️❤️❤️," one person wrote in the Instagram comments section. "What a beautiful duet in a beautiful setting. ❤️," another agreed. "Two beautiful souls singing so beautifully together. Love this song 🎶," a different user raved.
So, what exactly can fans expect from The Journey: A Music Special from Andrea Bocelli? According to the movie's official website, viewers will see the Grammy nominee and his wife Veronica Berti horseback ride on Italy's ancient road of Via Francigena to visit some of the country's most stunning venues and historic locations.
What's more, the Pope blessed Andrea to include his children Matteo and Virginia, along with a number of musical guests) to sing with him while he travels along the road used "by pilgrims for centuries in the footsteps of the apostles and saints," according to the movie's site.
Editorial Assistant
As the entertainment and news editorial assistant for Good Housekeeping, Adrianna (she/her) writes about everything TV, movies, music and pop culture. She graduated from Yeshiva University with a B.A. in journalism and a minor in business management. She covers shows like The Rookie, 9-1-1 and Grey's Anatomy, though when she's not watching the latest show on Netflix, she's taking martial arts or drinking way too much coffee.