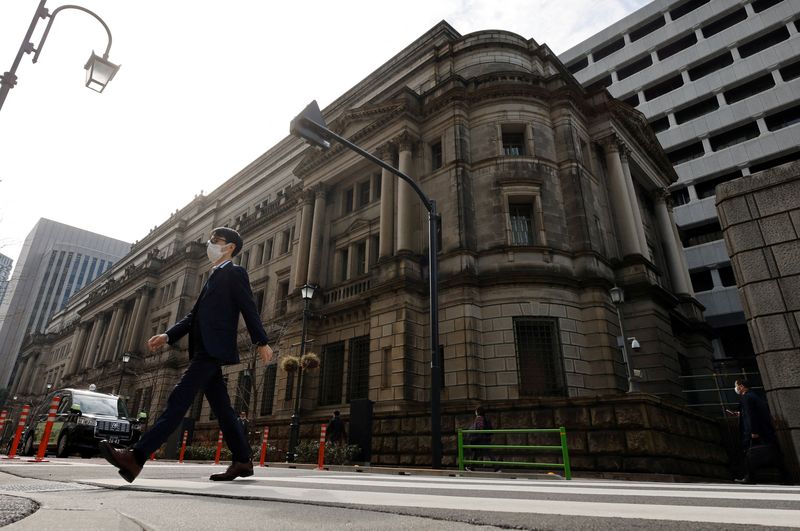 © Reuters. FILE PHOTO: A man walks in front of the headquarters of Bank of Japan in Tokyo, Japan, January 18, 2023. REUTERS/Issei Kato

By Tetsushi Kajimoto
TOKYO (Reuters) – Japan's government is closely coordinating with the Bank of Japan and financial authorities overseas to prevent fallout from the crisis of confidence engulfing banks in the West, Finance Minister Shunichi Suzuki said on Friday.
Market turmoil in the wake of the collapse of Silicon Valley Bank (SVB) and Signature Bank (NASDAQ:) in the United States has also ensnared Credit Suisse and fuelled fears of another global financial crisis.
Japanese policymakers have so far stuck to the view that the possibility of another financial crisis is low.
On Friday, Suzuki said he was closely watching financial markets in and outside of Japan and for any impact from problems in the banking sector in the West on the Japanese economy.
"With the possibility of various risks in mind…the Financial Services Agency will closely coordinate with the Bank of Japan and financial authorities of other countries, while carefully watching the economy, financial markets and their effects on financial system," Suzuki told reporters.
Japan has multilateral currency swap arrangements with Southeast Asian economies to prepare for crises like the 1997/98 Asian currency crisis. However, a bilateral currency swap arrangement with South Korea expired several years ago.
"Nothing has been decided on financial track issues such as bilateral currency swap," Suzuki added.