Immigrants and Dissident Project speakers Jorge Galicia and Tahmineh Dehbozorgi have noticed the alarming shift the U.S. justice system has taken, allegedly in the pocket of one party and homing in on the Biden campaign's primary threat with a series of indictments aimed at Republican 2024 hopeful Donald Trump.
Galicia, who left Venezuela for the U.S., said the alleged two-tiered justice system sets a "dangerous precedent" for the future, and that he finds the attacks on Trump a stark contrast from the kid gloves handling Hunter Biden.
"I think I can relate it a little bit with my situation in Venezuela. We saw how the main opposition leaders in Venezuela are currently being either incarcerated or being, you know, not allowed to participate in elections," he said Sunday on "Fox & Friends Weekend."
RECENT CUBAN IMMIGRANT AND COLLEGE STUDENT SHOCKED BY PEERS' PERCEPTION OF SOCIALISM, SEEKS TO DISMANTLE IT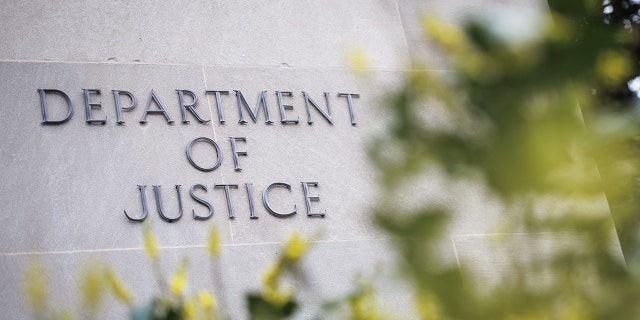 Republicans continue to warn that the U.S. is witnessing two tiers of justices former President Donald Trump's indictments pile up. (Ting Shen/Bloomberg via Getty Images)
"It's completely scary," he continued. "However, I don't think we are in the same situation, which is my opinion. I do believe that we can still trust the justice system. Hopefully Trump is going to receive a fair trial, which is something that we lost completely in Venezuela. We cannot expect something like that to happen in Venezuela. When the regime puts the eye on you, you are done. Here, we're not there yet, but we could definitely get there if things keep becoming worse."
Dehbozorgi, a George Washington Law School student who fled Iran for the U.S. after her grandfather faced execution for serving in the government before the Islamic Revolution, told Fox News' Rachel Campos-Duffy her family came to the U.S. because Iran had "no reliable justice system."
"I see some of the trends happening in the United States," she said.
REFUGEES FROM SOCIALIST COUNTRIES WARN AMERICANS: DON'T LET IT HAPPEN HERE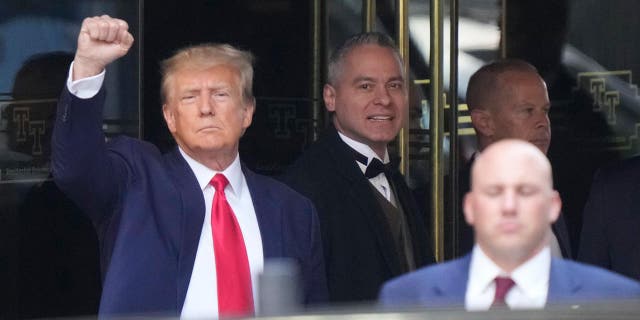 Former President Donald Trump has faced several indictments that some argue are the byproduct of a weaponized justice system. (AP Photo/Bryan Woolston)
"For example, one thing that particularly really concerned me about the Hunter Biden plea deal was lack of transparency. Obviously, transparency is the hallmark of a democratic system and is protected by our Constitution. The other thing that really concerned me about former President Trump's indictment was the fact that his attorneys were named as coconspirators," she continued. 
"In Iran, a lot of attorneys that represent political opponents are also prosecuted and, in this case, one thing that really concerns me as a law student is I do not want to see attorneys that simply gave legal advice to their clients face criminal charges or being threatened to have their licenses revoked."
Dehbozorgi, like Galicia, still believes there is still hope. However, they both say it's important to remain "vigilant."
CHINESE IMMIGRANT, A WITNESS TO MAO'S POLITICAL PURGE, WARNING ABOUT INDOCTRINATION IN PUBLIC SCHOOLS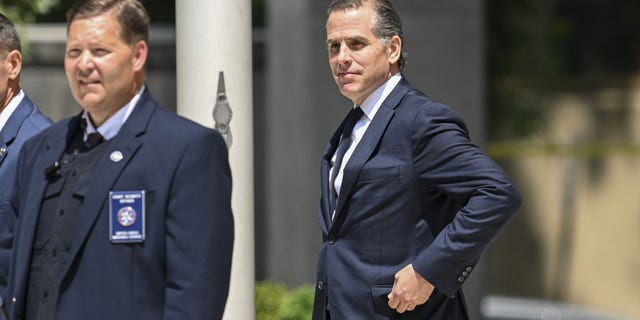 United States President Joe Biden's son Hunter Biden, exits in J. Caleb Boggs Federal Building in Delaware, United States on July 26, 2023. Dehbozorgi said the lack of 'transparency' surrounding Hunter Biden's plea deal concerned her. (Photo by Celal Gunes/Anadolu Agency via Getty Images)
Circling back to Galicia, Campos-Duffy asked what steps Americans should take to preserve their liberties, to ensure the system doesn't decline any further.
"[My advice is] care about your rights, to go out there and protest whenever you see something that is not right…" he responded, "Take care of your rights, protect your freedom. You can easily lose it if you don't do things right. It happened in Venezuela. We were a democratic nation. Not anymore."
As a part of Project Dissident, a nonprofit that connects students with similar experiences to students across the U.S., both Galicia and Dehbozorgi speak at high schools to share their stories and urge for the preservation of freedom.
"I want to tell them [students] about my story as a woman growing up in Iran because our freedoms can be taken away immediately," Dehbozorgi said, adding, "40 years ago, Iran was a liberal country, but right now we're living under one of the most tyrannical regimes in the world. Therefore, I think it's important to continue fighting for liberty in America."
CLICK HERE TO GET THE FOX NEWS APP
For more Culture, Media, Education, Opinion and channel coverage, visit foxnews.com/media
Taylor Penley is an associate editor with Fox News.