Star Trek is looking remarkably healthy for a TV show that began in the 1960s and spent nearly two decades with no new content on the air. Following the debut of prequel show Star Trek: Discovery and sequel series Star Trek: Picard, the franchise has spun out multiple new properties, including the adult animated comedy Star Trek: Lower Decks, children's series Star Trek: Prodigy, forthcoming spy thriller Star Trek: Section 31 starring Michelle Yeoh, and the recently announced YA series Starfleet Academy.
In among all of those overlapping sci-fi adventures is Star Trek: Strange New Worlds, a prequel which follows the voyages of the U.S.S. Enterprise before Captain Kirk took command.
Starring Anson Mount as Captain Pike, Ethan Peck as Spock, Rebecca Romijn as Number One and Celia Rose Gooding as Uhura, the first season of Strange New Worlds was a return to the classic Trek formula of standalone wacky space adventures with some great character moments—and Season 2 promises more of the same, plus a brand new James Kirk in the form of Vampire Diaries star Paul Wesley, and cameo appearances from Lower Decks stars Tawny Newsom and Jack Quaid.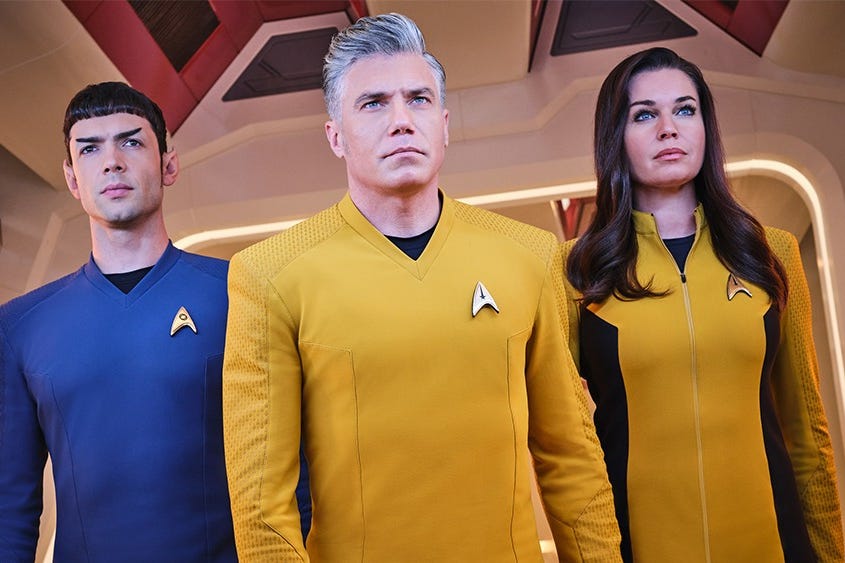 Paramount
When does Season 2 begin?
The season premiere will be available to watch on Thursday June 15.
How many episodes of Star Trek: Strange New Worlds are left in Season 2?
Season 2 will consist of 10 full-length episodes, so that means there are still nine episodes left in this intergalactic sophomore season.
Here's when each new episode of Star Trek: Strange New Worlds will be beaming down:
New episodes of the series drop on Paramount+ on Thursdays.
Episode 1: "The Broken Circle" — Now streaming on June 15
Episode 2: "Ad Astra Per Aspera" — Streaming as of June 22
Episode 3: "Tomorrow and Tomorrow and Tomorrow" — Streaming as of June 29
Episode 4: "Among the Lotus Eaters" — Streaming as of July 6
Episode 5: "Charades" — Streaming as of July 13
Episode 6: "Lost in Translation" — Streaming as of July 20
Episode 7: "Those Old Scientists" — Streaming as of July 27
Episode 8: "Under the Cloak of War" — Streaming as of August 3
Episode 9: "Subspace Rhapsody" — Streaming as of August 10
Episode 10: "Hegemony" — Streaming as of August 17
Philip Ellis is a freelance writer and journalist from the United Kingdom covering pop culture, relationships and LGBTQ+ issues. His work has appeared in GQ, Teen Vogue, Man Repeller and MTV.