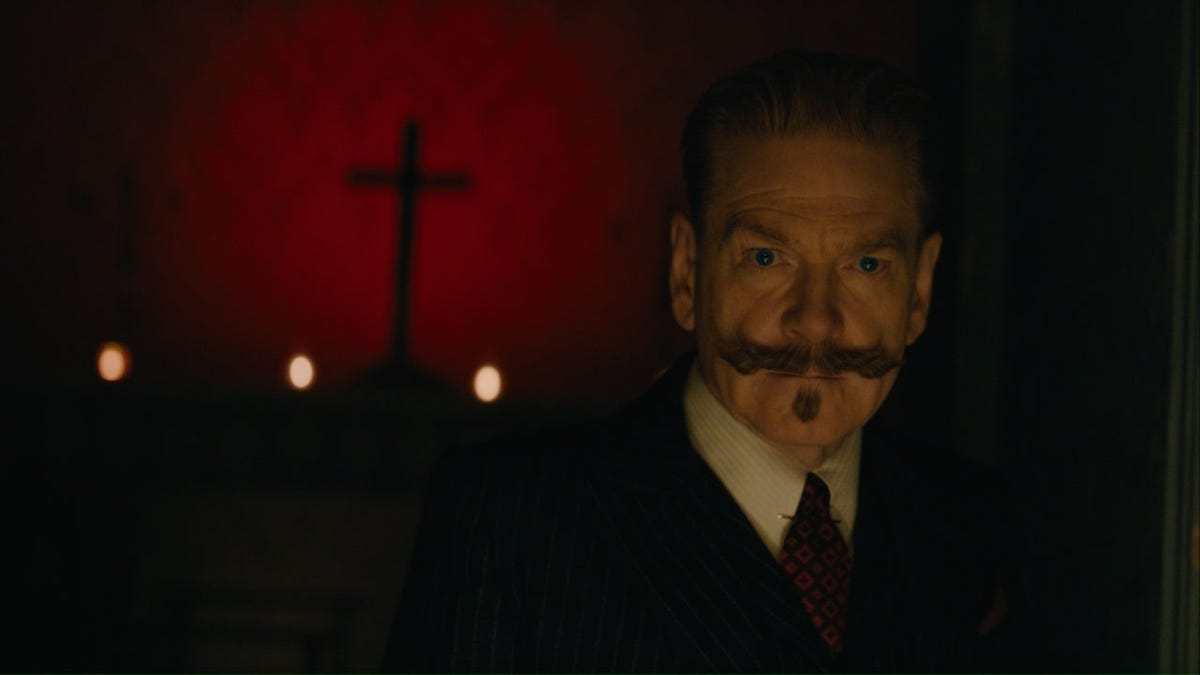 AGATHA CHRISTIE'S HERCULE Poirot has been a mainstay in detective shows and movies for decades, and in the last decade the Belgian detective has welcomed a new on-screen iteration in Kenneth Branagh's portrayal of the character. Branagh's Poirot has featured in three movies (each of which he's also directed): Murder on the Orient Express, Death on the Nile, and now, A Haunting in Venice.
Each film features a star-studded cast, and A Haunting in Venice is no different. Michelle Yeoh, Kelly Reilly, Jamie Dornan, and more make up the cast of unlucky characters Poirot considers suspects in an unfortunate murder.
A Haunting in Venice is inspired by the Poirot novel Hallowe'en Party. In the film, a woman hosts a séance with a famed medium to speak with her dead daughter one last time. Poirot, invited to the séance by his friend Ariadne Oliver, decides to attend to prove the medium is a fraud. But at the event, the medium reveals the young woman was actually murdered. As the night turns deadly for the attendants, Poirot must discover who murdered the young woman— and how her death is connected to another murder that he and the other séance members have just experienced.
The film has a lot of moving parts, and even features a ghostly presence as Poirot tries to get to the bottom of the mystery. Like most murder mysteries, the detective figures out the crime, and explains in great detail at the end how everything ties together.
In case you want a recap of what happened in the movie—or if you missed a detail here or there—we're diving deep into the details below.
What happened at the end of A Haunting in Venice?
After a deadly night of mystery, Poirot finally unmasks all the bad actors involved in the two murders of the night: Dr. Ferrier (Dornan) and medium Joyce Reynolds (Yeoh).
William Morrow & Company Hallowe'en Party: Inspiration for the 20th Century Studios Major Motion Picture A Haunting in Venice (Hercule Poirot Mysteries, 36)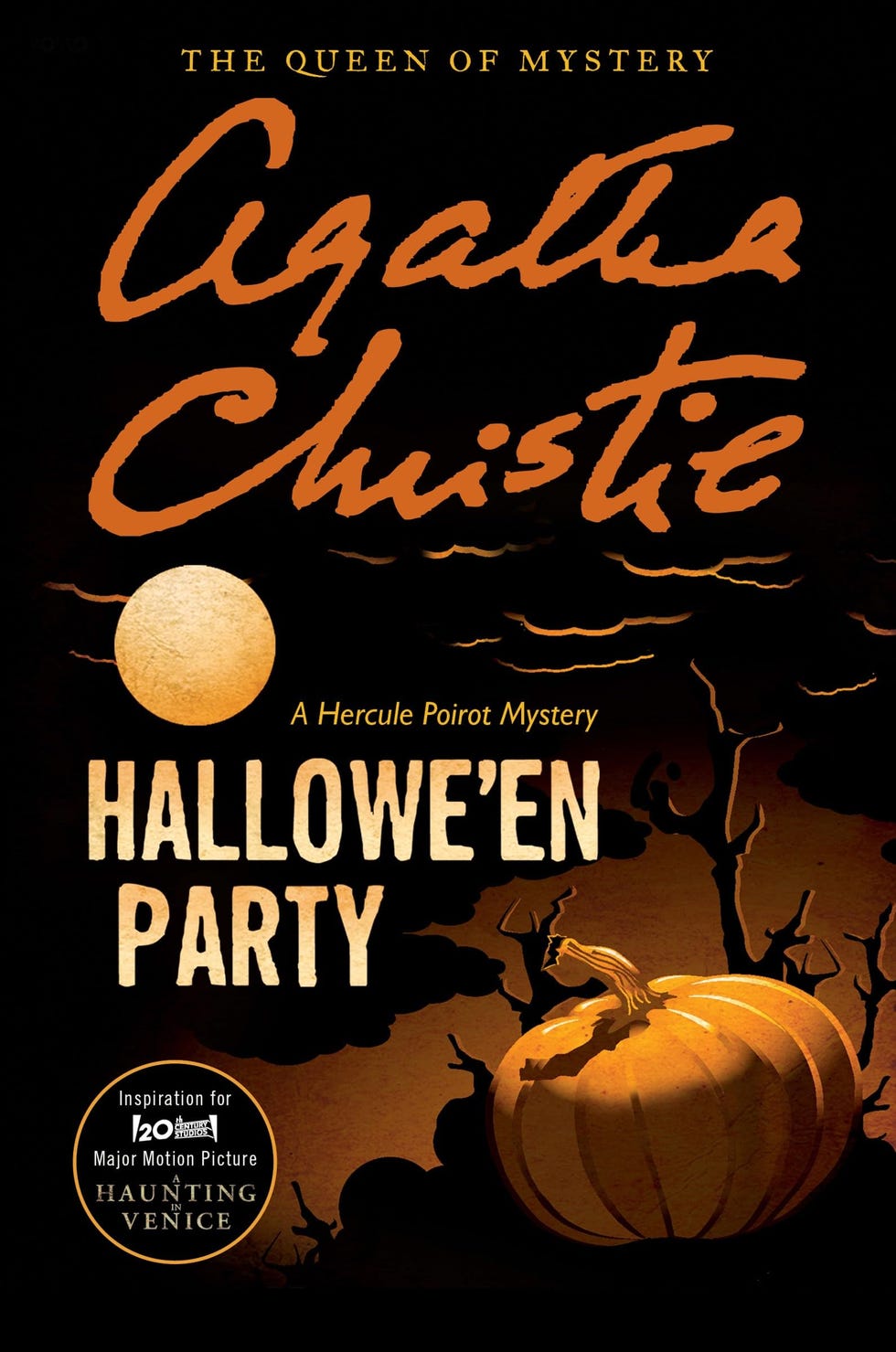 William Morrow & Company Hallowe'en Party: Inspiration for the 20th Century Studios Major Motion Picture A Haunting in Venice (Hercule Poirot Mysteries, 36)
Now 37% Off
It turns out the killer was the least likely suspect. Alicia, Rowena Drake's (Reilly) daughter, had a close relationship with her mother. But eventually, Alicia met Maxime Gerard (Kyle Allen), and the two became engaged. Rowena became distraught, pulling out the flowers in her garden and proclaiming Maxime was after Alicia and her money. Although according to Maxime, he loved Alicia for who she was, and only broke off their engagement because of her mother.
Enraged at the thought of losing her daughter, Rowena replanted flowers in her garden; she planted rhododendron and had her bees create hallucinogenic honey. Rowena regularly fed her daughter tea with the honey to keep her delirious and incapacitated enough to need her constant care (yet another on-screen depiction of Munchausen by Proxy). However, a fatal accident occurred. Rowena tried to keep a constant eye on her daughter and give her safe doses of the honey. But when her housekeeper, Olga (Camille Cottin), takes watch over Alicia for the night, she accidentally gives her a fatal dose of the poison honey.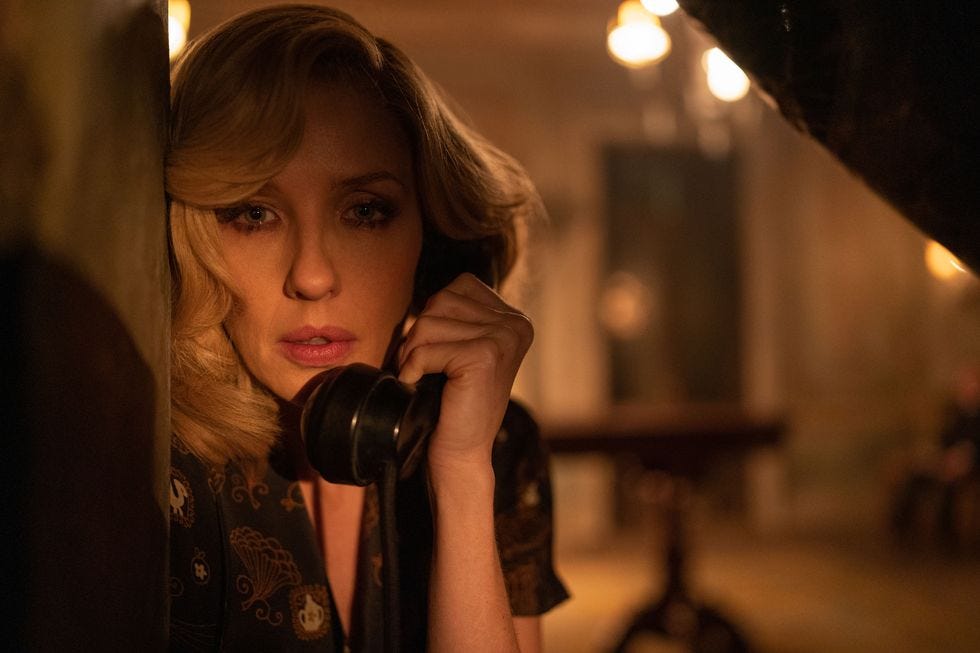 Kelly Reilly in A Haunting in Venice
20th Century Studios
With her daughter dead, Rowena then had to keep her actions a secret. To hide the poisoning, she threw her daughter over the railing of their house on a rainy night, and officials assumed the girl drowned. Dr. Ferrier gave the autopsy, but missed the poisoning in his analysis.
But Rowena's deception only spelled the beginning of trouble. It turns out Dr. Ferrier's son, Leopold (Jude Hill), saw his father's notes and realized the truth of Alicia's death. To benefit from his knowledge, he anonymously blackmailed Rowena to help pay his father's bills.
Rowena panicked. She thought the séance would mean the murder would be unmasked, and killed Joyce Reynolds thinking she was potentially was the blackmailer. In the midst of the resulting chaos, she also took out another potential blackmailer, Dr. Ferrier. Locking him in a soundproof room, she then uses an internal phone in the house to talk to him, demanding he stab himself in exchange for her not killing his son, Leopold.
Rowena hoped all murders (including that of her late daughter) would be covered up by a long-standing legend about young children who died in the palazzo years before, who allegedly reach out to the house's inhabitants from beyond the grave and kill doctors and nurses.
Caught red-handed, Rowena runs to the roof of the palazzo, where Poirot confronts her again. Poirot, who accidentally consumed the hallucinogenic honey, sees the ghost of Alicia behind her mother, and then witnesses Rowena fall from the roof.
Did Poirot really see a ghost that caused Rowena's death? We'll never know. But regardless, the entire debacle inspires Poirot to start taking cases again.
Will there be a round 4 for Mr. Branagh and Hercule Poirot? We can only hope.

Milan Polk is an Editorial Assistant for Men's Health who specializes in entertainment and lifestyle reporting, and has worked for New York Magazine's Vulture and Chicago Tribune.