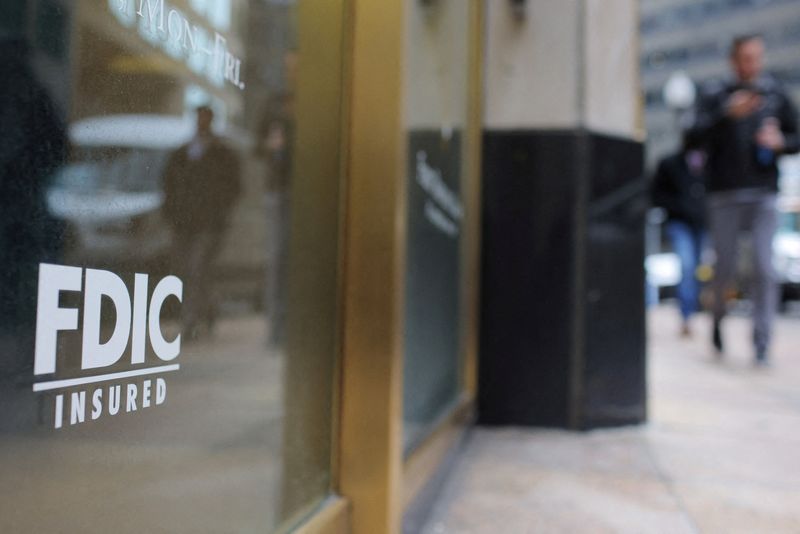 © Reuters. FILE PHOTO: A sign reads "FDIC Insured" on the door of a branch of First Republic Bank in Boston, Massachusetts, U.S., March 13, 2023. REUTERS/Brian Snyder/File Photo

(Reuters) -The U.S. Federal Deposit Insurance Corp (FDIC) is mulling whether to offer loss-sharing agreements to private equity firms and other nonbanks that buy parts of failed lenders, after it was left holding a large portfolio of Signature Bank (OTC:) loans following its collapse, Bloomberg News reported on Friday.
Since the FDIC does not regulate nonbanks, the firms cannot bid for an entire lender but such a move could entice them to buy loans and assets at a discount from collapsed institutions and help the FDIC get higher bids, the report said.
The FDIC did not immediately respond to a Reuters request for comment.
Earlier this week, JPMorgan (NYSE:) entered into a loss-sharing agreement with the FDIC when it agreed to assume all of First Republic's deposits but share losses on certain portfolios including residential and commercial loans.
Last month, the FDIC retained asset manager BlackRock (NYSE:)'s financial markets advisory unit to sell two portfolios with face values of nearly $27 billion and $8 billion, according to its website, after the collapse of Signature Bank and Silicon Valley Bank.