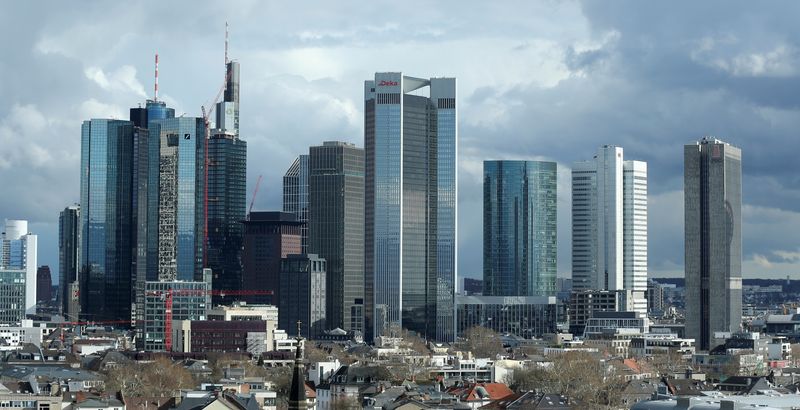 © Reuters. FILE PHOTO: The financial district in Frankfurt, Germany, March 18, 2019. REUTERS/Ralph Orlowski/File Photo

FRANKFURT/BRUSSELS (Reuters) – The ECB is likely to keep raising interest rates as a repeat of the 2008 financial crisis is unlikely with European banks subject to tougher rules than regional U.S. banks, Belgian central bank chief Pierre Wunsch said.
The European Central Bank raised rates by 50 basis points on Thursday, leaving the door open to future hikes as it forecast inflation to remain stubbornly above its 2% target through 2025.
In an interview published on Saturday, Wunsch, a policy hawk, told Belgian paper L'Echo that the ECB still needed to raise rates and had a "long way to go" if its baseline inflation forecast materialised.
The bank has lifted its deposit rate by 350 basis points to 3% since July, the fastest pace on record, and central bank chiefs in Austria, Lithuania and Slovakia have made the case for further hikes.
"We know that we have to do more of this. At what measure? That's not clear. It will meeting by meeting," Wunsch said.
Despite market uncertainty, a large majority of policymakers still backed higher rates at the latest meeting, he said, adding that a different decision might have contributed to creating uncertainty.
"Firstly, inflation has remained too high, for too long. Secondly, we don't see a structural problem with European banks," he said, although it needed to be seen what impact the events in the U.S. banking sector and around Credit Suisse would have in coming days.
Banking stocks globally have been battered since Silicon Valley Bank collapsed and Credit Suisse was forced to tap $54 billion in central bank funding, raising questions about other weaknesses in the financial system.
"We don't have any information indicating the European banks to be vulnerable," Wunsch said. "If you look at the Belgian banks, they are more solid than the average of European banks. That's why it is very hard to imagine a repeat of the financial crisis."
He underlined it was crucial to distinguish between Europe and the U.S., where a softer application of capitalisation rules had enabled some regional banks to run up higher interest rate risks than they would have been allowed to in Europe.
"We do neither see a risk of contagion nor a risk of instability if we look at the figures from a rational perspective," the central bank governor said.
Asked about the future of Credit Suisse, Wunsch said he only saw a "very low" likelihood that the bank might go bankrupt.
"For one, according to the public figures its situation is not bad, in itself, and, secondly, the Swiss authorities would intervene if necessary as it is a bank of systemic importance," he said.