How would you feel if you found out that a Bluetooth device was secretly tracking your every move? Terrifying, right? Well, this is the scary reality for some people who have been targeted by stalkers using Bluetooth trackers.
GET KURT'S FREE CYBERGUY NEWSLETTER WITH SECURITY ALERTS, QUICK TIPS, TECH REVIEWS AND EASY HOW-TO'S – SIGN UP HERE FREE
These trackers are meant to help you find your lost items, such as your car keys or wallet, but they can also be used for malicious purposes. Google is aware of this problem and has decided to take action to protect Android users from unwanted tracking. Here's what you need to know.
HOW YOUR PASSWORDS CAN BE STOLEN BY AI LISTENING TO YOUR KEYSTROKES
Google's new feature alerts Android users of Bluetooth trackers 
At its annual developer conference, I/O 2023, Google unveiled 'Unknown Tracker Alerts,' a new safety feature coming for select Android models.
This feature will alert users if an unfamiliar Bluetooth device appears to be tracking them over extended periods or if it's separated from its owner yet seems to be moving with them. Users can then issue an alert, locate the tracker, and report it to the authorities.
Google's feature also detects Apple AirTags, which are Bluetooth trackers that use Apple's Find My network to locate items. AirTags have some anti-stalking measures built into them, but they are not foolproof.
The feature will be available for Android 6.0+ users beginning this month and aims to enhance user safety and privacy.
MORE: AIRTAG TRACKER DETECTOR WARNS OF STALKERS IN SECONDS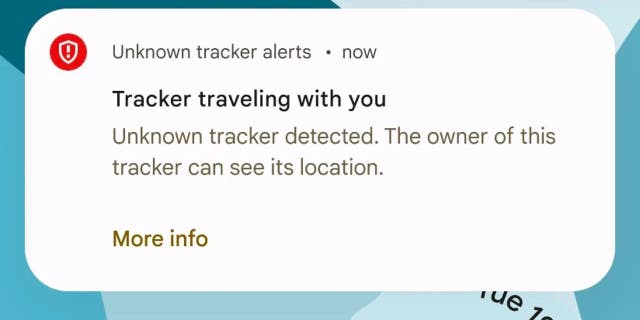 Google has a new features for Android users that allows them to detect Bluetooth trackers. (Google)
How exactly will Google's new unknown tracker alert feature work?
This new feature will scan for any Bluetooth trackers that are not paired with the user's Android device. If it finds any, it will alert the user with a notification and a map that shows the tracker's movements.
MORE: PROS AND CONS OF TRACKING YOUR LOST ITEMS USING APPLE AIRTAG VERSUS TILE TRACKERS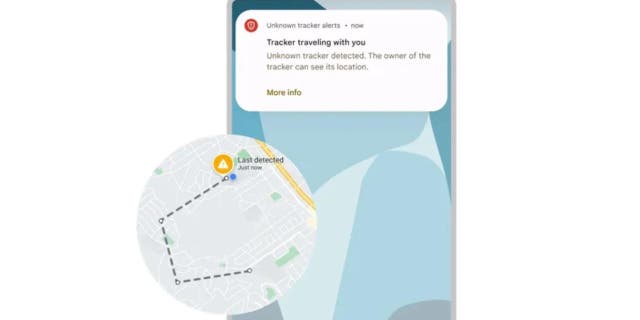 The Google notification will display a moment and display the tracker's movement. (Google)
The Android user will then be able to have the tracker make a sound so that they can easily identify where it's located. If a stalker planted it on the Android user, it could be located in their bag or even their pocket without their knowledge. The owner of the tracker will not be notified that the tracker has made any noise.
Once the tracker is found, the feature will help the Android user find out who the tracker belongs to by pulling up its serial number and any other information about the owner of the tracker. It will then provide information on how to disable the tracker.
MORE: SEE HOW YOUR IPHONE TRACKS YOUR WHEREABOUTS 24/7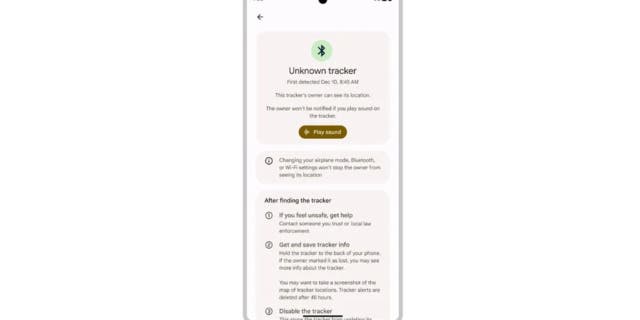 The Android user will be notified of the tracker's info. (Google)
How to prevent and detect Bluetooth tracker stalking attacks
If you are concerned about being stalked by Bluetooth trackers, there are some precautions in addition to the 'Unknown Tracker Alerts' feature you can take to protect yourself and your privacy.
Disable location tracking on your phone and apps, as it can reveal your whereabouts to anyone who has access to your device or account.
Check your belongings and car regularly for any suspicious devices, such as AirTags or Tiles, that could be attached to them.
THEY'RE IN THEIR 80S AND ADDICTED TO DRONE DELIVERIES
If you find a tracker, make it play a sound to locate it, and then disable it by removing its battery or smashing it. You can also report it to the police if you suspect it was planted by a stalker.
If you feel threatened or harassed by someone who is using technology to track you, seek help from a trusted person or organization.
For my best AirTag and Tile tracker options, head over to CyberGuy.com/BluetoothTrackers
MEET THE AUTONOMOUS MEGA-MOWER ROBOT PUTTING AN END TO GRASS CUTTING AS WE KNOW IT
Kurt's key takeaways
This is a big step in the right direction for Google and all Android users. Google is also developing a network similar to Apple's Find My Network so that Android users can keep track of all their devices in one place. The top priority for these big companies should always be safety for their customers, and I'm glad to see that Google is making this happen.
CLICK HERE TO GET THE FOX NEWS APP
What else do you think could be done to keep stalkers from using Bluetooth trackers in this way? Let us know by writing us at CyberGuy.com/Contact
For more of my security alerts, subscribe to my free CyberGuy Report Newsletter by heading to CyberGuy.com/Newsletter
Copyright 2023 CyberGuy.com.  All rights reserved.
Kurt "CyberGuy" Knutsson is an award-winning tech journalist who has a deep love of technology, gear and gadgets that make life better with his contributions for Fox News & FOX Business beginning mornings on "FOX & Friends." Got a tech question? Get Kurt's CyberGuy Newsletter, share your voice, a story idea or comment at CyberGuy.com.