Damar Hamlin
Breaks Down In Tears Honoring Bills Staffers
… At ESPYs
7/12/2023 7:48 PM PT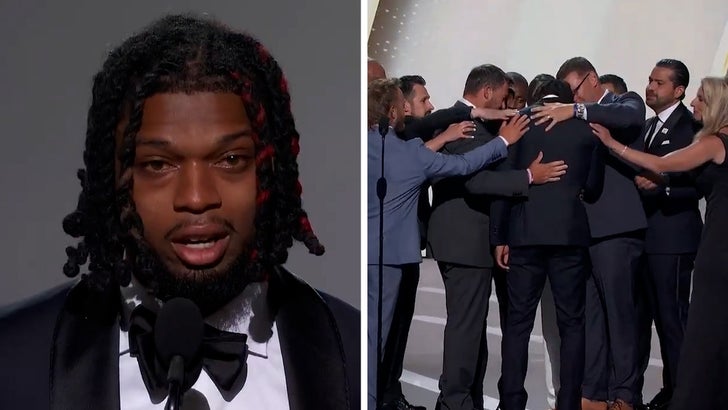 ESPN
Incredibly powerful moment at the ESPYs just now … when Damar Hamlin presented the Buffalo Bills staffers who saved his life back in January with the Pat Tillman Award for Service.
The 25-year-old safety took the stage and was visibly emotional as a video tribute played for the star-studded crowd in attendance … with Hamlin detailing his commotio cordis incident against the Cincinnati Bengals on Monday Night Football.
"I didn't wake up that morning in January thinking that I would need someone to save my life that day," Hamlin said in the clip, "and I doubt the training staff thought that they would have to do what they did either."
"That, as much as anything else, is what I took away from what happened to me 6 1/2 months ago … that any of us, at any given time, are capable of doing something as incredible as saving a life, and living a life in service of others."
After the video, the audience gave Hamlin a standing ovation as he welcomed the staffers on stage to accept the award, which is given to sports figures who served others like Tillman, who died while deployed in Afghanistan in 2004.
Hamlin shared a hug with several staffers for a bit before head trainer Nate Breske gave a touching speech.
"Damar, first and foremost, thank you for staying alive, brother," Breske said. "Seriously, we are so honored to be standing up here with such a strong and courageous human being."
Hamlin has since been cleared to return to football … and he has rejoined his teammates in recent practices.