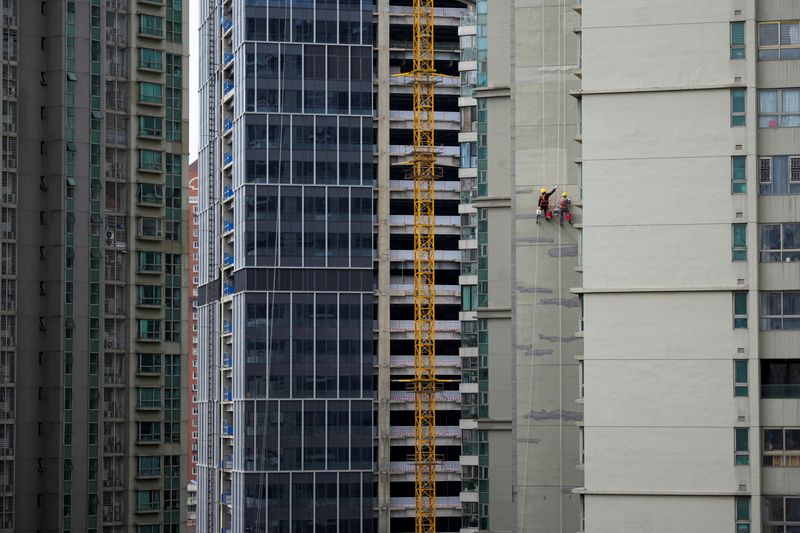 © Reuters. FILE PHOTO: Workers paint a residential building in Shanghai, China, February 21, 2023. REUTERS/Aly Song

By Liangping Gao and Ryan Woo
BEIJING (Reuters) – China's February new home prices rose at the fastest pace since July 2021, official data showed on Thursday, as Beijing's move to reopen the economy and supportive property sector policies boosted demand.
New home prices in February edged up 0.3% month-on-month from a 0.1% gain in January, according to Reuters calculations based on National Bureau of Statistics (NBS) data.
In annual terms, prices fell 1.2%, marking the slowest pace in seven months. Prices shrank 1.5% in January on an annual basis, with the rate of decline unchanged from December.
Since mid-2021, the sector has grappled with a liquidity crisis, with many developers delaying or defaulting on debt payments as they struggle to sell apartments and raise funds.
The outlook in China's property sector, once a major growth driver for the economy, has been improving, buoyed by the government's abrupt U-turn on its zero-COVID policy in December.
In February, 55 among 70 cities surveyed by the NBS saw growth in new home prices month on month, up from 36 the previous month, according to the bureau's data.
Official data for January-February on Wednesday also showed much narrower declines in home sales, developer investment and construction starts, suggesting the real estate sector was stabilising.
Local governments continued to step up efforts to boost demand this year with around 30 cities optimising policies on provident housing funds, such as allowing smaller down payments and more loans.
By the end of 2022, outstanding mortgages grew by just 1.2% to 38.8 trillion yuan ($5.6 trillion), decelerating by 10 percentage points from the end of the previous year, according to central bank data.
($1 = 6.8993 )