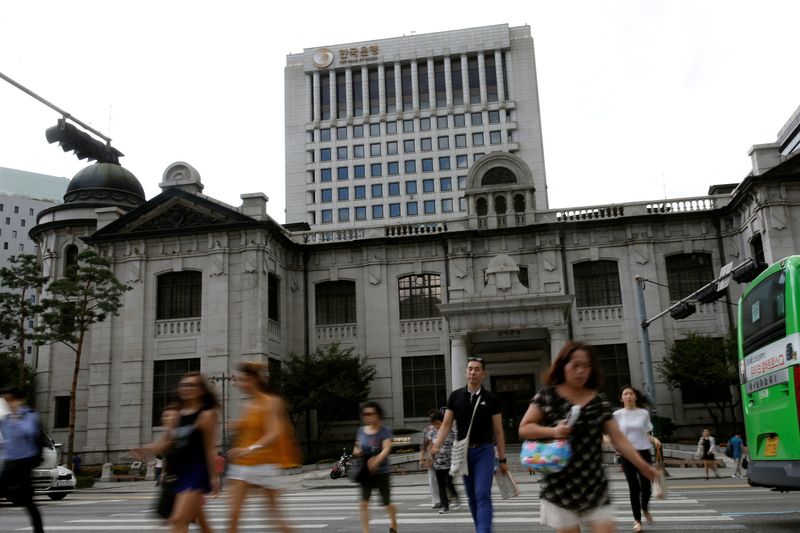 © Reuters. FILE PHOTO: People walk on a zebra crossing in front of the buliding of Bank of Korea in Seoul, South Korea, July 14, 2016. REUTERS/Kim Hong-Ji/File Photo

By Anant Chandak
BENGALURU (Reuters) – The Bank of Korea (BOK) will keep its key policy rate unchanged at 3.50% on Thursday and for the rest of the year as inflation continued to ease, a Reuters poll of economists predicted, but rate cut forecasts were pushed back by a quarter to early 2024.
While inflation in major economies remains elevated, prompting the U.S. Federal Reserve and European Central Bank to pursue policy tightening, it fell to a 21-month low in South Korea last month, bringing it closer to the central bank's 2.0% target.
That is good news for the BOK, one of the first to start raising rates in August 2021, which had paused tightening in February as its total 300 basis-point hikes weighed on an economy with some of the most heavily indebted households globally.
All 46 economists in the July 4-10 Reuters poll expected no change at the conclusion of the BOK's meeting on July 13 to the 3.50% base rate, already the highest since late 2008.
"With monetary policy settings already in restrictive territory, inflation easing and the KRW (Korean won) stabilising, there is little impetus for the central bank to hike rates further," said Irene Cheung, senior Asia strategist at ANZ.
"That said, with the U.S. Fed still hawkish and domestic inflation expectations elevated, we believe the BOK will continue to push back expectations for a quick easing pivot."
Median forecasts showed interest rates would remain on hold until the end of this year, followed by a 25 basis-point cut in the first quarter of 2024.
In a May poll the quarter percentage-point cut was expected to come by end-2023.
The BOK's stance was likely to put pressure on the won, already down about 3% against the dollar this year.
But a rate cut will depend on how quickly inflation falls. It was not forecast to drop below the central bank's 2% target until the third quarter of next year, averaging 3.3% this year and 2.1% next.
The survey also predicted South Korea's economy would grow 1.2% this year and 2.3% in 2024, the same as the previous survey.