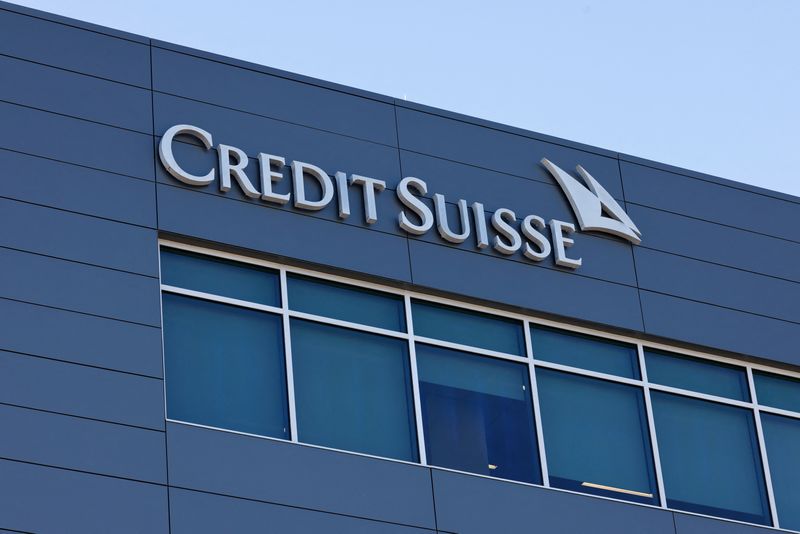 © Reuters. The Credit Suisse logo adorns one of their buildings at their campus in Research Triangle Park in Morrisville, North Carolina, U.S., March 15, 2023. REUTERS/Jonathan Drake

By Stefania Spezzati and John O'Donnell
LONDON (Reuters) -Switzerland's radical pledge to bankroll Credit Suisse Group AG has won the embattled lender the chance to resurrect itself from an almost complete collapse in confidence that rattled global markets.
The move, tantamount to a blank cheque from one of the globe's leading central banks, is reminiscent of the promise by European Central Bank Mario Draghi to do whatever it takes to support the euro during the financial crash more than a decade ago.
In the years that followed, the ECB and other central banks printed billions of euros, a free-money era that spawned a global rally in asset prices. A reversal of low rates to stem rampant inflation has forced a risk rethink and exposed the vulnerability of firms such as Credit Suisse.
The Swiss National Bank and the country's financial regulator, FINMA, in a joint statement on Wednesday night sought to draw a line under months of speculation about the bank's future that had culminated in a 30% drop in its stock price on Wednesday.
"If necessary the SNB will provide CS with liquidity," they said.
In the early hours of Thursday, Credit Suisse said it was taking "decisive action" to strengthen its liquidity by exercising its option to borrow from the Swiss National Bank up to 50 billion Swiss francs ($54 billion).
The move to support the group is designed to stem a crisis of confidence in Switzerland's second-biggest lender resulting from years of scandals and losses. It is one step short of a fully-fledged bailout like those seen during the financial crash more than a decade ago.
But it leaves the central bank, which prints the Swiss franc and underpins the Alpine nation's economy, firmly on the hook should confidence in the bank resume its spiral. Meanwhile, Credit Suisse still needs to push ahead with a radical restructuring it undertook in October to restore profitability.
In their joint statement on Wednesday, the Swiss National Bank and financial regulator said the "current turmoil in the U.S. banking market" would not have any spillover for Switzerland's banks.
The collapse of Silicon Valley Bank in the U.S. on Friday prompted a widespread flight to quality that saw the bigger lenders that are deemed more solid, including Swiss rival UBS Group AG (SIX:), attract deposits, deepening Credit Suisse's woes. 
'AVOID CHAOS'
The state rescue followed one of the worst days in the bank's recent history, an episode that rattled the nerves of politicians and bankers around Europe, even attracting the attention of U.S. Senator Bernie Sanders.
"You can only advise Switzerland to quickly organise a rescue package … to restore confidence," said one European government source, before the announcement. "The aim has to be to avoid chaos."
The risk of contagion was so great that at least three major banks in Europe and Britain rushed to ringfence their exposure to the Swiss bank, three senior bankers told Reuters.
"Credit Suisse has been in our watch-list for a while," one senior executive told Reuters.
Long troubled, the bank's problems came to a head last year amid a social media storm of speculation that it could collapse. It has since struggled to recover after customers withdrew about $120 billion in the fourth quarter.
The radical move by the Swiss central bank is aimed at banishing such doubts. Credit Suisse would be the first globally systemically important bank to receive a bespoke lifeline.
But while the funding guarantees the bank's future, it does little to address the strategic disarray at the group nor its inability to convince investors and clients that it can turn the corner.
It has been seeking to restore profitability by pivoting away from investment banking and trading securities to focus on managing money for the wealthy.
That plan rests on Credit Suisse being able to find backers for the investment banking division it wants to carve out, while being able to grow wealth management. Neither are a given.
The bank saw revenue from trading stocks and bonds slump by 88% in the last three months of 2022 from a year earlier, in part because clients moved their business elsewhere, Reuters reported earlier in March. 
Within hours of the rescue, some were expressing scepticism.
"The Swiss authorities will probably want to keep it on life support because of national symbolism," said Thomas Hayes, chairman and managing member of New York-based Great Hill Capital said Hayes.
"They're going to prop this thing up and walk it around like its alive, but it will basically be a zombie bank that's state controlled."
One UK-based equities manager said that while the backstop may stop the rout in the bank's shares, the bank could nonetheless be forced to look at the sale of businesses such as its Swiss arm. Other analysts earlier on Wednesday said the bank could need a break-up. 
For weary watchers of the bank, the latest episode repeats a familiar pattern.
"This has been a slow-motion train wreck for a decade now," Hayes said.