2/2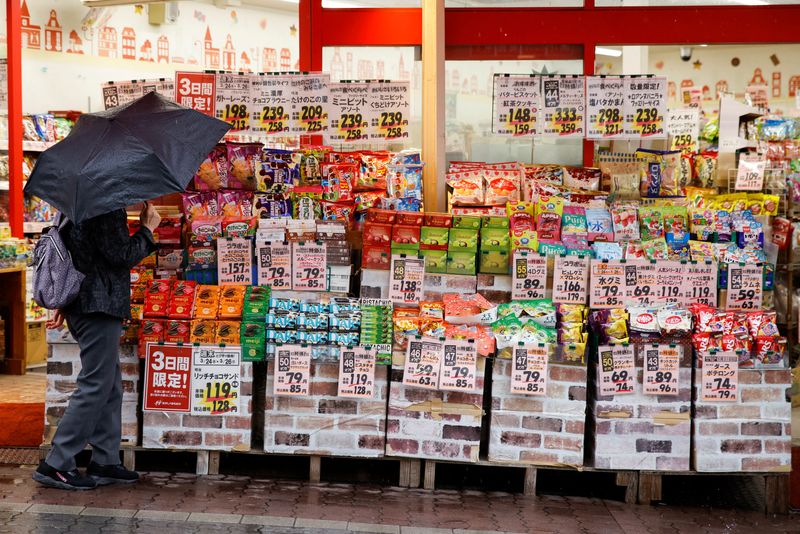 © Reuters. A woman looks at items at a shop in Tokyo, Japan, March 24, 2023. REUTERS/Androniki Christodoulou

By Tetsushi Kajimoto and Leika Kihara
TOKYO (Reuters) – Japanese consumers may finally be shedding their decades-old frugal mindset, spending more on items that retailers were once too afraid to raise prices on and paving the way for the central bank to finally unwind its massive monetary stimulus.
The world's third-largest economy is seeing early signs of demand-driven inflation with an increasing number of hotels, restaurants and retailers now charging more for services – without losing consumers who are willing to pay more on prospects of higher wages.
At Ougatou Hotel in northern Japan, the fastest selling rooms are the luxury suites with a private bath overlooking the mountainous surroundings – despite costing double the fee for a standard room and a 5% increase in charges that began in May.
"Thankfully, higher prices haven't affected our business much with rooms fully packed through November," Hiroki Wakita, a staff at the hotel, told Reuters.
French restaurant Robuchon in Tokyo has a waiting list of two months even though it hiked the price of its set menu dinner, which now costs up to $400 per person.
Ukai, a traditional Japanese restaurant near the landmark Tokyo tower, now charges up to 22,000 yen ($156) for its set menu, 24% more than last November.
"There's no doubt rising wages and bonuses are among factors prodding customers to come dine with us despite the price hikes," said Ukai manager Yuka Hoshino. "Our customers no longer think price hikes are something special."
The broadening in price increases from goods to services highlights a turning point in Japan's economy, where stagnant wage and services price growth has kept inflation subdued for more than two decades.
It is also drawing the attention of the Bank of Japan (BOJ), which is shifting away from its view the recent cost-driven inflation will prove temporary.
The BOJ is starting to drop signs that inflation is increasingly driven by improving consumer demand which, if sustained, could give new Governor Kazuo Ueda justification to pivot away from his predecessor's massive monetary stimulus.
"Consumption and wages are rising. The mood is clearly changing," said a source familiar with the BOJ's thinking.
"Japan is seeing early signs of progress in achieving inflation accompanied by higher wages," another source said, a view echoed by two more sources. "The next key question is whether this becomes a trend."
DIFFERENT KIND OF INFLATION
Japanese wages have barely risen in the past decade, bogged down by entrenched expectations of weak inflation.
However, those views have since changed after firms began passing on a spike in raw material costs, which pushed inflation above the BOJ's 2% target and kept it there for more than a year.
Services prices rose 1.7% in May from a year earlier with the cost of dining up 7.1% and leisure by 3.1%, data showed.
In a survey in April, 86 dine-out chains – or 70.4% of the total – hiked prices at least once since 2022, citing rising raw material and labour costs, Tokyo Shoko Research said.
Workers' pay is also starting to rise. After agreeing to hike wages at the fastest pace in three decades this year, firms will remain under pressure to keep hiking pay next year due to a tight job market, analysts say.
A survey in April showed 85.2% of hotels and 78% of restaurants complained of labour shortages, up from 77.3% and 56.1%, respectively, from a year ago, Teikoku Databank said.
Prospects of higher wages are emboldening consumers.
Akihito Sato said the food company he works for had hiked wages this year. "I bought a new set of golf clubs. That was a big treat to myself," he told Reuters while strolling the upscale shopping district of Ginza.
"I certainly feel the positive effect of wage hikes is spreading. My dad, for one, got a pay raise this year and bought a new car for himself and another for my brother," said Shohei Kanai, a 21-year-old student who himself expects a pay hike.
The BOJ is changing its tone on the drivers of inflation and how they see progress made in sustainably hitting 2% inflation.
Deputy Governor Ryozo Himino said recent price rises were stronger than previously projected and inflation expectations were moving up – and import costs weren't the only reason.
At the BOJ's June meeting, some board members saw upside risks to inflation with one saying increases in prices and wages are "becoming more embedded in corporate behaviour," a summary of their opinions showed.
"It's clear the nature of inflation is beginning to change with more and more service-sector firms raising prices, something we haven't seen up until the past few months," said former top BOJ economist Seisaku Kameda.
"The rise in service prices is broadening, probably more than the BOJ had expected. Japan may be on the cusp of seeing the wage-inflation cycle the central bank had hoped to achieve."
($1 = 140.7800 yen)