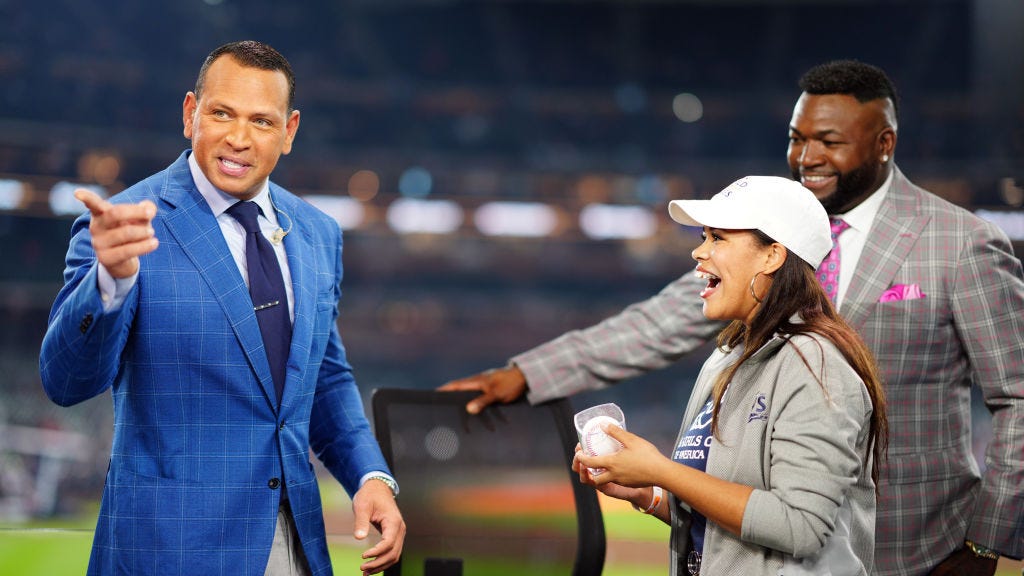 WHILE ALEX RODRIGUEZ used to train every day with the goal of winning a World Series and becoming the American League's Most Valuable Player (an award he won three times), these days he's got something different in mind: "My fitness goals are to feel good every day," he says. "Working out is such an important part of my life—I've been doing it for 40 years—and it has so many great benefits."
The 48-year-old played his last game back in 2016, but has since re-invented himself as one of Major League Baseball's most prominent and outspoken commentators. You can see him on TV—typically alongside fellow former stars David Oritz and Derek Jeter—throughout Fox's coverage of the MLB's season and playoffs (and also on ESPN's Kay-Rod broadcast during the regular season), and now he's giving Men's Health an exclusive look inside his Gym and Fridge.
The former Seattle Mariner, Texas Ranger, and New York Yankee doesn't need to eat (or train) quite the same way he did in his playing days, but he still keeps his diet clean and his workout rigid. While playing, he used to eat a lot of steak, potatoes, rice, and beans, over the course of as many as 6 or 7 meals in a day. "You're burning so many calories when you play 162 games," he says. Today, he's down to 3-4 meals, mixing in a protein shake. He also keeps his fridge filled with the staples: water (both still and sparkling), eggs, salad, hummus (a favorite late night snack) and all kinds of fruit.
But there are ways A-Rod goes off the trail a bit too. He's a self-proclaimed "chip expert," often sneaking down to his cabinet in the darkness of night for a sampling of the many varieties he's got in his house at any given moment. Speaking of "any given moment of the day," it probably takes a lot of energy to be on TV as much as Rodriguez is—and so he says he drinks in the range of 7 and 8 cups of black coffee per day.
It's also important for a great athlete to be able to improvise. When A-Rod was winning MVPs, he was a fantastic baserunner, always a threat to steal a bag when he picked up on a pitcher or catcher doing something he could exploit. Clearly today he's not afraid to improvise with his foods of choice either, as he says one of the "weird' foods he dabbles with is a "peanut butter, jelly, and turkey" sandwich. If you say so, A-Rod!
All of that combined with a rigid—but attainable—workout routine (he likes to get into the gym 7 days a week, but just for 30 minutes of breaking a sweat one way or another) keeps the 48-year-old sports/broadcasting star in his best shape possible.
To see A-Rod's entire Gym and Fridge routine, check out the MH video.

Evan is the culture editor for Men's Health, with bylines in The New York Times, MTV News, Brooklyn Magazine, and VICE. He loves weird movies, watches too much TV, and listens to music more often than he doesn't.